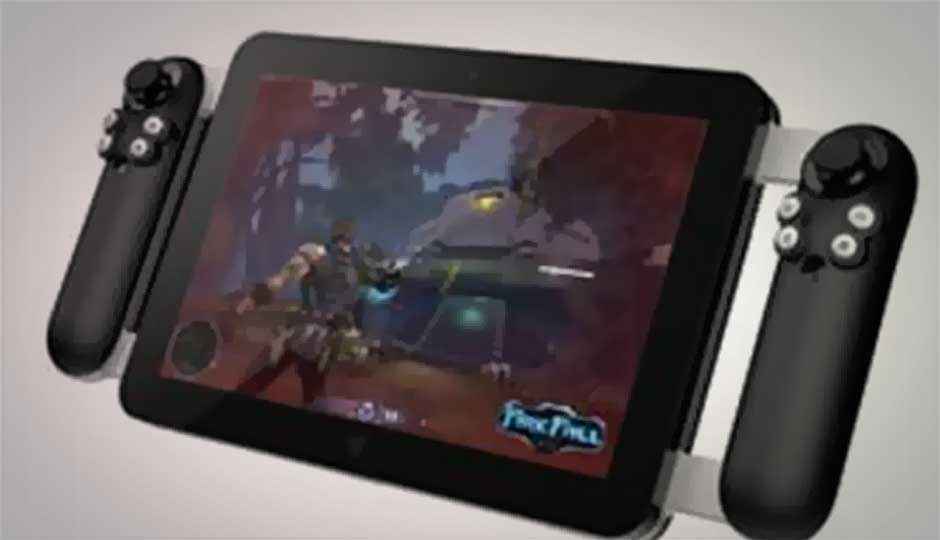 Razer co-found and CEO Min-Liang Tan has taken to Facebook and Twitter to gauge interest in a gaming tablet the PC peripherals maker has dubbed Project Fiona. With 10,954 likes and counting as of Thursday night, Tan and Razer figure the game pad is worth producing and will reportedly do so.
Project Fiona was actually introduced at the Consumer Electronics Show all the way back in January. Razer had teased its product announcement ahead of CES, promising "PC gaming in an all-new form factor."
The tablet, still apparently unnamed, is billed as a 10.1-inch device with a 1280-by-800 resolution touch-screen display and an Ivy Bridge-generation Core i7 chip from Intel under the hood. Concept art depicting the gaming tab—which hasn't apparently changed from the art shown at CES—shows two analog joysticks attached on either side of the device's screen (pictured above).
Not a ton is know about the Project Fiona tablet's specs, but PCMag learned at CES that the device will have THX audio and the attached controllers will provide haptic feedback to provide users the feeling of banking in a virtual jet, for example.
Razer was hoping the game pad could be priced at $1,000 or less. Among the PC titles that Project Fiona tablet users will be able to play on their devices are H.A.W.X 2, Company of Heroes, and Space Marines, according to the company.
If it seems like it's taken quite a while for Razer to get this thing off the ground, the company did say it wouldn't be released until Microsoft's new Windows 8 operating system arrives, which will happen on Oct. 26. Now it appears Project Fiona is getting ready for its close-up once again, just in time for the holidays.
The tablet would become part of a mini-trend of similar devices tailored specifically for the gaming community. There's the $499, Android-based WikiPad, which is set to arrive at GameStop on Oct. 31, plus the 7-inch Archos Gamepad with built-in joystick controls, also running Android and expected to be priced at under $200 when it arrives at the end of this month. Copyright © 2010 Ziff Davis Publishing Holdings Inc