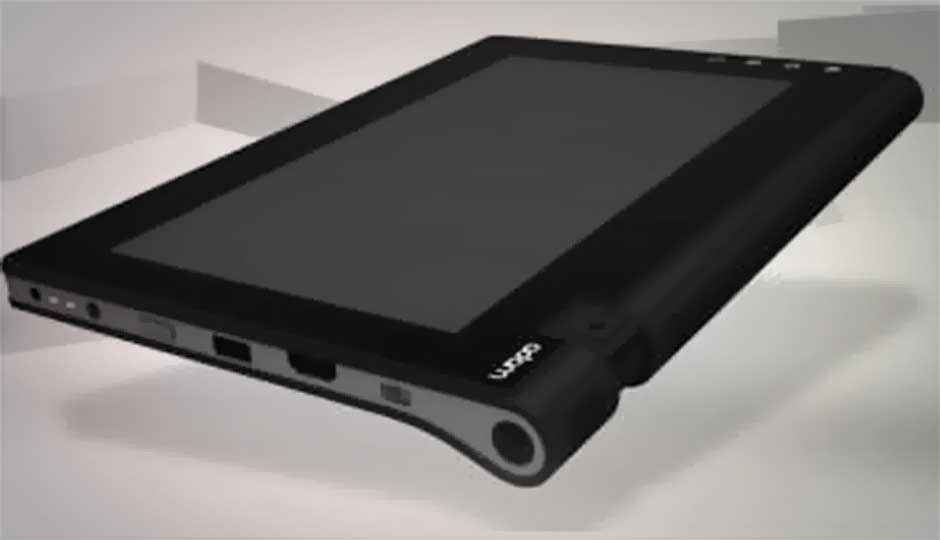 Notion Ink is set to launch the second generation of its Adam tablet in the Indian market. Details of the new slate, dubbed as the Adam II, were revealed at the recently held National Technology Day Awards.
The Adam II is said to feature dual-screens. The first screen is the normal IPS display with 1280x800 pixels resolution, the other one is located on the spine of the tablet. The second screen is a Super-twisted nematic display (STN) that shows notifications as well as contextual data related to what showing on the main display.
Other notable specifications of the slate include a 1.5GHz dual-core processor, 2MP front and rear cameras, 1GB of RAM and a 6,000 mAh battery. In terms of output, the Adam's supports HDMI out, a microUSB port and a microSD card slot.
The tablet is likely to run the latest Android 4.2 Jelly Bean OS. The Adam II will come with Google Play support, two front speakers and SIM card slot for 3G.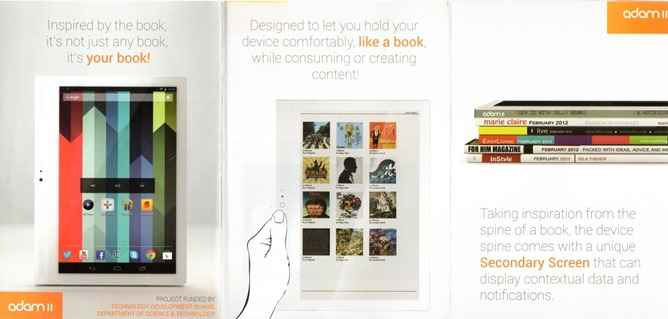 As of now, there's no official word on exact pricing as well as release date.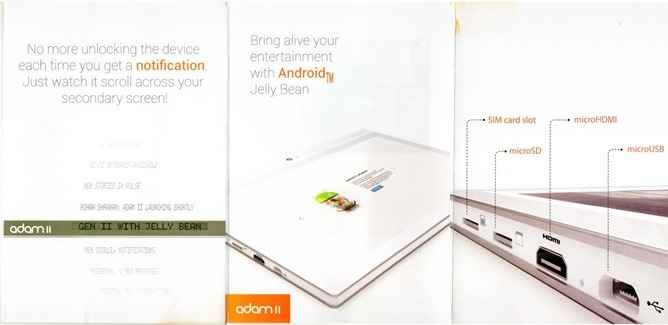 Bangalore-based Notion Ink had shot to fame in late 2010 when it announced a tablet that would take on the high-end slates of the time, including the iPad. The original Adam slate offered dual-core Tegra 250 processor and 1GB of RAM along with an UI overlay known as Eden.
Launched amid much fanfare in 2011, Notion's Adam slate unfortunately couldn't catch up the way the company would have liked. Shipping delays, software glitches and most importantly poor build quality are considered among main reasons for the tablet not being able to meet the expectations.
After a couple of years and several Android versions, the company is now gearing up to launch another slate. However, the market scenario has changed since 2010. Right now, the Indian market is flooded with budget Android tablets, priced under Rs. 10,000.
Source: AndroidOS.in