Microsoft has finally announced not just the pricing, but also the availability of the Surface Pro tablet. Pegged at $899 for the 64GB SSD version and $999 for the 128GB SSD version, the Surface PRO tablets will start shipping come January.
Packed with an Intel Core i5 (Ivy Bridge) chip with 4GB of complimentary RAM and a full HD (1920x1080) 10.6 inch display. There is also a fully functioning USB 3.0 port along with a microSDXC card slot to expand the storage capabilities of this swanky tablet from Microsoft. There's also two 720p HDcams on the front and back along with a microphone and stereo speakers.
What's new with the Surface Pro tablet in comparison to the Surface RT is that the Pro version will ship with a Surface Pen, but the Touch Cover and Type Cover will be optional accessories. However, we can't imagine why one wouldn't want to get the covers as well, since it's very essential to have a keyboard to get the most out of the Surface. Not making them part of the standard package does leave us a little confused.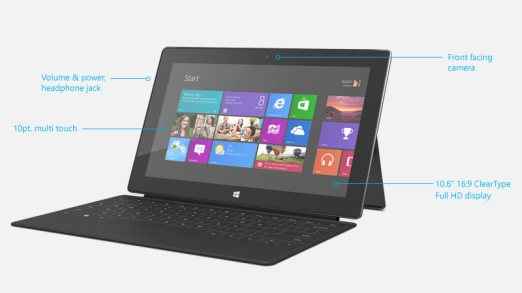 With all that hardware under the hood, comes a price. It is being reported in other news that the Surface Pro will have a battery life of 4 hours at most. This really isn't very surprising, given the Intel based hardware.
Not to mention, the Surface Pro is configured more like an Ultrabook than a tablet, so the reduced battery life is again nothing out of the ordinary. Back in June when Microsoft announced the Surface tablets, they made it clear that the Surface Pro was being targeted at the Ultrabook segment rather than the tablet market, despite its form-factor resembling the RT tablet.
Microsoft's announcement of the Surface Pro comes at a time when reports are claiming that the Surface RT has been slow to pick up sales number. Regardless, how well the Surface Pro does with respect to its younger sibling is something we'll find out in January, along with whether the 4 hour battery life really is an issue or not.