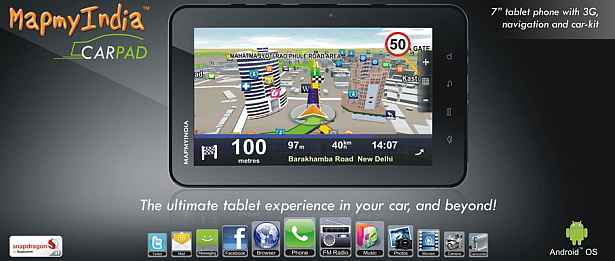 MapMyIndia has unveiled an in-car infotainment and navigation device, called the CarPad. Android Froyo-based, the CarPad can ostensibly be used as a tablet for its apps, with the Android Market via the market app, and other app stores. Unlike most navigation devices, it features Wi-Fi as well as 3G connectivity, apart from Bluetooth, FM radio, and of course, the mandatory GPS.
It should hit retail shelves by the 15th of September, and has been priced at Rs. 22,990 – steep, but without skimping on accessories – coming with an 8GB microSD card bundled, as well as the complete car kit, with a car charger, and all you'll need for mounting the device, anywhere from the headrest to the windshield.
On the navigation front, the CarPad comes with the latest version of MapMyIndia's 'Navigator Aura' interface, which features turn-by-turn voice navigation with 3D maps of streets, landmarks, buildings, terrain, down till house-level detail. All maps are present on the device, not requiring a network. Location and image sharing features are present, with a location-based chat and messaging system also implemented.
[RELATED_ARTICLE]
The MapMyIndia CarPad was launched in collaboration with Qualcomm, who have provided the Snapdragon S1 processor inside, based on the MSM7227-1 chipset. Digging a little deeper, we were told the MSM7227-1 chipset born by the CarPad features a 600MHz processor with an Adreno 200 GPU, coupled with 512MB of RAM.
While these specs might seem a little on the lower side, especially with the asking price, we can understand that MapMyIndia's aim was not to position the CarPad as one of the many in the tablet rat race. Instead, it has introduced a device that stands out in a variety of product categories, from tablets, and to in-car infotainment and navigation devices. 2G GSM connectivity for voice calls comes as an added bonus. The CarPad has a 7-inch capacitive touchscreen with a resolution of 800x480 pixels. Its 3,400 mAh battery is rated to deliver more than 7 hours of battery life, and 420 hours of standby time.
You'll have to wait for our review to see just how usable this jack-of-all-trades is, and what separates it from the other 7-inch tablet offerings with GPS built-in. As it stands, Android Market access, a 2MP camera, microSD storage expansion up to 32GB, Wi-Fi and 3G connectivity, all combine to make the CarPad a relatively compelling buy even with the dated Froyo operating system, and its Rs. 22,990 price. We wonder just how well it will sell to the commuters of the nation.