Karbonn Mobiles has officially announced the launch of Android 4.1 Jelly Bean-based Smart Tab 1 tablet PC. Priced at Rs. 6,990, the new Karbon Smart Tab 1 comes with MIPS-Based JZ4770 SoC from Ingenic as its running core. The tablet is powered by a 1.2GHz processor. Karbonn has also announced rolling out Jelly Bean update for the customers of the Android 4.0.3 ICS-based Smart Tab 1. Booking for the Jelly Bean-based Smart Tab 1 has already begun.
The Karbonn Smart Tab 1 features 17.8cm capacitive 5-point touch screen, 2MP camera, Full HD video playback up to 1080p, HDMI support, 3D gravity sensor, Wi-Fi and 3G support through USB dongle, Pre-embedded applications - Karbonn Smart Browser & Karbonn Smart Games and local apps such as Times of India & Economic Times app and Facebook. The device comes with a 3,700 mAh battery.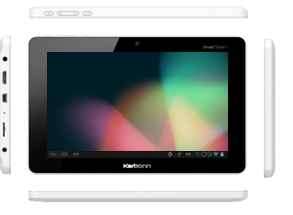 Karbonn has also explained features of the Ingenic JZ4770 SoC loaded in the Smart Tab 1:
JZ4770 SoC is powered by a MIPS32 compatible XBurst CPU designed by Ingenic
Adopts an ultra-low-power pipelining architecture which consumes less than 90mW in 1GHz (with L1 cache) with the entire SoC consuming ~250mW with the CPU and video engine operating under full load
The JZ4770 SoC integrates an optimized 1080p video processing engine, OpenGL ES 2.0 3D graphics processing unit from Vivante Corp
Also integrates numerous on-chip analog and application blocks such as audio codecs and GPS
"This new tablet demonstrates continued adoption of our cost-effective JZ4770 SoC in mobile devices. The JZ4770 SoC leverages the simplicity and elegance of the MIPS architecture, and features extremely low power consumption, 1.2GHz performance, and a high level of functional integration. Millions of tablets are already shipping around the globe based on our design, and we anticipate increasing success as more and more companies recognize the differentiation our solution can enable," says Qiang Liu, Chairman and CEO of Ingenic Semiconductor.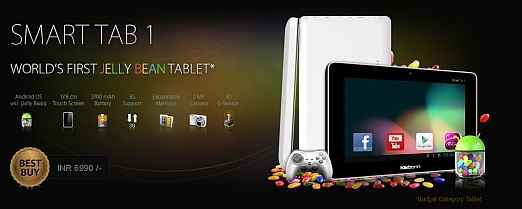 There are already a range of budget tablets in the market right now. Karbonn, however, has grabbed an edge over the rivals by becoming the first Indian brand to announce a tablet which features Jelly Bean out of the box, apart from an update for existing customers of the Smart Tab 1, which currently ships with ICS. As for now, there are quite a few ICS-based tablets such as Funbook, Funbook Pro and Penta T-Pad WS802C in India. For more, check out our list of Top 10 Budget Tablets.
Also read,