Intel today unveiled the Intel Education 2 in 1, dubs as its first-ever 2 in 1 reference design that provides mobility of a tablet as well as productivity of a laptop. The new Intel device is aimed at students and teachers, as it comes with several educational content and features. Intel also showcased the range of Intel Educational Solutions, including tablets, 2 in 1s, storage devices etc..
Intel Education 2 in 1
The Intel Education 2 in 1 is manufactured by Elitegroup Computer Systems (ECS). It features a rugged tablet – water, dust and heat resistant. It comes with a stylus, temperature sensor and magnification lens and keyboard dock. The device is expected to be available for Rs. 24,000 approximately.
The device runs Windows 8.1 and is powered by a 1.8GHz quad-core Intel Atom processor Z3740D and 2GB of RAM. The device has 10.1-inch with 1366 x 768 pixels resolution, wide-viewing angle, 16:9 active touchscreen and 5-point touch. It measures 277.2 x 177.7 x 11.6 mm and with dock it measures 281 x 231.3 x 27.8 mm.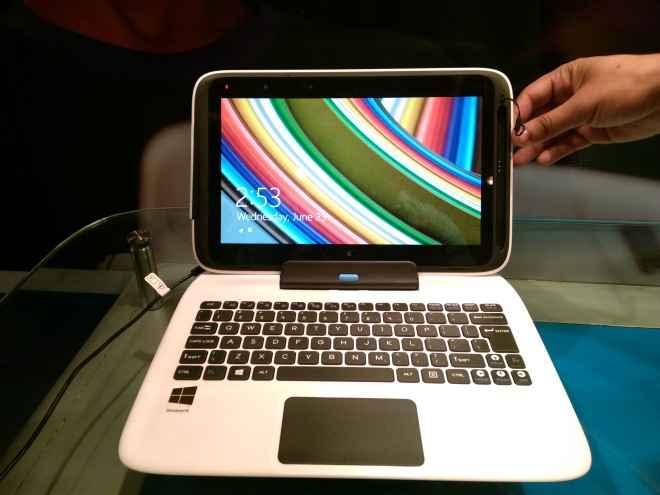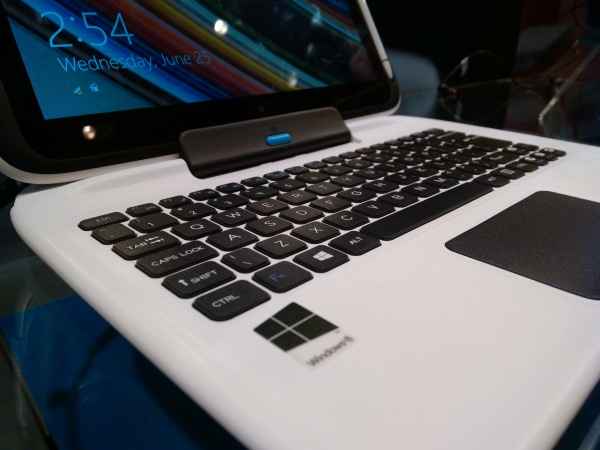 The Intel Education 2 in 1 features 5MP rear facing camera and 1.26MP front facing camera. The device supports 32GB eMMC or 64GB eMMC. For connectivity, it supports Bluetooth 4.0, NFC (optional), 3G (optional) and LTE (optional).
The device is powered by a 7600 mAh battery.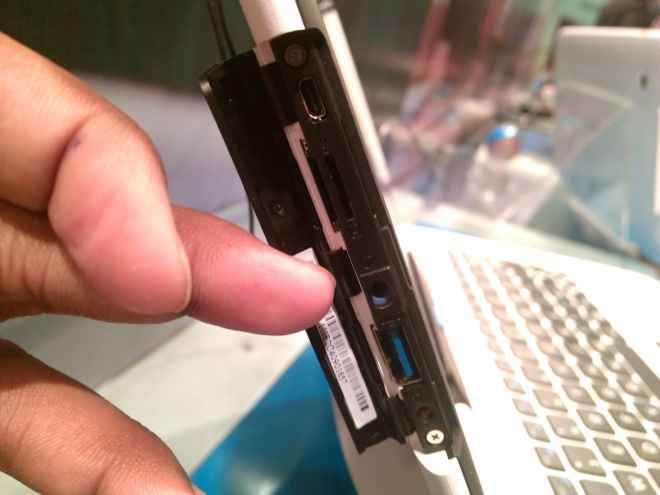 It sports a USB 3.0 port and Micro-HDMI as well as a micro-SD card slot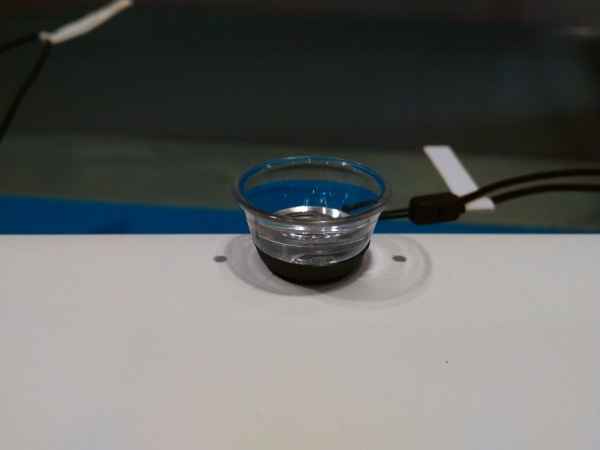 The microscope add-on

Specifications:
Processor
Intel® Atom™ Processor Z3740D, 1.8 GHz, Quad Core
Operating system
Windows* 8.1, 32-bit compliant
Software
Intel® Education Software
Content and curriculum
Intel® Education Resources
Services
Intel® Education Services
Memory
2-GB DDR3L-RS – 1333
Storage
32-GB eMMC, or 64-GB eMMC
LCD/Touch panel
10" 1366 x 768, wide-viewing angle, 16:9
Active touchscreen, five-point touch
Stylus
Capacitive stylus
Cocking
Docking with battery
Docking without battery (optional)
Rugged design

70-cm drop-resistance,1 IP51 (dust-resistance, water-resistance).
Reinforcement around ports.
Non-slip texture hides wear and scratches.

Security
McAfee AntiVirus Plus*
Battery life

8 hours, polymer battery, 7600mAH (28Wh).
3 hours additional docking battery (15 Wh) (optional).

Camera
Front-facing 1.26 MP VGA, Rear-facing 5.0 MP
Snap-on magnification lens
Snap-on magnification lens, 30X magnification
Temperature sensor probe
Temperature sensor probe
Dimensions
Tablet: 277.2 x 177.7 x 11.6 mm
tablet with dock: 281.3 x 231.3 x 27.8 mm
Weight
683 g (tablet 3G SKU + passive stylus)
1,173 g (tablet + dock + passive stylus)
Network
802.11a/b/g/n 2x2 WLAN, supporting WIDI
Connectivity
BlueTooth 4.0, NFC (optional), 3G (optional), LTE (optional)
System I/O
1 x USB3.0 port, 1 x Micro-SD slot, Audio-Microphone combo-jack,
Micro-HDMI
Audio/Speaker/Microphone
Integrated audio, stereo speaker, and digital microphone
Sensors
Accelerometer (G-sensor), Ambient Light sensor, E-compass,
Gyroscope, GPS (optional)
Intel eduction content and solutions
Intel is offering a range of educational content and solutions with the device. The Intel Education 2 in 1 comes with Intel Educational services featuring tools for deployment and classroom management, Textbooks (interactive eReader), LabCam, SPARKvue ( data analysis application), MediaCam (Multimedia creation and editing for project-based learning) and more. The Intel Education 2 in 1 comes preloaded with McAfee AntiVirus Plus solution. Read more in detail about the Intel Education Education services here.
Intel Classmate PC and ECS TR10CD1
Intel also announced the Classmate PC and ECS TR10CD1 tablet at the event. The Classmate PC features 10-inch display, runs Windows 8.1, Windows 7 , or Linux. The Classmate PC is also a rugged device, featuring 70cm drop-resistance and water-resistant keyboard. Learn more about the Classmate PC here.
The Intel ECS TR10CD1is a 101.-inch Android 4.2-based tablet, powered by 1.2GHz dual-core Intel Atom Z2520 processor along with 1GB/2GB of RAM. Read more about the tablet here.
Intel's focus on education segment
Intel at its event reiterated its focus on the education sector. In its white paper titled – Creating a Transformed Learning Environment – Intel says the application of technology can have significant effects on learning outcomes.
"Technology can provide the support needed for this process by allowing access to tools for assessments, content for users learning at different levels and rates, platforms for student, teacher and parent engagement as well as analytics and feedback in a rapidly scalable fashion," says Intel in its research, while pointing out technology can be used for personalising student learning.
Ashutosh Chadha, Director, Corporate Affairs Group, Intel South Asia said, "In a global economy, creating 21st century success for individual students, communities and nations means giving every student the skills and opportunities to excel. With a vision to advance excellence in education around the world, Intel is directly involved in education programs, policy advocacy and technology products that enable today's youth to develop the skills they need to be the innovators of tomorrow"
Challenges
Intel acknowledges there are several challenges involved in implementation of the Information Technology in the education sector. Infrastructure, connectivity, electricity and equipment safety issues are among top concerns. Intel also highlights the behavioural challenges.
It says, "A number of behavioural challenges need to be addressed before technology can effectively be used in classrooms. Technology is seen as an added burden instead of a teaching aid, and there is a perception that integrating assessments and reporting with technology would increase accountability and potential threaten the role of the teacher."
On price being an issue, a senior Intel official said: "Our products are rugged, they don't come under Rs. 4,000 category. Yes, price is a driver. But, we believe that over a period of time everyone sees value in what we sell, considering our performance and unique design we have. One challenge is mindset on price versus affordability being a parameter."
"Another challenge is getting more and more local content. Third is creation of right infrastructure, where we have Wi-Fi enabled in schools for collaborative learning."
Other Popular Deals
Samsung A7 2016 Edition Golden

Rs. 18990 *

Buy Now

Mi Pad Tablet (WiFi), White

Rs. 9999

Buy Now

Apple iPad Mini 2 Tablet(7.9...

Rs. 21900

Buy Now
*Includes Cashback
​