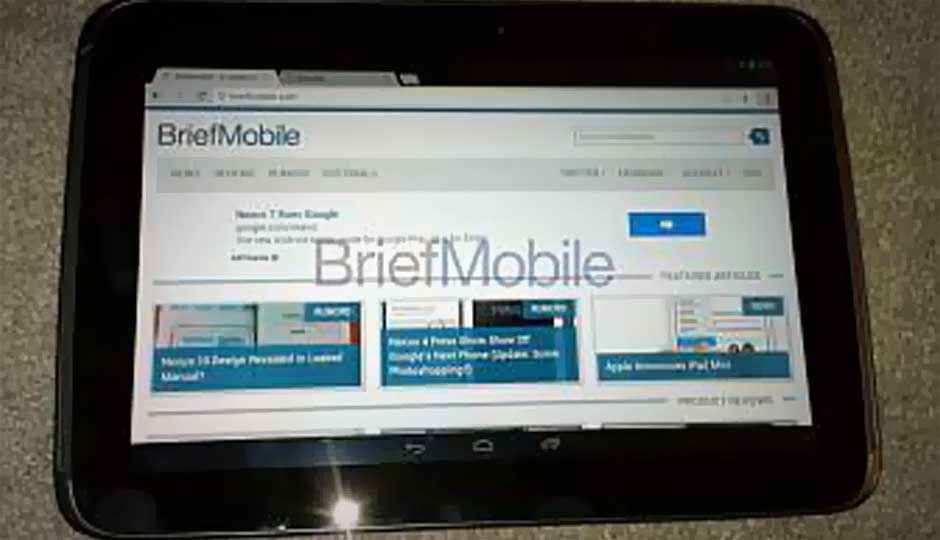 Now that Google's October 29 press conference has been postponed, details about the Nexus 10 tablet are making their way to the internet, via official and unofficial sources.
Officially, Vic Gundotra, Google's Senior VP of Engineering, posted some vacation pictures on his Google page – pictures that were according to the image details tab, ostensibly taken by the Nexus 10, with a resolution of 2,048x1,536 pixels.
So far, quite a few details about the Samsung-made Google Nexus 10 have been gathered, giving us an almost complete (and rumoured) picture of the 10-inch Android tablet.
The Google Nexus 10 is expected to be powered by a Samsung Exynos 5250 chipset, featuring a 1.7GHz dual-core Cortex A15 processor, Mali-T604 GPU and 2GB of RAM. 16GB is thought to be the amount of built-in storage offered by basic model, with a 32GB version also expected.
The Nexus 10 is said to feature a 10.1-inch SuperAMOLED display with a 2,560x1,600 pixel resolution (298.9 ppi), a stereo speaker setup, as well as a 5MP rear camera with LED flash, and a front-facing camera. Other features include Bluetooth 4.0, NFC and Wi-Fi connectivity.
Other recent leaks have revealed details about the 'Android 4.2 Jelly Bean' OS that the Nexus 10 supposedly runs. Thought to be a minor upgrade to the recently introduced Android 4.1 Jelly Bean update, Android 4.2 is based on Android API Level 17.
Android 4.2 Jelly Bean will supposedly feature a new gallery app, a new camera app (including new slide-to-activate menu), support for multiple user accounts, and access to quick toggle-based settings. The icons for the camera and clock apps have supposedly also been refreshed.
For now, Google has not announced the new date for the postponed press conference, putting no end to the suspense that we were supposed to have been released from today. We'll let you know as soon as Google makes a date final.
Source: CNET and BriefMobile