Tablets have definitely been one missing offering from Nokia. However, recent reports and rumours have hinted Nokia may be soon joining the tablet market. While Nokia is yet to confirm its tablets plans, the internet is abuzz with new details with regards the rumoured Nokia slate, which is expected to be unveiled at the MWC 2013.
Nokia at a Pakistan event briefly showed an image of a Windows RT tablet, sandwiched between a Nokia Lumia 620 and a desktop monitory, featuring the Windows Start screen. According to GSMArena, the new tablet may have 11.6-inch screen, a popular dimension for Windows RT slate displays.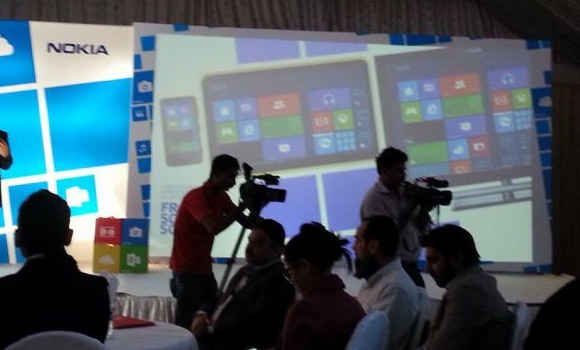 Recently, Nokia CEO Stephen Elop hinted in a interview the company will launching devices based on Microsoft's Windows OS after observing the market response to the Surface tablets.
Though the company CEO refrained from giving a confirmation, Nokia's design chief Marko Ahtisaari earlier this month acknowledged a Nokia tablet is in the works. Without divulging details of the rumoured tablet, the designer said he was spending a third of his time on the device.
Despite a successful run with its new Lumia series smartphones, Nokia has continued to face stiff competition from Samsung and Apple, therefore it would be wise for the company to try its luck in the tablet segment, mainly dominated by Android and iOS.
That being said, pricing will be the key to Nokia's success, considering the steep prices of the other Windows tablets in the market. As TechCrunch in its report points out, if Nokia manages to come up with a budget Win8/RT tablet, it would help both Nokia and Microsoft.