Research firm IDC has revised its sales forecasts for tablet PCs in view of rapid surge in demand for the tablet computers this year across the world. IDC in its latest Worldwide Quarterly Tablet Tracker report projected a sale of 117.1 million units in global market in 2012, up from its previous projection of 107.4 million units for the year. IDC has also increased projection for the next year to 165.9 million units from the earlier 142.8 million units.
According to the IDC report released on September 19, the global shipments of the tablet PCs is expected to surge to 261.4 million units by 2016. "Despite ongoing economic concerns in most regions of the world, consumers continue to buy tablets in record numbers and we expect particularly strong demand in the fourth quarter," Tom Mainelli, a mobile connected devices analyst with IDC, said in a statement.
"Apple leads the market with its iPad and we expect its dominance to continue in the second half of the year. Still, we believe there is room in the market for others to find success, and new Android- and Windows-based products shipping in the coming months will give consumers plenty of buying options during the holiday season."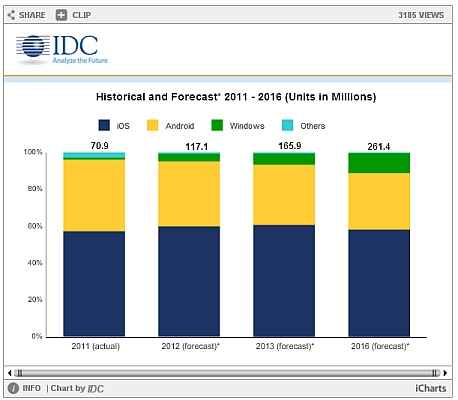 According to IDC, Apple tablets dominated with 57.2 percent of market share in 2011, and is set to dominate further with 60 percent of share in 2012. Android had a 38.9 percent market share, which is expected to slump to 35.3 percent in 2012, says the IDC report. By 2016, Android is likely to slip to 30.5 percent by 2016.
IDC has also shed light on the expected growth of Windows-based tablets, including the Windows 7 tablets, and forthcoming Windows 8 and RT variants. IDC says Windows tablets will increase from 1 percent in 2011 to 4 percent in 2012. By 2016, Windows tablets will have a market share of 11 percent.
"Tablets running Microsoft's upcoming Windows 8 and RT operating systems, including the company's own Surface tablets, will add some momentum," says Jennifer Song, an IDC research analyst . "However, we expect shipments to remain low in the fourth quarter as high prices and consumer confusion around these devices will limit their appeal. Also, in the second half of the year Android should benefit from the success of the Nexus 7 and Amazon's launch of new Kindle Fires."
Source: IDC
Also read,