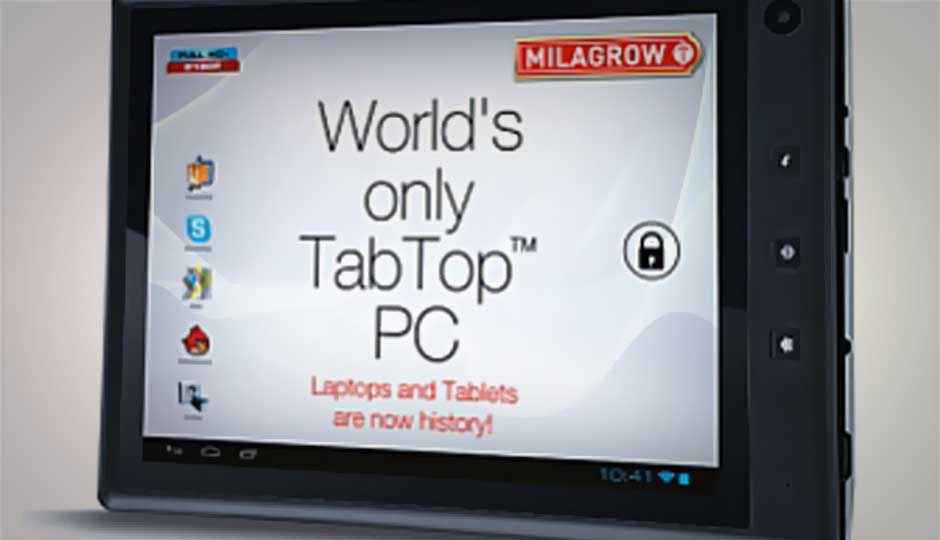 Milagrow has launched a new Android 4.0 Ice Cream Sandwich tablet in the Indian market, called the Milagrow TabTop 7.4, which is available in two variants, 4GB at Rs. 10,990, and 16GB at 13,990.
Apart from ICS (4.0.3), the Milagrow TabTop 7.4's biggest USP is its diminutive thickness – an incredibly slim 6.5mm. It is powered by a 1.2GHz single-core processor, a Dual Mali 400MP GPU, and 512MB of RAM. Another USP is the 4:3 aspect ratio of its 800x600 pixel 5-point multi-touch capacitive display, which Milagrow claims will provide 51% more visual real estate than a similar-sized 800x480 pixel 16:9 display.
The Milagrow TabTop 7.4 features a 4,000 mAh battery, which is rated to deliver up to 11 hours of backup time. It also comes with a 1.3MP front-facing camera, with such features as Face Detection, Instant Focus, and 6x digital zoom.
Other features of a the Milagrow TabTop 7.4 include 4G/3G/2G compatibility via USB dongles, Wi-Fi and Ethernet connectivity, external hard disk support up to 500GB, microSD card support up to 32GB, and an integrated microphone.
The TabTop 7.4 comes with a host of pre-installed software, such as an offline e-mail client, Hindi keyboard with support for more than 60 language keyboards, speech-to-text, auto-spelling correction and dictionary, instant push mail, Office Drop with 1GB of free storage, Office document editor, ZIP archiver, file manager, and backup manager.
According to Milagrow, the TabTop 7.4 offers the fastest wake-up time and boot-time in the segment, at 0.5 seconds and 39.5 seconds respectively. Speaking at the launch of the tablet, Milagrow founder, Rajeev Karwal said:
"We are committed to providing the world's best technology to the Indian consumer even as we keep the market realities in mind. With so many non-serious players in the market who just want to exploit the opportunity, it is a tough task to keep coming up with quality products at affordable prices. I am proud of our team to have given the most potent, world's only TabTop 7.4 to the Indian market."