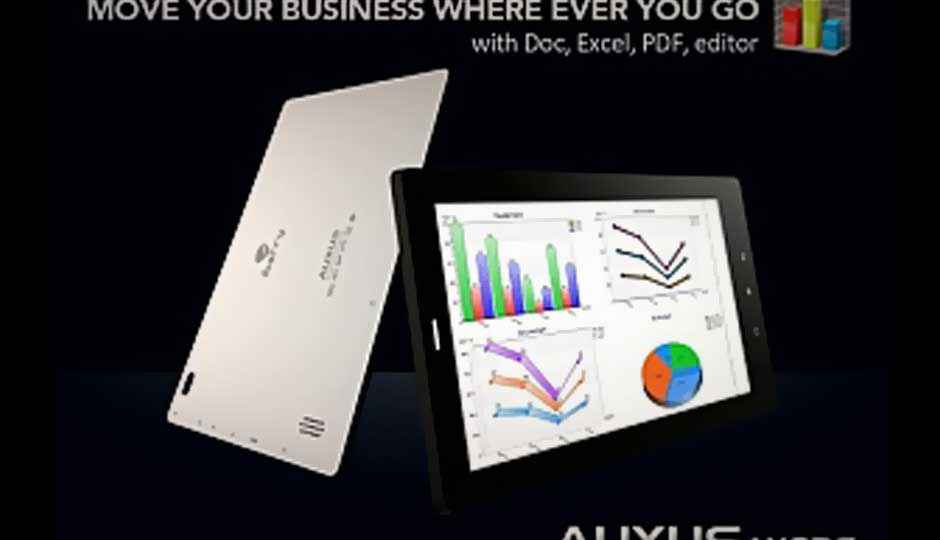 iBerry has announced the Auxus AX03G in India, the successor to its recently launched tablet, the Auxus AX02.
The iBerry Auxus AX02 was one of the first budget tablets to run Google's latest OS, Android 4.0 Ice Cream Sandwich. The Auxus AX03G will also run the same OS.

The Auxus AX03G is priced at Rs. 9,990. This is the same price at which the Auxus 02 was launched. The Auxus 02 has seen a price drop with the launch of the new model and will now be priced at Rs. 7,990.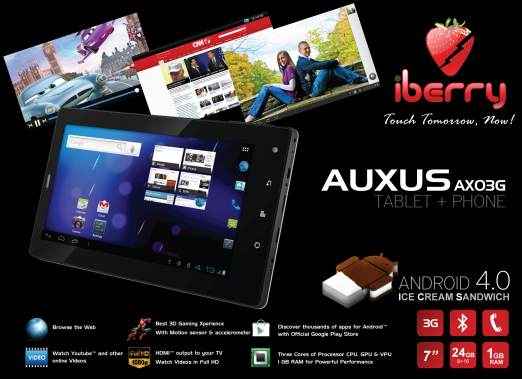 The Auxus 02 was a very good performer as a budget tablet. It has all the points in its favour – a good touchscreen, smooth running of apps and multimedia and a good build. Also, check out our detailed review of the iBerry Auxus AX 02.
The biggest bump on the iBerry Auxus AX03G is in the hardware under the hood when compared to its predecessor. It has 1GB RAM as compared to 512MB on the Auxus 02, a dual Mali-400 GPU and 24GB storage (built-in 8GB NAND Flash external 16GB microSD card) along with expandable memory via microSD slot up to 32GB.
Until now, we have seen a bunch of budget ICS tablets launch such as the Micromax Funbook, HCL MeTab U1 and the Zync Z990 to name a few.
iBerry has made the first move in upping the specification on a budget tablet that runs ICS. What remains to be seen is how the competition reacts to this and when can we see the next generation of budget tablets hit the streets from the likes of Micromax HCL and more. We are still waiting to see the first generation ICS tablets from manufacturers such as iBall, Intex and Mercury who are also contenders in the war of the budget tablets.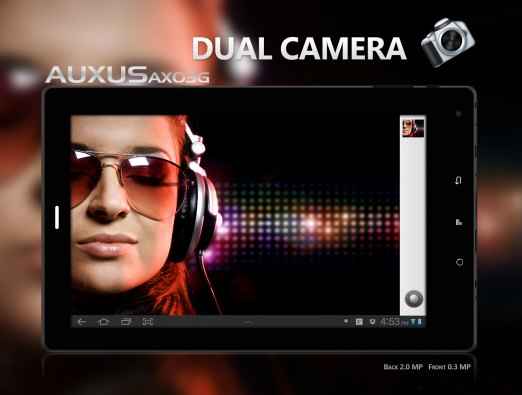 The Auxus AX03G has the following specifications:
SYSTEM PROCESSOR
• CPU: 1.0 GHz ARM Cortex A8
• GPU: Dual Mali-400 OpenGL 2.0
• VPU: Dedicated Full HD Video processing
OPERATING SYSTEM
• Android 4.0 Ice-Cream Sandwich
• Official Google Play Store supported
MEMORY
• 1GB RAM DDR3
• 24GB Storage Memory (Internal 8GB NAND Flash External 16GB MicroSD memory)
• Expandable MicroSD slot upto 32GB
DISPLAY
• 7.0" Capacitive Multitouchscreen
• 800x480 WVGA-Widescreen
NETWORK
• Inbuilt SIM slot, GSM (2G/3G) 900/1800/2100MHz with Phone Function
• WiFi 802.11 b/g and Bluetooth
VIDEO OUTPUT
• Mini HDMI, v1.3, Type C
(Full HD 1080p Supported)
CAMERA
• Back 2 MP, Front 0.3 MP
GAMES
• Dual Mali 400 GPU with OpenGL 2.0 support
• Accelerometer, Gravity & Motion Sensor
INPUT/OUTPUT
• 3.5 mm earphone jack, built-in Microphone
• Stereo Speakers, Mini USB Port
• Mini HDMI, MicroSD slot
BATTERY
• Rechargeable Li-poly 4000MAh

Also read,