The 'rumoured' 10-inch Google Nexus tablet, which was set to be unveiled today, has been post-poned due to Hurricane Sandy which is going to affect the East Coast of North America. But the rumour mills are already abuzz with leaks highlighting more details about the 10-inch tablet. Also some days back the Samsung Nexus 10 manual had also leaked adding fuel to the fire.
The rumours got a shot in the arm last week when Google's Senior Vice President of Engineering, Vic Gundotra put up images shot through the 10-inch tablet's rear camera.The 10-inch tablet has been seen on various sites and its supposed specs are as follows:
OS: Android 4.2
System-on-Chip: 1.7GHz Samsung Exynos 5250 with the Mali T604 GPU
RAM: 2 GB
Rear Camera: 5 MP
Internal Storage: 16 GB
Native Resolution: 2560x1600 with a 298.9 ppi density
Display: 10.1-inch Super AMOLED
Other features: NFC, WiFi, 3G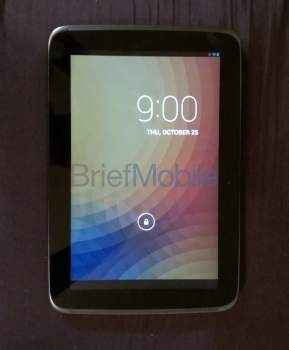 BriefMobile had put up a video some days back which has been getting a lot of views despite it being just a 5 second video showing what maybe the Google Nexus 10-inch tablet. Again, this just tends to give more substance to the rumours. It has been code-named Manta.
Pricing details for the 10-inch tablet have not yet leaked. But the Nexus 7 tablet is seeing some price drops. According to a leak, the Nexus 7 is priced at $250 for the 32GB model whereas the 16GB model is retailing for $200. According to American blogger, his local Office Depot store had a Nexus 7 32GB in stock at $249.99. The 8GB Nexus 7 is being shown as out of stock on the Google Play Store, fuelling speculations that it will most likely be discontinued.
Also read,