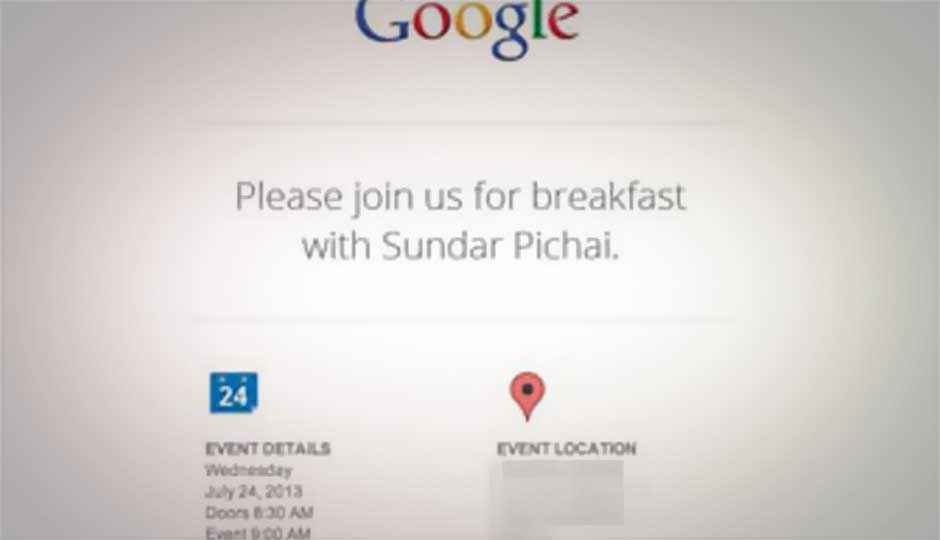 Google is sending out invites to journalists, inviting them to "join them and Sundar Pichai for breakfast" in San Francisco. The event is believed to be the unveiling of the next generation of Nexus 7 tablet.
The next 7-inch Nexus 7 tablet has been heavily rumoured for some time now, with one feature popping up time and time again; a full HD screen. Along with that, it might also be getting the Snapdragon S600 CPU and to top it all, Asus might be the company making the new tablet. If this indeed comes to pass, it would be the first time Google would allow one particular hardware company to manufacture two successive generations of their devices.
The other announcement that is quite likely is the reveal of Android 4.3, which will continue to carry the Jelly Bean moniker. Screenshots of the OS have already leaked for the Nexus 4, so we're pretty sure about this one announcement. While many have been dying for the Android 5.0, Key Lime Pie, we believe that Google might be holding onto it till the next Google I/O.
It is also possible that the next version of Android is being tweaked significantly to take into account that Google is working on improving the imaging prowess of their devices to a point where you may never need your point and shoot again. If Nikon is indeed partnered up with the company, then the bridging of the hardware and software would take time, just like in the case of the Lumia 1020.