Priced at Rs. 7,999, the HCL ME V1 runs on Android 4.0 ICS. It's a tad disappointing to see this as we have seen other budget tablets launch in the past few weeks that boast of Android 4.1 Jelly Bean straight out-of-the-box.
Under the hood, a 1GHz Cortex A8 CPU along with GC 430 3D GPU and 1GB of RAM power the HCL ME V1. The tablet has built-in earpiece so you can hold this 7-inch device to your ear just like a phone when you make voice calls. The 7-inch display has a 800x480 pixel resolution. it boasts of a 2MP rear facing camera and a 0.3 front facing camera. It has 4GB built-in storage expandable up to 32GB via a microSD card, supports Bluetooth 3.0, Wi-Fi as well as an external 3G data via a USB dongle. The HCL ME V1 runs on a 3200mAh battery.
| | |
| --- | --- |
| | |
Holding the 7-inch HCL ME V1 to our ear did feel quite silly - we also felt silly doing the same with the Samsung Galaxy Note II and that has a 5.5-inch display. The V1 has a 7-inch display and that felt quite weird. Nevertheless, it is nice to see that the device has an earpiece so you can talk with the device in public without worrying that other will overhear you. That said, the touch response of the device was surprisingly good. Typing thinkdigit.com on the keyboard was a breeze. The webpages loaded and rendered quite fast.
The V1 has just one physical home button on the device and the rear has a two tone grey finish which looks nice.
All the ports are neatly laid out at the bottom of the device. We have the DC in for charging, microUSB port, microSD card slot and the SIM card slot. The rear of the device houses the 2MP snapper along with the flash. The volume rocker and the power button rest on one side. The front facing camera is just next to the ear piece.
One tablet that executed the use of the earpiece quite well was the Samsung Galaxy Tab 2. But the Tab 2 is priced at Rs. 15,000.
The V1 is also skinned with an interface that is similar to other HCL devices. Instead of the menu lister is a button that read ME Tablet and there are a few touches that make the device feel like a typical HTC device. The browser and keyboard worked well.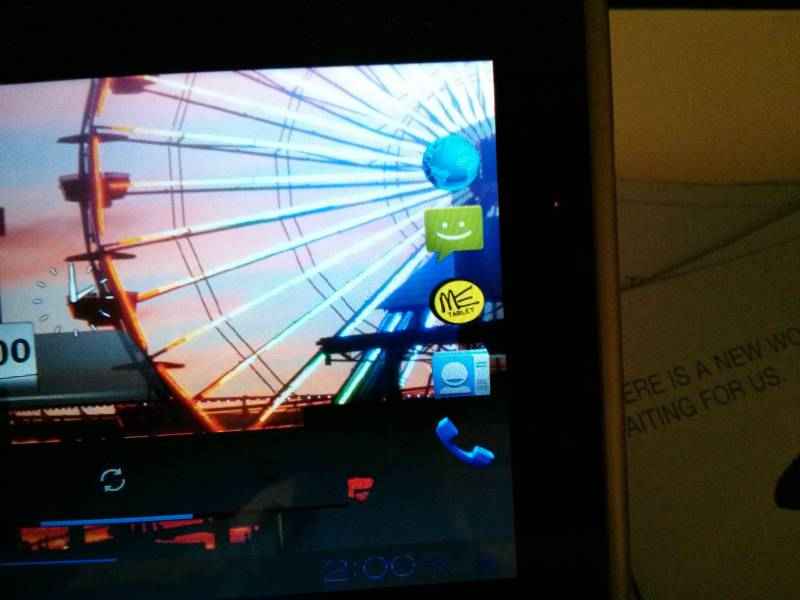 The V1 felt well built and slightly heavy making single hand use a tad difficult. It also lacks an HDMI out but boasts of 1080p HD video support. It also supports Bluetooth. Stay tuned as we will bring you a detailed review of the device as soon as we get it into our lab for testing.