Hyderabad-based Celkon Mobiles will be soon launching a new 7-inch tablet called, the Celtab CT2. Priced at Rs. 7,499, the Celtab CT2 comes with voice call functionality and runs on Android 4.0 Ice Cream Sandwich operating system.
The Celtab CT 2 features 1GHz processor, 512 MB of RAM and support for 3G via dongle. Details about other specifications of the device have not been revealed yet. Celkon has previously launched the CT1 E-TAB tablet, which also features Android 4.0 Ice Cream Sandwich OS, 512 MB of RAM and 1.2 GHz processor. However, the CT 1 does not SIM card option. Other specifications of the CT 1 include 2MP rear camera, 4GB built-in storage, 3G/optional dongle, HDMI support, and 3,000 mAh battery. Check out the full specifications of the CT1 E-TAB here.
"Celkon got huge appreciation for CT1 and currently have orders for 50,000 units from market for CT1 and CT2. The product will be available in two days," Celkon Mobiles Managing Director Y Guru is quoted as saying.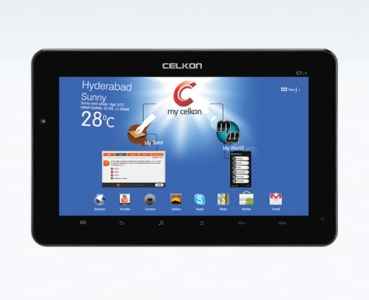 According to Celkon Executive Director R Murali, the company is planning to expand the business outside the country and up its revenue.
"The company's revenue was at Rs 326 crore last year and as the market has been expanded to some states in north India this year sales are expected to jump threefold. As on date we have 11 active states in the country selling half a million mobile phones a year. We aim to sell one million sets next year," Murali told PTI.
Celkon will be next month coming up with aggressive marketing campaigns with brand ambassadors Tamanna Bhatia and Virat Koholi to tap the coming festival season in the country.
Source: Times of India
Also read,