Byond Tech has added a new tablet to its portfolio called the Mi-Book Mi7. In terms of the specifications under the hood, the device has a 1.2GHz dual-core processor, 512MB of RAM and a 7-inch display with a 1024x600 resolution. It runs on Android 4.0.4 ICS and there is no information on whether the device will be upgradable to 4.1 Jelly Bean.
The Byond tech Mi-Book Mi7 also boasts of a 2MP rear camera and a 0.3 front facing camera for video calling. In terms of storage capacity, it has 4GB built-in that's expandable up to 32GB via microSD card. The tablet also supports 3G calling and data via a SIM card. The Mi-Book Mi7 sports a 3200mAh battery.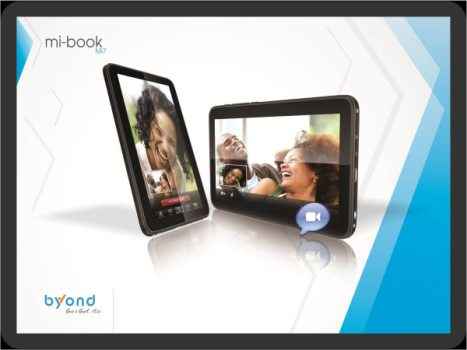 The specifications of the device aren't really the best if you consider what the competition has to offer, especially in the presence of the more modern, Jelly Bean-bearing tablets.
We recently reviewed the iberry Auxus coreX2 3G tablet. The Auxus CoreX2 3G has a 7-inch HD IPS display with a resolution of 1280x800 pixels. It is powered by a dual-core 1.6GHz Cortex A9 processor, 1GB of RAM and the Mali 400 GPU. The device supports a 3G SIM card not only for data but for voice calls as well. The rear of the device houses a 2MP camera and the front has a 0.3MP camera for video calls. Quite importantly, straight out of the box, the Auxus CoreX2 3G runs on Android 4.1 Jelly Bean.
The iberry Auxus CoreX2 3G has 8GB built-in storage expandable up to 64GB via a microSD card. This is the first time we have seen support for a 64GB microSD card on a budget device. It also supports Bluetooth v4.0 and a 4,100mAh battery. It is priced at Rs. 10,990.