Binatone has announced a new Android Tablet for kids above 4 years, called the Binatone App Star. The tablet is priced at Rs 9,999 and features Wi-Fi connectivity, parental controls and 250 pre-installed apps for children.
The Binatone App Star tablet PC features a 7-inch touch screen and has a special cover that protects it from physical damage when dropped from table height. The tablet has already been launched in the UK and other European countries.
The tablet can be operated in two modes - 'APP STAR' mode for kids and 'parent' mode. The two can easily be switched through the parental control. The tablet has Wi-Fi connectivity and comes with a battery back up of 4 hours. It comes with a front-facing camera and motion sensor.
The company stated that it is also planning to create a full ecosystem for kids' tablets with Speaker dock, Fun Karaoke, Helicopter, Racing Car and accessory pack during the X-mas time.
"This 'APP STAR' is packed full of software suitable for children of 4 years and above. It has preloaded fun games, educational apps, art studios, e-books, audio-books, music player and camera with video recorder," Binatone Country Head S P Singh said in a statement.
He added, "The App Star has secured password protected parental control built-in to the software to ensure time control and firewalled Internet browsing for kids."
Samsung had recently announced the Galaxy Tab 3 Kids tablet. The tablet has a bright and colourful body and comes pre-loaded with apps, parental controls and content for kids. It has a 7-inch display screen with 1024 x 600 pixels resolution. The tablet features a dual-core 1.2GHz processor, a 3 MP rear camera and a 1 MP front camera for video chatting. The Galaxy Tab 3 Kids has Wi-Fi connectivity and runs on Android Jelly Bean.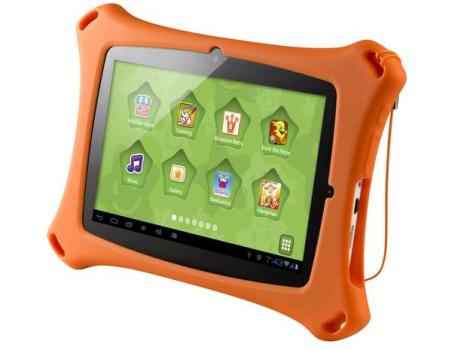 Source: Indian Express