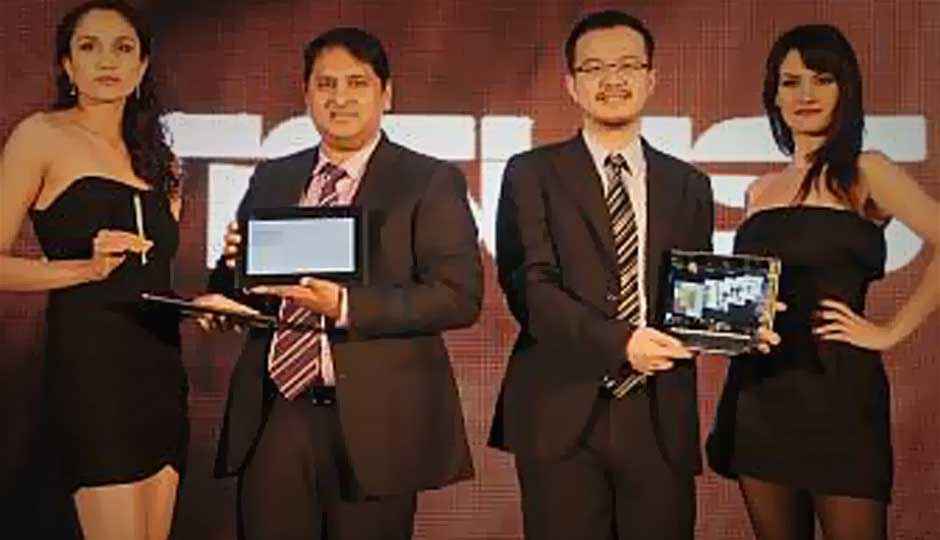 Asus has announced the launch of its 3-in-1 device called the PadFone in India for Rs. 64,999. The PadFone can be called a 3-in-1 device because it is a smartphone that can be docked into a tablet and can also become a notebook when connected to a keyboard dock.
The PadFone is a 4.3-inch smartphone that runs on Google Android ICS. When the smartphone is connected to the PadFone Station, it becomes a 10.1-inch tablet, which has a display resolution of 1280x800 pixels. The device was first shown off at Computex 2011. In the recent past, a device thought to be the Padfone 2 made an appearance in leaked benchmarks, showing off a quad-core Snapdragon S4 Pro processor onboard, coupled with 2GB of RAM. The device is only expected sometime in 2013.
When the PadFone and the PadFone Station are docked into the PadFone Starion Dock, the device can be used as a netbook as the Dock has a keyboard. The Station Dock keyboard also houses its own battery that charges the PadFone for 102 hours of talk time. It also comes with a USB ports and a card reader. The complete specifications of the PadFone and the PadFone station can be found in the table below.
"Today's introduction of PadFone will be an utmost expansion of our users' world where they will enjoy, achieve and save categorically. It is an alluring proof to substantiate our prime focus on the mastery of technological innovation and design perfection. We are assertive that PadFone will touch customers' heart in terms of incredible product, incredible design, incredible quality and incredible service," affirmed Mr. Alex Huang, Managing Director, System Business Group, Asus India.
Asus also announced the Asus Transformer Pad TF300TG with built-in 3G, which it first introduced at MWC 2012. The Asus Transformer Pad TF300TG (with Mobile Dock) will be available in India at a price point of Rs. 43,999 (MRP). The device has a 10-inch IPS display with a resolution of 1280x800, runs on a Tegra 3 quad-core processor clocked at 1.2GHz, 1GB RAM and 32GB storage. The Transformer Pad has a front facing 1.2MP camera and an 8MP rear snapper. It runs on Android 4.0 ICS and has 3G & GPS. In terms of its connectivity, the Transformer Pad has Micro SD and Micro HDMI where as the dock has 1 USB2.0 port and an SD Card slot.
"Asus is characterized by the courage to innovate. We combine this intention with state of the art technology in the constant pursuit of providing an incredible user experience. The Asus Transformer Pad distinguishes itself from other products in this segment in terms of its versatility. Our new offerings are intelligently fusing technologies to meet the demands of our existing and prospective customers," said Mr. Alex Huang, Managing Director, Systems Business Group, Asus India Pvt Ltd.
At the launch of the PadFone in Bangalore, Asus also announced that the Nexus 7 tablet would officially go on sale in India in November. The pricing of the Nexus 7 in India will be unveiled next month. Google officially announced the Nexus 7 back in June at its annual I/O event. The device has a 7-inch display with a resolution of 1280x800, is powered by the Tegra 3 quad-core processor and runs on Android 4.1 Jelly Bean.
The PadFone is ridiculously overpriced. Even if it acts as a 3-in-1 device, it doesn't justify the Rs. 64,999 price tag. Asus' flagship tablet, the Transformer Prime too is an Android tablet that comes with a keyboard dock and that too is premium priced at Rs. 50,000.
Model Name

PadFone

PadFone Station

LCD

4.3" Super AMOLED, qHD

10.1", 1280X800,

(960 X 540)

with capacitive touch/multi-touch

CPU

Qualcomm 8260A Dual-core 1.5 Ghz

-

Memory

1GB LPDDR2

-

Storage

32GB EMMC

-

WLAN

802.11 b/g/n

-

BT

BT4.0

-

Webcam

Front: 0.3M

Front: 1.3M

Back: 8M

Back: 8M

Battery

1520mAh Lithium-ion

24.4 Watt-hr

Standby Time

WCDMA: Up to 440 hours GSM: Up to 373 hours

-

Talk time

WCDMA: Up to 510 mins GSM: Up to 650 mins

-

OS

Android Ice Cream Sandwich

-

Warranty

1 Year Local Carry in

6 Months Local Carry in

Others

GPS and A-GPS

External Antenna / GPS Antenna

I/O Port

Micro-SD, Micro-HDMI

-