Acer's Iconia B1 is now available in India. The device was unveiled as the Iconia B1\-A71 at CES 2013. The tablet boasts of a 7-inch display with a 1024x600 pixel resolution. Other specifications of the device include, the dual-core MediaTek processor (MTK 8317T) clocked at 1.2GHz, 512MB of RAM, 8GB built-in storage expandable via a microSD card. The tablet will also run the Android 4.1 Jelly Bean OS.
The Iconia B1-A71 also has a 2,710mAh battery along with Wi-Fi 802.11 b/g/n, Bluetooth 4.0, and GPS. At CES 2013, the price of the device was $150 which roughly translates to Rs.8,200.
We think Acer has hit the sweet spot with the price and specifications of the device. To start with Acer is a global brand, making its devices a little more reliable that the local budget tablets available in the market today. Recently, we have seen some impressive budget devices launch in India.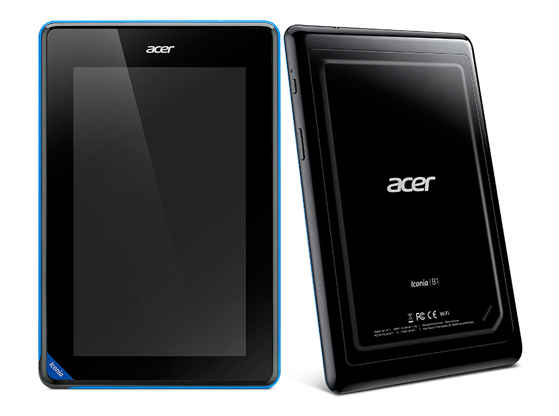 One of these devices is the iberry Auxus CoreX2 3G. It has a 7-inch HD IPS display with a resolution of 1280x800 pixels giving it a pixel density of 216ppi, which is the same as the Nexus 7 (read our review here). The Auxus CoreX2 3G is powered by a dual-core 1.6GHz Cortex A9 processor, 1GB of RAM and the Mali 400 GPU. The device supports a 3G SIM card not only for data but for voice calls as well. The tablet is priced at Rs. 10,990. You can read our detailed review of the CoreX2 3G tablet here.
One budget tablet that has also caught our attention under the Rs. 7,000 price point is the WickedLeak Wammy Desire. Its specifications are quite impressive with a dual-core 1.5GHz processor, 1GB of RAM, 400 Mali quad-core GPU, 3000mAh battery, 1.3MP front facing camera, 8GB internal storage expandable up to 32GB via a microSD card. You can read our detailed review of the device here.
Acer may have a brand name to bank on, but it will face stiff competition from local brands such as Zync, iberry and Micromax to name a few.