With our ever-growing library of photos, videos and files, storage is a bigger issue at present than ever. While you can always use the limited internal storage on your PC, or upload stuff to the cloud, a more reliable and easy solution is a NAS. Network-attached storage devices, or NAS boxes as we call them, have been available in India for quite some time now. Available in single drive, dual-drive and multi-drive configurations, these provide the best storage options if you have large amounts of data and insufficient local storage options. NAS boxes are necessary if you want your data to be available at all times, more so when you are traveling, and have limited storage resources. However, there has been limited overall acceptance of NAS storage solutions on everyday basis. To begin with, NAS devices are not the most affordable, generally priced around Rs. 45,000 for drive-less models. Keeping this in mind, WD announced the MyCloud EX2 Ultra earlier today, which will be available in drive-less and 4TB variants. The drive-less variant is priced at Rs. 17,499 and the 4TB variant costs Rs. 35,499, featuring WD's Red drives, particularly optimised for usage in 24x7 NAS setups. Seeing that one 2TB Red Pro Drive costs about Rs. 8,000, the MyCloud EX2 Ultra NAS seems to be a great bargain for high storage needs. Here's checking out the NAS drive in closer detail.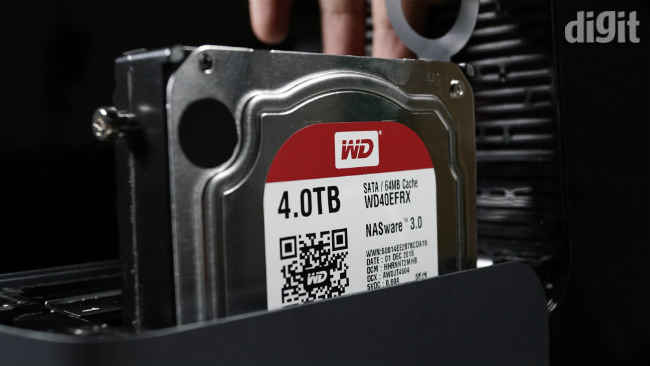 Let's begin with the build of the device. The MyCloud EX2 Ultra is completely plastic from the outside, and has a relatively small footprint considering that this is a two-bay NAS drive. The case has a two-part design on the inside. The front panel is wrapped around either sides, while the top, back and bottom panels have an asymmetric grille-like design. The bottom and top panels are interspersed for airflow. There is a thumb-sized indentation at the top, pressing which opens the top lid and gives you access to the two drives. The drives are placed vertically, with the connector side down. We had two drives in place, in our review unit. There is a small tag on each drive, pulling which allows you to extract them from the respective slots. These are set in place by custom screws that slide in and out of the required places.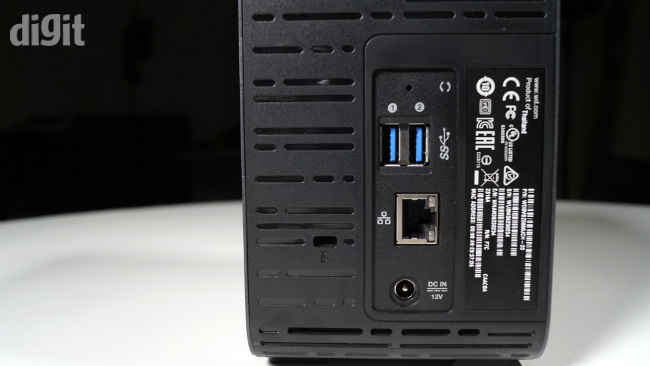 The front of the case is completely devoid of ports, and has LED indicators for power and the two drives.At the back, there are two USB 3.0 ports, one ethernet port for connectivity and a power socket. While this is understandably expected to remain connected 24x7, including a power switch in the setup would have been appreciable. Moreover, the front panel could have easily including a couple of USB ports, which in turn would have enhanced convenience.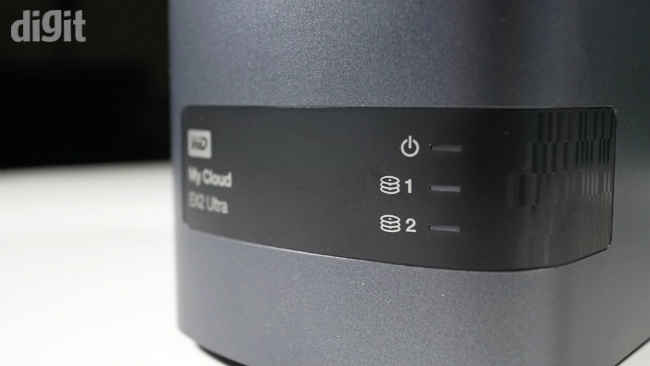 Setting up the device is fairly simple, and all you have to do is to plug in a power source and connect the NAS to your router. The rest of the setup takes place on the PC. We carried out our initial tests on Windows-powered machines. Soon as the drive gets connected via ethernet, it shows up in the Network section of your PC. Opening it takes you to the setup menu.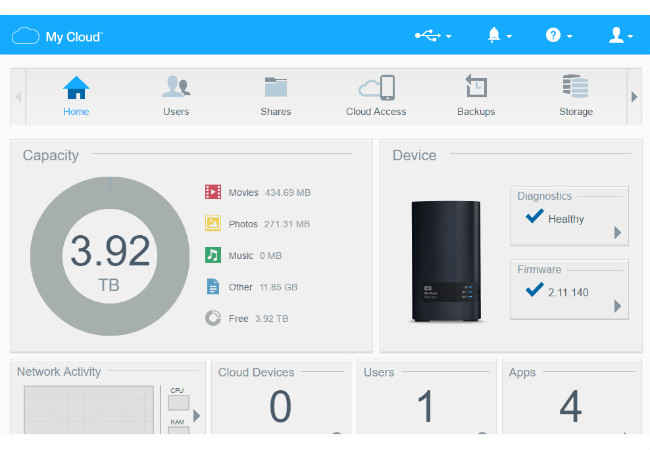 The main interface of the WD MyCloud EX2 Ultra runs on the browser, and despite being simple to use, it is somewhat uninspiring and bland. Nevertheless, it covers all the basic functionalities that a home user might require, like setting up users, checking drive health and storage space status. To make it easier to update, the firmware update access is given directly on the main dashboard. Our test device came with RAID 0 configuration, and WD has confirmed that the 4TB variant will come with RAID 0 array pre-configured. The WD MyCloud EX2 Ultra also supports RAID 1 and JBOD drive systems, apart from a normal Spanning drive configuration.
While the WD MyCloud EX2 Ultra supports all PCs attached to the same network, it can also be accessed via smartphones through the MyCloud app. We downloaded the MyCloud app on an Android device, and could successfully access the saved photographs and videos after briskly setting it up on the phone. We could also play media on the smartphone, while connected to the same WiFi network as the NAS, as well as over mobile data.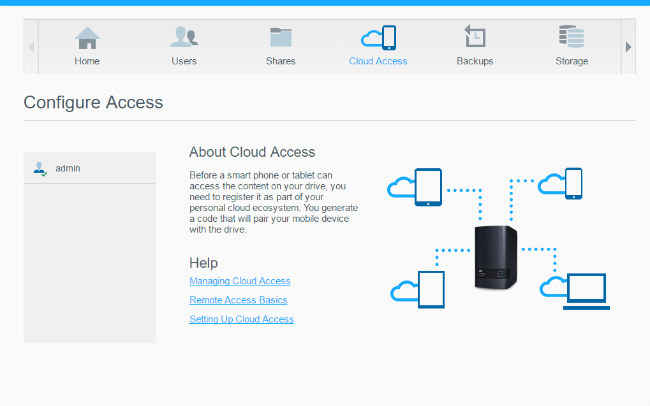 The device responds fast, even with two or more devices connected and streaming media from it. Copying large files gave us a transfer speed of just over 100MB/s, and is only limited by the data speed wall of the ethernet. The MyCloud EX2 Ultra is fast and intuitive, thanks to the upgraded dual core 1.3GHz SoC from Armada, along with 1GB of RAM. In comparison, the DS216 from Synology, which is another two-bay drive system, offers only 512MB of RAM. The device also supports a bunch of applications like PLEX and Dropbox, which might help existing PLEX and Dropbox customers to create a better media streaming device with the EX2 Ultra. An additional HDMI port could have been added, and is somewhat missed.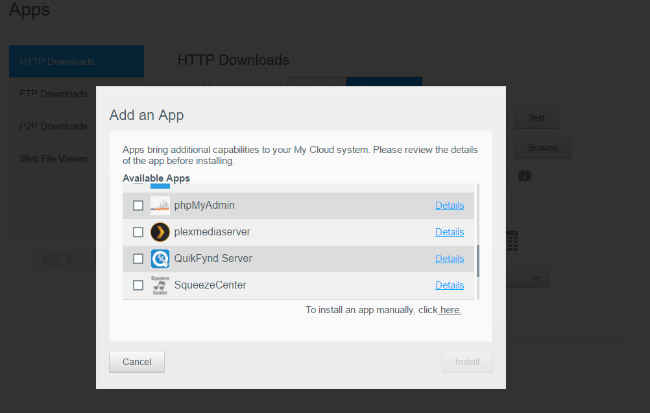 Overall, WD seems to have done a good job with the MyCloud EX2 Ultra, but we hope to see improved functionality in terms of software. For instance, there are fewer supported apps with the WD MyCloud EX2 Ultra in comparison to QNAP or Synology. The two USB ports at the back only support pen drives, but not other peripherals such as printers. Irrespective of all these shortcomings, though, this might be the most affordable NAS option in the market right now, along with offering 3-year warranty with it.
Other Popular Deals
Samsung A7 2016 Edition Golden

Rs. 18990 *

Buy Now

Mi A2 (Black, 4GB RAM, 64GB...

Rs. 11999

Buy Now

Redmi Note 5 Pro (Gold, 4GB...

Rs. 12450

Buy Now
*Includes Cashback
​