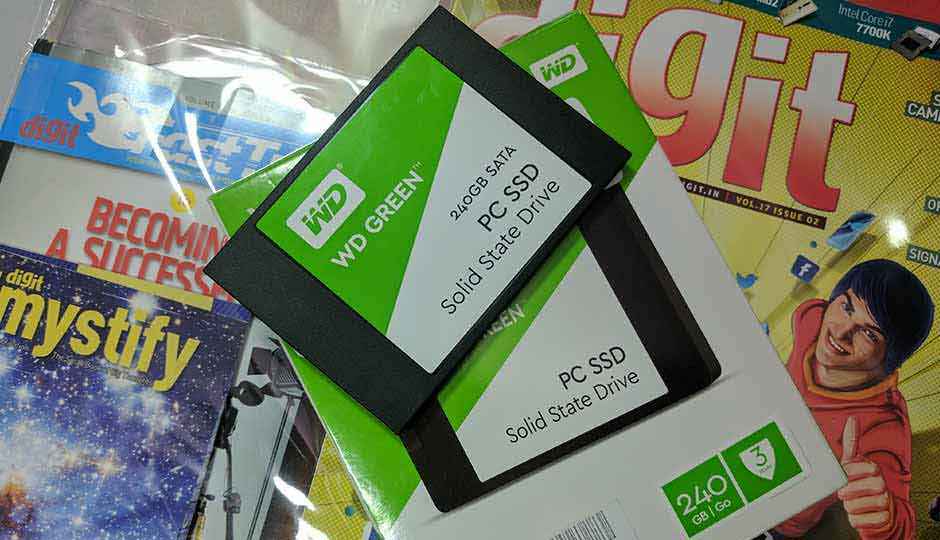 WD Green SSDs offer quite a bit of storage at a competitive price point. But do they perform as good?
WD Green SSD 240 GB Rating

72

100
Our Verdict
The WD Green 240 GB SSD suffers in comparison to its blue coloured cousin during write operations. That too by a margin too large to ignore. The budget segment doesn't offer great performance, that's a known trend. Hardly have any drives existed that can boast of giving both performance for cheap. The drive has an MRP of Rs.8,320 but you can find it for as low as Rs.6,050 online and at that price, you can opt for the WD Green but we'd advise you to go for the WD Blue instead.
PROS
Economical
Transfer speeds are above average
CONS
IO Latency timings on the higher side
Build quality could have been better
WD Green SSD 240 GB: Detailed Review
We recently reviewed the WD Blue SSD and it turned out to be quite good except for the price which was an ever so slightly greater than the competition making it a pretty good buy. The WD Blue was a mid-range SSD based on the SanDisk X400. This here is the WD Green 240 GB SSD which is targeted at the budget segment. Currently available with just two capacities, a 120 GB and 240 GB SKU. Anything greater and it's unlikely that you'd want the controller that the WD Green comes with and you'll soon know why.
Specifications
Unlike the WD Blue which had a Marvell 88SS1074 controller, the WD Green features a Silicon Motion SM2258XT which isn't that big a surprise. A glance at the PCB and we notice that the SM2258XT has a RAM-less design. So there's an immediate cost saving benefit as you have one less chip to pay for. However, cost saving measures have been synonymous with a loss in performance which is something we'll explore later on. Here are the specs for the WD Green SSD and we've put the numbers for WD Blue right next to it. So you can see there's a clear difference in the performance numbers.
WD Green SSD 240 GB Specifications
| | | |
| --- | --- | --- |
| | WD Green | WD Blue |
| Interface | SATA III 6 GB/s | SATA III 6 GB/s |
| Controller | Silicon Motion SM2258XT | Marvell 88SS1074 |
| NAND | SanDisk 15nm TLC | SanDisk 15nm TLC |
| RAM | NA | DDR3L 1600 128 MB |
| Seq. Read Speed | 540 MBps | 540 |
| Seq. Write Speed | 465 MBps | 500 |
| Random Read IOPS | 37K | 97K |
| Random Write IOPS | 68K | 79K |
| Endurance (TBW) | 80 | 100 |
| Active Power Consumption | 50 mW | 70 mW |
| Peak Power consumption (Read) | 2000 mW | 2350 mW |
| Peak Power consumption (Write) | 2500 mW | 3400 mW |
| Idle Power consumption | 30 mW | 42-45 mW |
| MTTF | 1.75 Mil Hrs | 1.75 Mil Hrs |
| Form Factor | 2.5–inch | 2.5–inch |
| Height | 7 mm | 7 mm |
| Weight | 32 g | 37.4g |
| Warranty | 3 years | 3 years |
| Price | Rs. 8320 | Rs. 9500 |
| Cost per GB | Rs. 34.7 | Rs. 38 |
We can see that the WD Green is a little behind the WD Blue in write speeds, IOPS (Read and Write) but it's better off in terms of power efficiency and is lighter in weight. Lastly, the write endurance is 20% lower as well.
Build and Design
We opened up the WD Green to peek inside. Both halves are made of plastic with just metal inserts at the screw holes. The controller doesn't have any heatsink or thermal pads attached to it. And even if it did, the body isn't made of metal to act as a heatsink. Here's where the power efficiency comes into play, as a controller which consumes less power isn't going to heat up as much.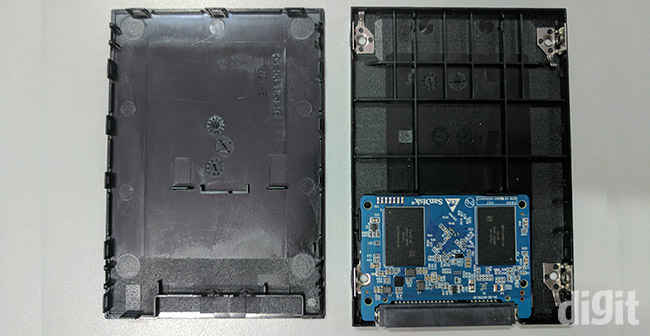 Upon closer inspection, we notice the Silicon Motion SM2258XT controller in the centre with the two NAND packages on either side. The NAND chips used on the WD Green are also SanDisk 15nm TLC NAND (05478064G) which isn't surprising either. There isn't much choice since WD would have opted for components from their subsidiaries.
The SM2258XT is also an all rounder with support for TLC and 3D NAND. It supports ATA8 security feature set and has multiple technologies to help with wear leveling. It doesn't support the same amount of IOPS as the Marvell 88SS1074 controller as the WD Blue and with fewer NAND chips in a low capacity drive like this one, you can expect actuals to be slightly lower than what the controller is capable of.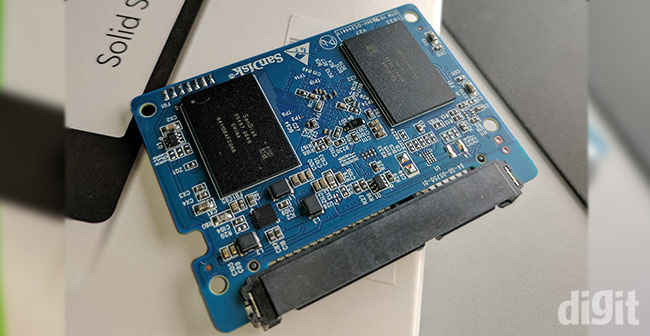 Flipping the PCB over, we see the SanDisk logo so we dug up all images of SanDisk SSDs and noticed that this design is the same as the 960 GB SKU of the SanDisk SSD PLUS. It's the only one with an SM2258XT while the lower capacity drives use the SM2256S.
The WD Green 240 GB isn't as well built as the WD Blue, with a little more price cut here and there, the WD Green isn't bad, per se. What we see here is practically what every other manufacturer does for their budget SSDs.
Performance
We ran CrystalDiskMark before conditioning the SSDs and the sequential read speeds were at 540 MBps and the sequential write speeds were at 458 MBps. Compared to the WD Blue, the read speeds seem to be the same but the write speeds are 11.6 per cent lower. Moving on to the 4KQD32 values, we notice that they are roughly half of what the WD Blue offers. Yikes! That's a little too big of a performance drop between two devices that only have a price gap of Rs.1,200.
Our IOMeter test runs across varying QD levels were reflecting similar performance drops. The higher the QD, the greater the drop.
Moving on to the IO latency timings, we see that the values for read operations are quite high and the graph isn't consistent. Higher QDs do really take a toll on this drive. So you should experience performance drops as the size of the transfers increase.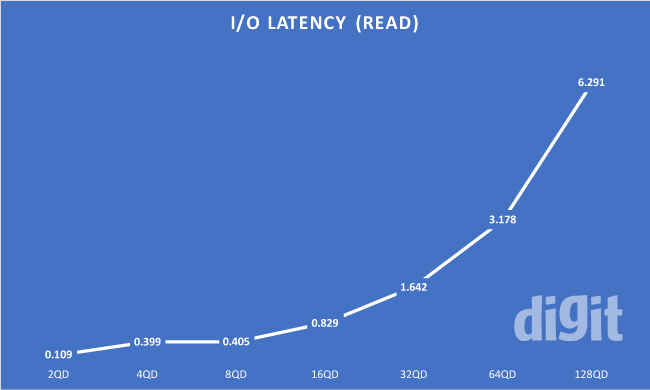 We decided to compare the latency timings of the WD Green and the WD Blue. And the results are surprising. For something that costs just Rs.1,200 lesser than the WD Blue, the WD Green sure has a large performance gap. The latency timings are roughly double that of the WD Blue and there's a large jump from 16QD onwards.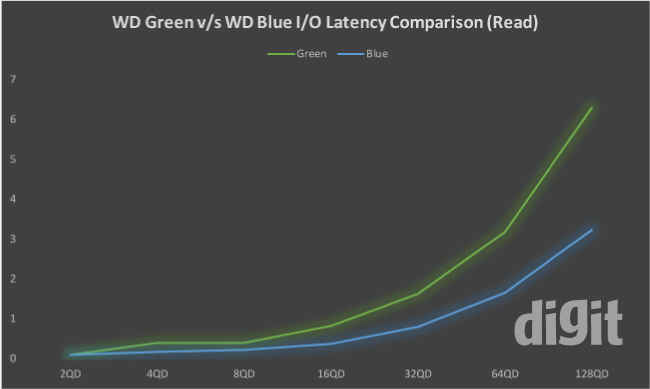 Write operations on the WD Green paint a slightly different story. While the graph does exhibit a similar curve like the read latencies, the actual values are a lot lesser. There still is no consistency but what we see here is quite normal for budget SSDs.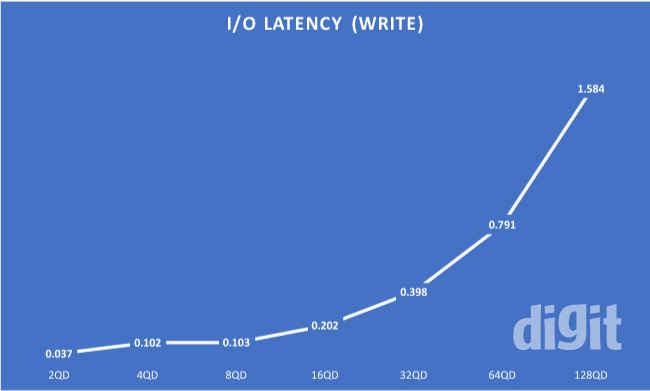 Once again, we decided to compare the WD Green and the WD Blue in terms of write operations. The timings are very close with the WD Green being a little slower than the WD Blue. This turns things around for this SSD as it brings it a lot closer to the other drives in the segment.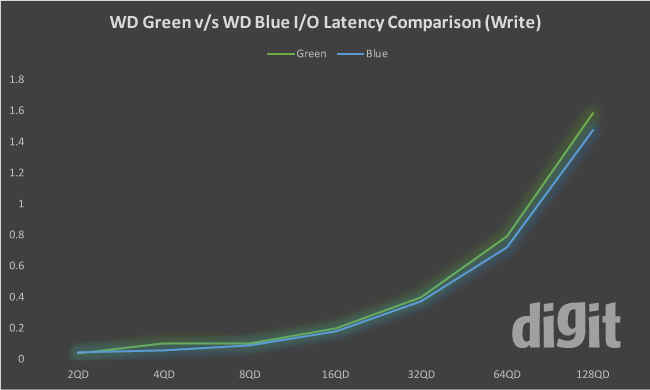 ​
Other Popular Deals
Samsung Galaxy J7 Nxt 32 GB...

Rs. 10990 *

Buy Now

Honor 7X (Black, 4GB RAM, 32GB...

Rs. 11999

Buy Now

Honor 8 Lite 64 GB (Black)

Rs. 12253 *

Buy Now
*Includes Cashback