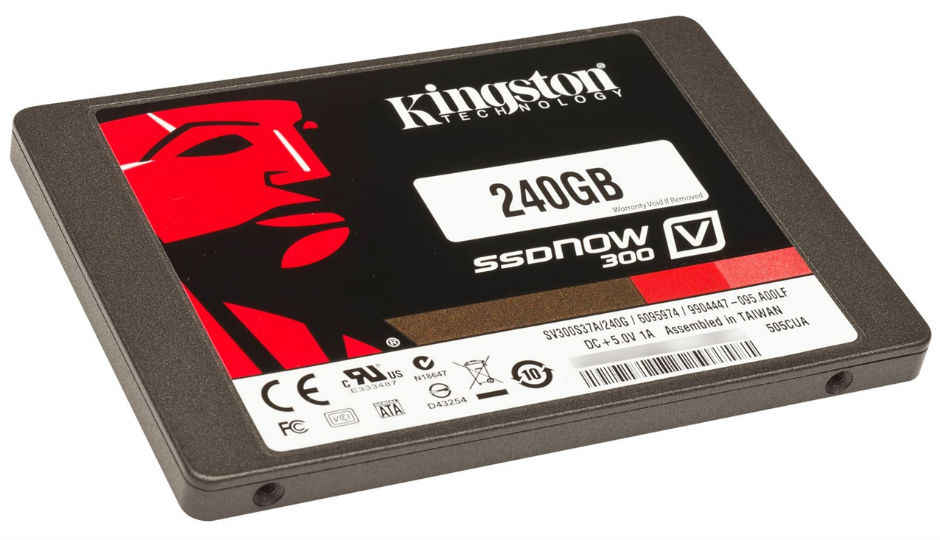 Gone are the days when you would have to sit around or think of something else to do while you were transferring data or waiting for an application to load up. Technology has taken everything good that it has to offer, bundled it up and evolved the way we do almost everything on our computing devices. The offshoot of this evolution has improved the storage industry by quite a fair margin which in turn has enhanced storage devices and products. It was only a while back that we consumers had to use mechanical hard disk drives for storage and didn't have elaborate storage options to choose from. The only choices that we had with mechanical HDDs were in the form of different RPM based drives which although bettered the performance but the price to performance ratio was too less to justify a purchase. This was the case until the introduction of SSDs.
What is an SSD?
A SSD or Solid State Drive is a storage device used in a computer that provides similar functionalities like a mechanical HDD but in that lies a big difference. Unlike HDDs, SSDs don't use any moving parts as they don't use metal platters that spin at high speeds with the help of motors but instead SSDs use electronic interfaces to store data in data blocks or flash memory and provide for a simplified approach when the system needs to access data. Using SSDs have many great advantages over using HDDs but the number one advantage has to be the speed that SSDs offer. It is the speed that SSDs provide which make them an irresistible purchase option especially now considering the prices of SSDs have been steadily declining. Selecting the right SSD for your desktop PC or laptop isn't very difficult and so let's look at some of the factors you should look at before investing in an SSD.

Availability of interface on the motherboard:
SSDs like HDDs need SATA support to work and almost every recent SSD comes with support for SATA 3 that provides a maximum speed of 6Gb/s (6 Gigabits per second). If you're someone who has an older motherboard, then it's possible that your motherboard may have support for only SATA 2 which has a bandwidth limit of 3Gb/s (3 Gigabits per second) but don't fret as you can still buy a SATA 3 SSD for your PC and it would work without any problem on your PC because every version of SATA is backward compatible. However, using an SSD that supports SATA 3 on a SATA 2 port will limit the performance of the SSD to 3Gb/s which is the maximum that SATA 2 provides. The same goes for a laptop in case you want to switch to a SSD on it. You just need to see the specifications of your laptop and check for SATA 3 support.
SSD controller:
Every SSD has a controller which incorporates the electronic components necessary to bridge NAND flash memory to the computer. The controller is like a processor on the SSD that executes firmware-level code. The controller in a SSD is responsible for its performance and so you can easily say that a good controller makes a good SSD. This is why you need to pick an SSD which has a well known controller and which has been proven to lift the performance of an SSD to new heights. The new HyperX 3K series of SSDs from Kingston is equipped with second generation SandForce controller and are an excellent option to consider for ultra-fast SSD performance.
Form factor for desktops:
SSDs come in a couple of flavours but most of them are available in a standard 2.5-inch form factor similar to your typical laptop 2.5-inch storage drives. You'll also find SSDs that require a PCI Express port to run instead of regular SATA ports but PCIe SSDs are usually very costly to recommend. Regular 2.5-inch form factor based SSDs are a great choice for desktops as you can literally hide them in your PC case because of their small size and not worry much about installation or cable management. Desktop PC cases these days have a provision for installing SSDs in the 3.5-inch drive cages by providing drive brackets to accommodate them.
Form factor for Laptops:
This is where it gets a little bit tricky. Though laptops have always traditionally supported 2.5-inch form factor based storage drives, almost every laptop has a certain requirement for installing SSDs in terms of the thickness or the z-axis based height of the drive. Some laptops have support for installing SSDs that are 9mm thick while some other laptops (recently ultrabooks) support only a 7mm thick drive. Before buying and SSD, you need to look at the specifications of your laptop and examine the supported dimensions and then make a purchase. You'll find many options from Kingston SSDs for laptop use, especially the V310 and HyperX FURY, have a thickness of just 7mm, which is ideal for laptops and notebook PC deployments for uncompromised performance.
Capacity:
Capacity is a very important factor to consider while selecting an SSD, after all storage is mostly about capacity. SSDs are available in various capacities and depending on your usage scenario, you can select the one that fits you best. If you're buying an SSD for using it only as a boot drive, you needn't spend a lot of money on one with a high capacity as even a 64GB SSD will suffice. But if for example you need an SSD to not only use as a boot drive but also install games on it to decrease game loading times then you'll have to look for a higher capacity SSD. Kingston, for example, offers SSDs ranging from 60GB all the way up to 960GB.
Smart Response Technology Support:
If your motherboard has support for Intel Smart Response technology then you can also go for a SSD cache drive which would work in tandem with your existing HDD by behaving as a system cache volume. The benefit of doing this is that your system will reap the benefits of an SSD and you won't have to spend a lot of money on replacing your existing HDD. Given Kingston's expertise in storage, the company has a couple of very good options for SSD caching in the form of Kingston mS200 and Kingston M.2 SATA.
Other Popular Deals
Samsung A7 2016 Edition Golden

Rs. 18990 *

Buy Now

OnePlus 6 (Mirror Black, 6GB...

Rs. 34999

Buy Now

Redmi Y2 (Gold, 3GB RAM, 32GB...

Rs. 7999

Buy Now
*Includes Cashback
​