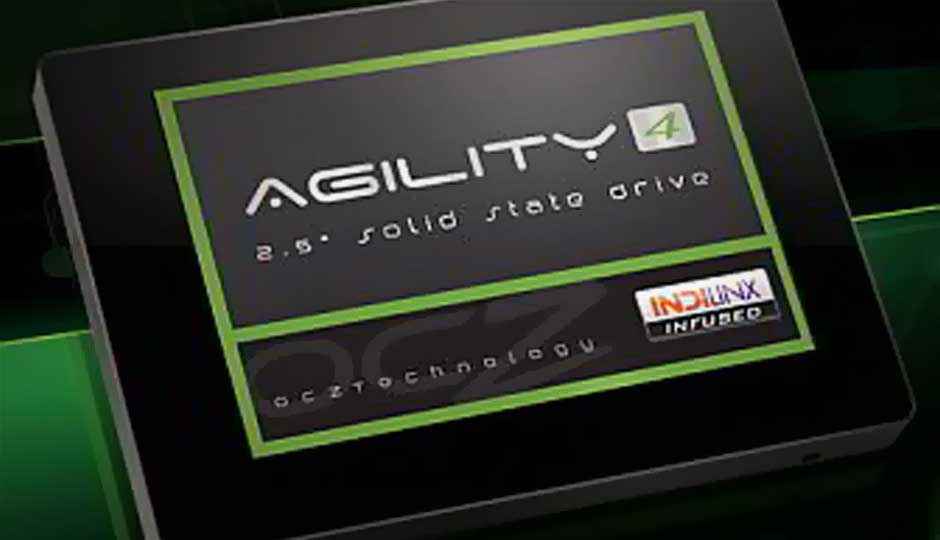 OCZ has launches its new Agility 4 series of solid state drives in India, starting from Rs. 6,450 for 64GB, with a 3-year warranty. Featuring the SATA 6Gbps (SATA III) specification, the new OCZ SSDs use the Indilinx Everest 2 controller platform, normally used on the company's flagship Vertex 4 SSD series.
According to OCZ, the Agility 4 SSDs offer an excellent combination of interface speed, input/output operations per second (IOPS) performance, and enterprise-grade endurance and reliability, all in a value-oriented SSD. The Everest 2 controller platform supposedly excels in real-world compressible and incompressible workload performance, and with it, the Agility 4 SSDs claim consistent transfer rates of up to 400MB/s, and up to 85,000 random write IOPS.
The dual core controller architecture of the Agility 4 SSDs also includes an advanced error correction code (ECC) engine, dynamic wear-leveling, auto encryption, and Indilinx Ndurance 2.0 technology that addresses and overcomes specific shortcomings of NAND flash memory to extend flash life well beyond the manufacturer's rated program and erase cycle specifications.
Ryan Petersen, CEO of OCZ Technology, described the new series:
"For mainstream storage applications, there is no product better suited in the industry than our Agility 4 SSDs, providing the ultimate in access speed, application performance, endurance and reliability, at price points that most cost-conscious users will find appealing. As mobile users and applications continue to grow, adding to the deluge of data being generated on a daily basis, our Agility 4 SSD series provide great IOPS performance at a reasonable price enabling the user experience to be heightened especially for video streaming, music, photos, gaming, and online transaction processing (OLTP)."
Pricing & Availability
The Agility 4 SSD will be available in 64GB/128GB/256GB/512GB capacities through OCZ's authorised distributors across India. OCZ Agility 4 SSDs are priced as follows:
| | |
| --- | --- |
| SKU | Price (INRs) |
| Agility 4 SATA III 64GB | 8,250 |
| Agility 4 SATA III 128GB | 12,650 |
| Agility 4 SATA III 256GB | 19,990 |
| Agility 4 SATA III 512GB | 34,449 |