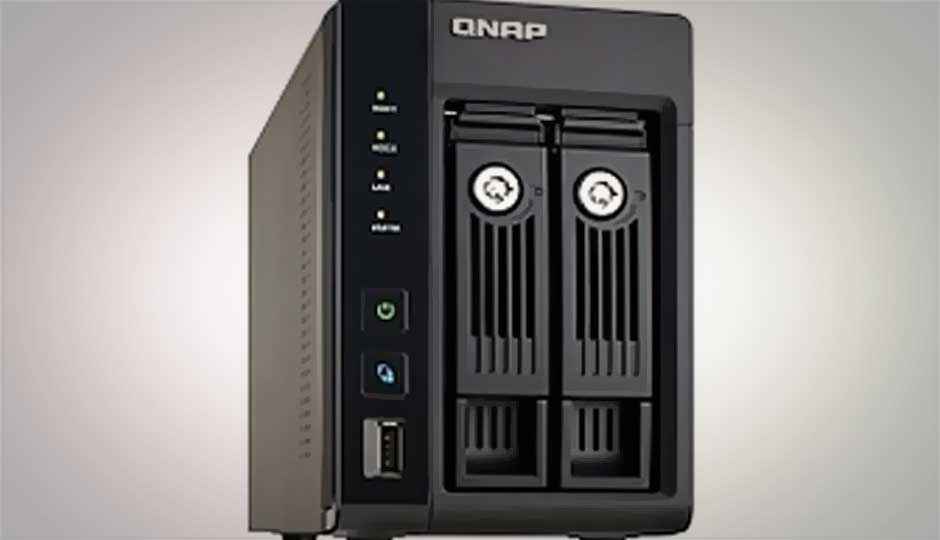 A powerful and feature-rich NAS system.
QNAP TS-269 Pro TurboNAS Rating

0

100
Our Verdict
Looking at the features it offers, its price is justified and we give this NAS system our thumbs up.
PROS
Large feature set
Well laid-out
CONS
Some know-how required
Expensive
QNAP TS-269 Pro TurboNAS: Detailed Review
QNAP has been manufacturing NAS hardware from some time and they sent us their TS-269 Pro TurboNAS server which is meant for SMBs (Small to Medium Businesses). This is supposed to be a feature rich product, so lets look at it in detail and see how it fares:
Specifications:
Hardware Specifications:
CPU

Intel® Atom™ 2.13GHz Dual-core Processor

DRAM

1GB RAM (Expandable RAM, up to 3GB) (Source:

QNAP

)

Flash Memory

512MB DOM

Hard Disk Drive

2 x 3.5" or 2.5" SATA 6Gb/s, SATA 3Gb/s hard drive or SSD (Source:

QNAP

)

Hard Disk Tray

2 x Hot-swappable and lockable tray

LAN Port

2 x Gigabit RJ-45 Ethernet port

LED Indicators

Status, LAN, USB, eSATA, Power, HDD 1, HDD 2

USB

2 x USB 3.0 port (Back: 2)

3 x USB 2.0 port (Front: 1; Back: 2)

Support USB printer, pen drive, USB hub, and USB UPS etc.

eSATA

1 x eSATA port (Back)

Buttons

System: Power button, USB One-Touch-Backup Button, Reset button

Alarm Buzzer

System warning

Form Factor

Tower

Dimensions

150 (H) x 102 (W) x 216 (D) mm

5.91 (H) x 4.02 (W) x 8.5 (D) inch

Weight

Net weight: 1.74 kg (3.84 lbs)

Gross weight: 2.92 kg (6.44 lbs)

Sound Level (dB)

w/o HDD installed: 33.3 dB

Stand by: 33.7 dB

In operation: 34.2 dB

(with 2 x 1TB HDD installed)

Power Consumption (W)

Sleep mode: 16W

In Operation:25W

Power-off (in WOL mode): 1W

(with 2 x 1TB HDD installed)

Temperature

0-40˚C

Humidity

0~95% R.H.

Power Supply

Input: 100-240V AC, 50/60Hz, Output: 90W

Secure Design

K-lock security slot for theft prevention

Fan

1 x quiet cooling fan (7 cm, 12V DC)
Software Specifications:
Operating System

● QNAP Turbo NAS System 3.7

Supported Clients

● Windows XP, Vista, Windows 7/8 (32/64-bit), Windows Server 2003/2008 R2

● Apple Mac OS X

● Linux & UNIX

Supported Browsers

● Microsoft Internet Explorer 8, 9

● Mozilla Firefox 8

● Apple Safari 4

● Google Chrome

Multilingual Support

● Chinese (Traditional & Simplified), Czech, Danish, Dutch, English, Finnish, French, German, Greek, Hungarian, Italian, Japanese, Korean, Norwegian, Polish, Portuguese (Brazil), Romanian, Russian, Spanish, Swedish, Thai, Turkish

File System

● Internal Hard Drive: EXT3, EXT4

● External Hard Drive: EXT3, EXT4, NTFS, FAT32, HFS

Networking

● TCP/IP (IPv4 & IPv6: Dual Stack)

● Dual Gigabit NICs with Jumbo Frame

○ Failover

○ Multi-IP Settings

○ Port Trunking/NIC Teaming (Modes: Balance-rr, Active Backup, Balance XOR, Broadcast, IEEE 802.3ad/Link Aggregation, Balance-tlb and Balance-alb)

● Service Binding based on Network Interfaces

● Virtual LAN (VLAN)

● DHCP Client, DHCP Server

● Protocols: CIFS/SMB, AFP (v3.3), NFS(v3), FTP, FTPS, SFTP, TFTP, HTTP(S), Telnet, SSH, iSCSI, SNMP, SMTP, and SMSC

● UPnP & Bonjour Discovery

● USB Wi-Fi Adapter Support

Backup Solution

● Real-time Remote Replication (RTRR)

○ Works as Both RTRR Server & Client with Bandwith Control

○ Real-time & Scheduled Backup

○ Encryption, Compression, File Filter, and Transfer Rate Limitation

● Block-level Remote Replication

○ Works as Both Rsync Server & Client with Bandwidth Control

○ Encrypted Replication between QNAP NAS Servers

● USB One Touch Backup (Import/Export)

● Desktop Backup by QNAP NetBak Replicator for Windows

● Apple Time Machine Support with Backup Management

● Data Backup to Multiple External Storage Devices

● Data Backup to Cloud Storage (Amazon S3, ElephantDrive, and Symform)

Security

● IP Filter and Policy-based Automatic IP Blocking

● Network Access Protection with Auto-blocking: SSH, Telnet, HTTP(S), FTP, CIFS/SMB, AFP

● Encrypted Access: HTTPS, FTP with SSL/TLS (Explicit), SSH/SFTP (admin only), Encrypted Remote Replication between QNAP NAS Servers (Rsync over SSH)

● CIFS Host Access Control for Shared Folders

● Antivirus Protection

● FIPS 140-2 Validated AES 256-bit Volume-based Data Encryption*

● AES 256-bit External Drive Encryption*

● Importable SSL Certificate

● Instant Alert via E-mail, SMS, Instant Messaging (Windows Live), Beep, and LCD Panel

Disk Management

● Single Disk, JBOD, RAID 0, 1

● Online RAID Capacity Expansion & Online RAID Level Migration

● Bad Block Scan & Hard Drive S.M.A.R.T.

● RAID Recovery

● Bitmap Support

iSCSI (IP SAN)

● iSCSI Target

○ Multi-LUNs per Target

○ Up to 256 Targets/LUNs Combined

○ Supports LUN Mapping & Masking

○ Online LUN Capacity Expansion

○ Supports SPC-3 Persistent Reservation

○ Supports MPIO & MC/S

● iSCSI LUN Backup, One-time Snapshot, and Restore

● iSCSI Connection and Management by QNAP Finder (Windows)

● Virtual Disk Drive (via iSCSI Initiator)

○ Stack Chaining Master

○ Max No. of Virtual Disk Drives: 8

Server Virtualization & Clustering

● Supports VMware vSphere

● Supports Citrix XenServer

● Supports Windows Server 2008 R2 Hyper-V & Failover Clustering

Power Management

● Wake on LAN

● Internal Hard Drive Standby Mode

● Scheduled Power on/off (Max 15 Settings)

● Automatic Power on after Power Recovery

● USB and Network UPS Support with SNMP Management

Access Right Management

● Max No. of Users: 4,096

● Max No. of User Groups: 512

● Max No. of Network Shares: 512

● Batch Users Creation

● Import/Export Users

● User Quota Management

● Subfolder Permissions Support for CIFS/SMB, AFP, FTP and Web File Manager

Domain Authentication Integration

● Microsoft Active Directory (AD)

● LDAP Server

● LDAP Client

● Domain Users Login via CIFS/SMB, AFP, FTP, and Web File Manager

MyCloudNAS Service

● Private Cloud Storage and Sharing

● Free Host Name Registration (DDNS)

● Auto Router Configuration (via UPnP)

● MyCloudNAS Connect for Easy VPN Connection (Windows utility)

Storage Plug & Play

● Windows Software: QNAP Finder

● Create and Map Shared Folders

● Create and Connect to iSCSI Target/LUN

Web Administration

● AJAX-based User Interface

● Smart Fan Control

● Dynamic DNS (DDNS)

● SNMP (v2 & v3)

● Resource Monitor

● Network Recycle Bin for File Deletion via CIFS/SMB and AFP

○ Automatic Cleanup

○ File Type Filter

● Comprehensive Logs (Events & Connection)

● Syslog Client

● Firmware Live Update

● System Settings Backup and Restore

● Restore to Factory Default

● Mobile App Qmanager for Remote Monitoring
Powerful All-in-one server
File Server

● File Sharing across Windows, Mac, and Linux/UNIX

● Windows ACL

● Advanced Folder Permission for SMB, AFP, FTP, Web File Manager

● Shared Folder Aggregation (CIFS/SMB)

● Web File Manager

○ Supports ISO Mounting

○ Direct File Viewing via Google Doc

○ Create and Send Download Links for Public File Sharing with Expiration Time and Password Protection

● Mobile App: Qfile for File Browsing and Management

FTP Server

● FTP over SSL/TLS (Explicit)

● Max No. of Concurrent Connections: 256

● FXP Supported

● Passive FTP Port Range Control

● FTP Bandwidth & Connection Control

● Unicode Support

Backup Server

● Remote Replication Server (over Rsync)

● Real-time Remote Replication to another QNAP NAS or FTP Server

● Apple Time Machine Support

● Windows Client Backup Application: QNAP NetBak Replicator

● Third Party Backup Software Support: Acronis True Image, CA BrightStor, ARCserve Backup, EMC Retrospect, Symantec Backup Exec, LaCie SilverKeeper, etc.

Web Server

● HTTP/HTTPS Connections

● Supports WebDAV Connection

● Support Virtual Host (Max: 32)

● Importable SSL Certificate

Database Server

● Built-in MySQL Server

● Web-based Management via phpMyAdmin (QPKG)

Print Server

● Max No. of Printers: 3

● Supports Internet Printing Protocol

○ Print Job Display and Management

○ IP- and Domain Name-based Privilege Control

● Supports Apple Bonjour Printing

Syslog Server

● Centralized Log Monitoring and Archiving

● Immediate E-mail Alerts

● Supports Log Filtering

RADIUS Server

● Centralized Account Management and Authentication for Network Access

● Supports PAP, EAP-TLS/PAP, and EAPTTLS/PAP Authentication

TFTP Server with PXE Booting

VPN Server

● Secure Remote Access: PPTP & OpenVPN VPN services

● Remote Access to Other Resources on Local Network

● Max No. of Clients: 30

Surveillance Station Pro

● Max. IP Cameras: 12, optional purchase (1 free license included, supported network cameras)

● Mobile app: VMobile (iOS & Android)

iTunes Server

● Audio and Video Sharing (AIF, M4A, M4B, M4V, MOV, MP1, MP2, MP3, MP4, MPEG, MPG, WAV)

● Smart Playlist for iTunes Client (Windows & Mac OS)

DLNA Media Server

● Built-in TwonkyMedia Server

● Real-time & Background Photo Transcoding

● Supports UPnP Media Player Such as PlayStation 3 and Xbox 360

● Supported format (The actual playback capabilities may vary depending on the DLNA client.)

○ Audio: MP3, MP4, M4A, M4A (ALAC), M4B, 3GP, APL, AC3, M1V, M4V, MOV, AAC, AMR, AWB, WAV, PCM, LPCM, MP1, MP2, AIF, AIFF, AIFC, SND, WMA, OGG, FLAC

○ Photo: JPG, JPE, JPEG, TIFF, TIF, GIF, PNG, BMP

○ Video: WMV, ASF, VDR, AVI, XVID, DIVX, FLV, MPG, MPE, MTS, M2TS, M2T, MPEG, SPTS, M2P, M2V, MP2T, MP2P, MPG2, DVR-MS, VOB

○ Playlist: M3U, M3U8, WPL, PLS

Multimedia Station

● Supports Photo, Audio and Video

● Image Slideshow and Rotation

● Automatic & Schedule Thumbnail Generation for Easy Browsing

● Display Photo Details from EXIF: Date, Exposure Time, Aperture, etc.

● Display Audio Details from ID3 Tag: Album Cover, Title, Artist, Album, etc.

● Access Authority Management

● Multimedia (Video & Audio) Streaming

● Supports Cooliris

● Supports Web Publishing (Facebook, MySpace, MSN Live, Twitter, Plurk, Blogger)

● Share Photos by Email

● Supported Formats:

● Photo - JPG/JPEG, GIF, PNG

● Audio - MP3

● Video

○ Playback: FLV, MPEG-4 Video (H.264 AAC)

○ Transcode: AVI, M4V, MPG/MPEG, RM/RMVB, WMV

● QNAP Exclusive iPhone & Android App - QMobile

Photo Station

● Supported File Formats:

○ Photo: JPG/JPEG, GIF, PNG, BMP, RAW (.arw, .srf, .sr2, .dcr, .kdc, .cr2, .crw, .nef, mrw, .pef, .paf, .3fr, .erf, .mef, .mos, .orf, .rw2, .dng, .x3f, .tif, .nrw, .raf)

○ Video: FLV, MPEG-4 Video (H.264 AAC)

● Image Slideshow with Background Music, Thumbnails, and Different Playback Modes

● Online Photo Editing by Pixlr Editor

● Geotagging Photos with Google Maps

● Slideshow Sharing (from Private Albums) with Password Protection

● Photo Publishing to Social Websites (Facebook, MySpace, Twitter, Plurk, and Blogger)

● Photo Sharing by Email

Music Station

● Supported Audio Formats:

○ MP3, MP4, OGG, WAV, AIFF, AU, FLAC, M4A, APE, AAC

● Local Playback with USB Speaker/Sound Card

● Browse Other UPnP Media Servers on Local Network

● Internet Radio (MP3)

● Music Alarm (up to 8 Alarms)

● Playback Control by QNAP Mobile App: QMobile Music Remote

Download Station

● PC-less BT, FTP, HTTP Download (up to 500 Tasks)

● BT Download

○ Supports Magnet Links

○ Supports TCP/UDP Tracker Protocol

○ Scheduled Download

○ Configurable Port Range

○ Bandwidth Control

○ RSS Subscription and Download (Broadcatching)

○ Selectable Download Files

● HTTP/ FTP Download

○ Configurable Saving Directory

○ Bulk Download with Wildcard Settings

○ RapidShare Download Support

● QNAP Download Management Software: QGet

○ For Both Windows & Mac OS

○ Manage the Download Tasks of Multiple QNAP NAS Remotely over LAN or WAN

Antivirus

● Protection against the Latest Known Viruses, Trojans, and Other Threats

● Free Virus Databases Update on Manual or Scheduled Basis

● Multiple Scan Tasks (Max: 64, Concurrent: 5) with Custom Folder Selection and Scheduled

● Scanning

● Email Notification upon Task Completion or Virus Detection

● Quarantines or Deletes Infected Files

QPKG Center

● Expands Application Services by Easy Online Installation

● A Wide Variety of Official and Community QPKG Add-ons

The actual available QPKGs may vary depending on the NAS platform.

● Business

○ eyeOS

○ GLPI

○ Squid Proxy Server

○ Vtiger CRM

● CMS

○ Gallery

○ Joomla!

○ WordPress

○ Xoops

● Communications

○ Asterisk

○ XMail

○ Xeams

● Download

○ MLDonkey

○ NZBGet

○ pyLoad

○ SABnzbdplus

○ Transmission

● Entertainment

○ QiTunesAir

○ IceStation

○ Plex Media Server

○ PS3 Media Server

○ Squeezebox Server

● Utilities

○ iStat

○ Optware IPKG

○ phpMyAdmin

○ Piwik

● Misc.

○ Java Runtime Environment

○ Mono

○ Python

○ QUSBCam

○ Tomcat
Packaging:
The server is packaged in a nice vanilla and grey coloured, cardboard box which has a big picture of the unit on the front with the name, model number and some of its major features and specifications mentioned at the bottom. Around the box we have the hardware and software specifications, usual features mentioned in different languages and some extra features covered at the rear side of the box with labelled diagrams. Opening the box, we see the main NAS server sandwiched between two pieces of styrofoam and a separate cardboard box which contains other accessories and useful contents.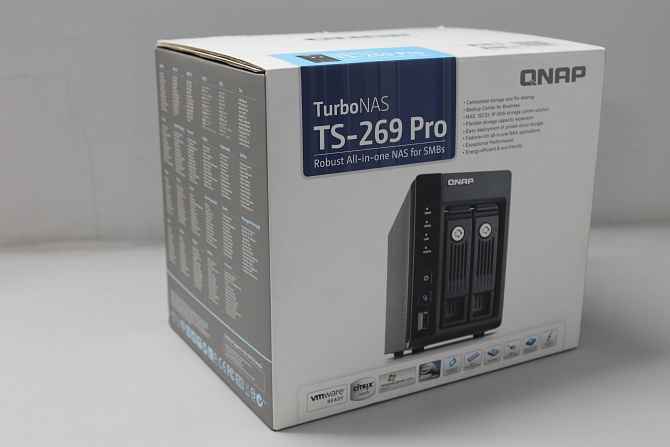 Visit page two to read more about the QNAP QNAP TS-269 Pro TurboNAS...
Boxed Contents
Apart from the NAS unit, the box also contains some other important included accessories and components. We get a Quick installation guide, a CD containing software utilities like QNAP Finder, NetBak Replicator, MyCloudNAS Connect and QGet. The CD also contains documentation such as the User manual and the Quick Start Guide in PDF format.
Two Ethernet cables, Two Hard Drive Bay lock keys, A power cord, an adapter, eight flat head screws for 3.5" drives and six flat head screws for 2.5" drives are some other included contents.
Our unit also came with a media remote which is an optional accessory. This media remote is to be used for the HD station application built into the NAS server which allows you to connect this system to a TV and use it as an HTPC. We also got an additional 1 GB ADATA DDR3 1333MHz RAM module which was easy to install into the system and it upgraded the RAM to a total of 2GB for the TS-269 Pro. But do note that the default unit comes with only 1GB of RAM and you can purchase one more module additionally if needed. QNAP also sent us an HDMI cable along with the package which is an optional addition to the NAS too.
Note: This NAS server does not come with hard drives and you will need to purchase them additionally.
Closer Look
Straight out-of-the-box you'll notice that the TS-269 Pro has a nice design with a good looking metallic QNAP logo at the top front part. The front bezel consists of a plastic front panel which has two lockable HDD bays side-by-side and LED indicators for HDD1, HDD2, LAN and eSATA. It also has a power button and a one-touch copy button which copies all the data from a flash drive if connected at the front USB 2.0 port.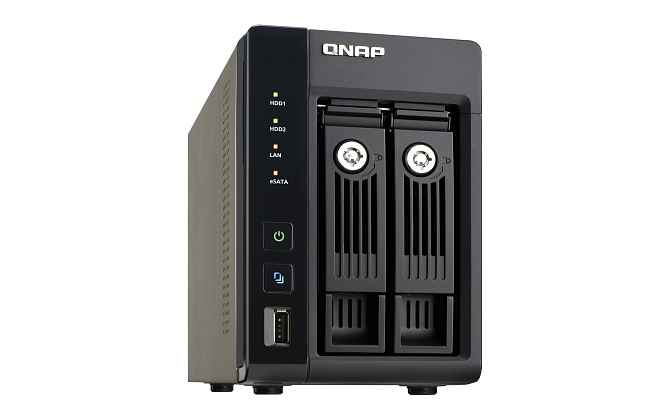 Front look of the QNAP TS-269 Pro
The top, left and right side of the TS-269 Pro is one single panel which is coloured silver and has a brushed metallic finish which adds looks to it. The right side of the device is plain and has nothing else but the left side has a small grill which allows air to enter the system.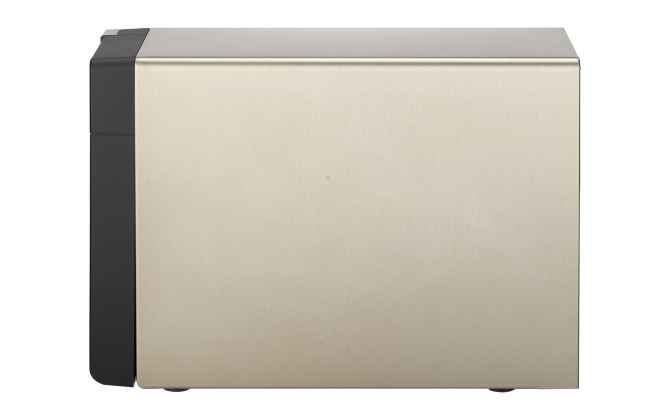 Right side panel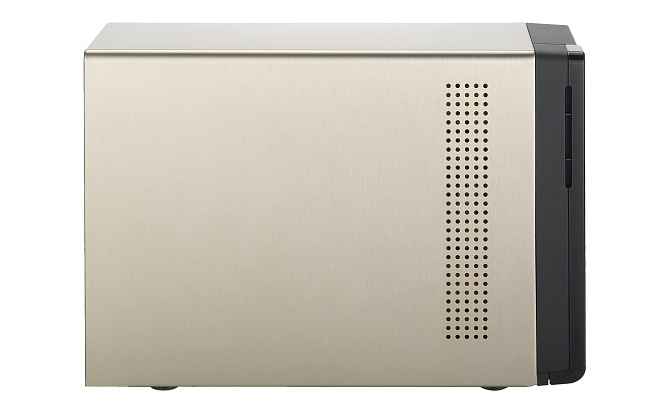 Left side panel with grill for air flow
Going at the back of the TS-269 Pro, the first thing you will notice is the fan grill which houses a cooling fan that takes care of the cooling inside the NAS Server. An HDMI port, a pair of Ethernet ports, two USB 3.0 SuperSpeed ports, a couple of USB 2.0 ports, an eSATA port and also a power connector port are the various ports available at the back. It also has a small password and network settings reset button which resides in a pinhole below the HDMI port. Physical security is also taken care of by the included Kensington lock security slot at the bottom left part of the rear panel.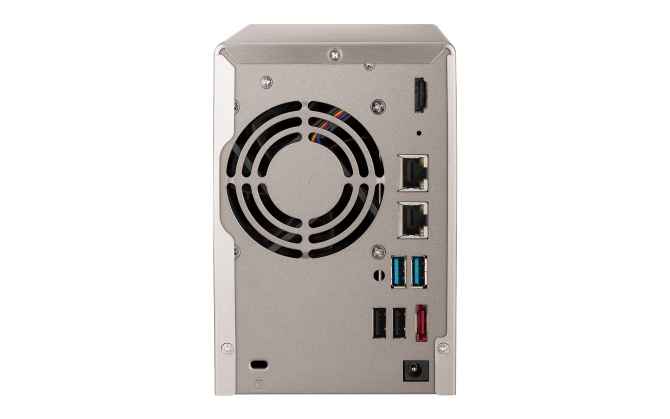 Back Panel of the TS-269 Pro NAS server
Setup and Installation
Since we got an extra Memory DIMM, we had to open the NAS server in order to install it.
Note: This NAS System comes with only 1GB RAM pre-installed and you can purchase additional 1GB or 2GB DIMM and install it.
Opening the unit is fairly easy as you just need to unscrew three screws from its rear panel and slide the metal panel backwards. Inside you will notice a motherboard protected by a plastic sheet at its back. The second RAM slot is at the back side of the motherboard and the plastic sheet over this slot is strategically made to aid accessing the slot while RAM installation. You just need to slip in the RAM module and press it down so that it is secured tightly in its place. Once done, just slide on the metal cover and screw it back to the unit.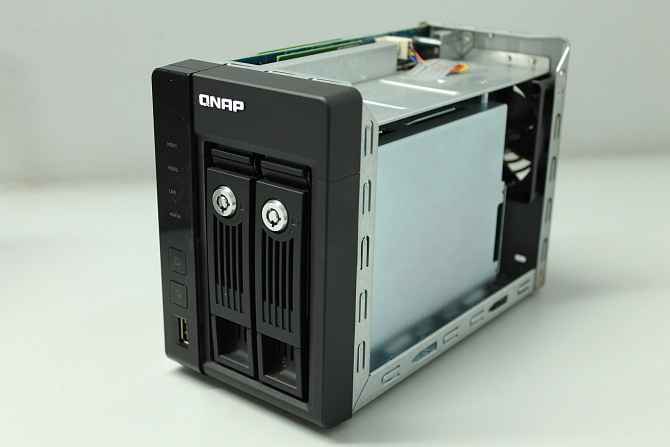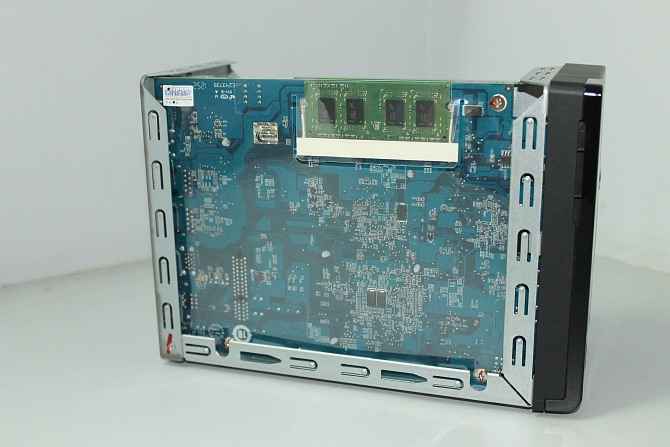 Inside look of the QNAP TS-269 Pro NAS Server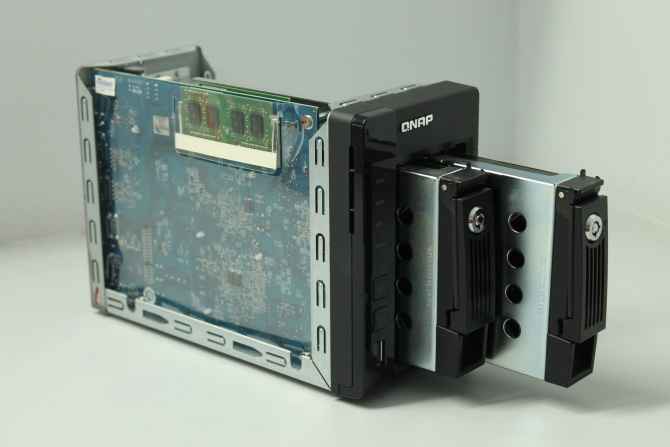 Installing drives into this NAS Server was easy as we just need to pull up the drive lever at the front and pull it out which removes the drive caddy. Now if you want to install a 3.5" Hard Disk Drive, you will have to place the drive into the caddy and screw it down with four screws (included with the unit). 2.5" drives (HDD's as well as SSD's) on the other hand require only 3 screws for installation.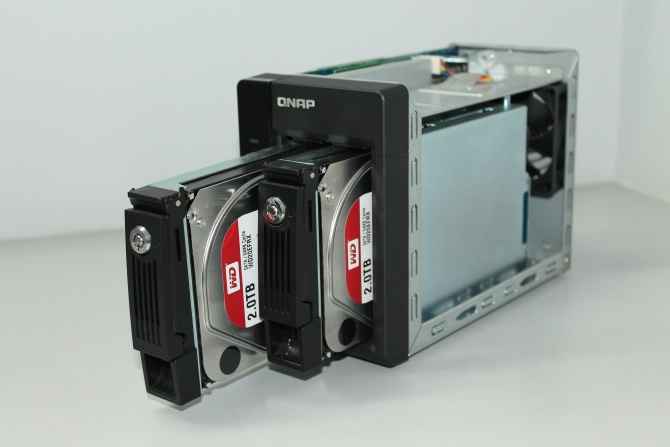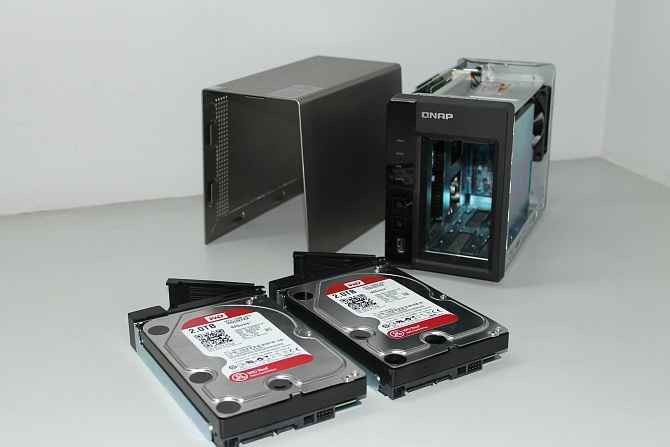 We installed a pair of Western Digital Red WD20EFRX NAS drives of 2TB in both the drive bays and started the server. QNAP provides a utility called as QNAP Finder which can be used to find the NAS server on your network and connect it. After you connect it, you will have to format the Hard Drives and choose other options. Once done you are good to go and use the server as you please.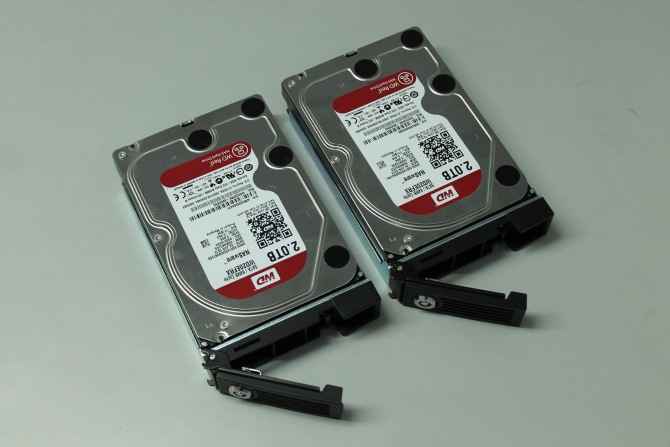 You can also open up the browser based config page and log into the NAS system using your login id and password and then use its administration panel.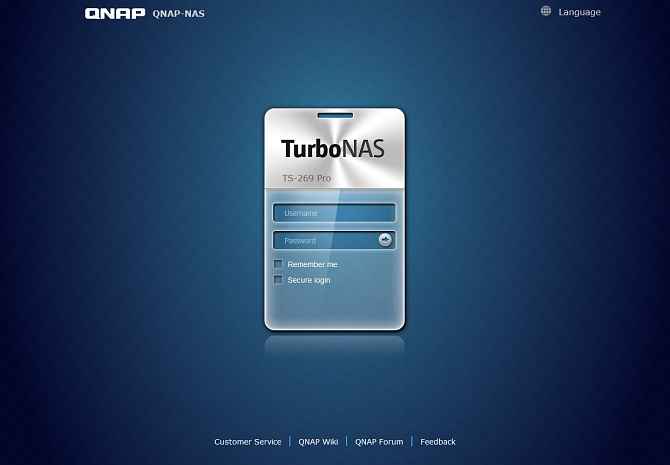 Browser Login page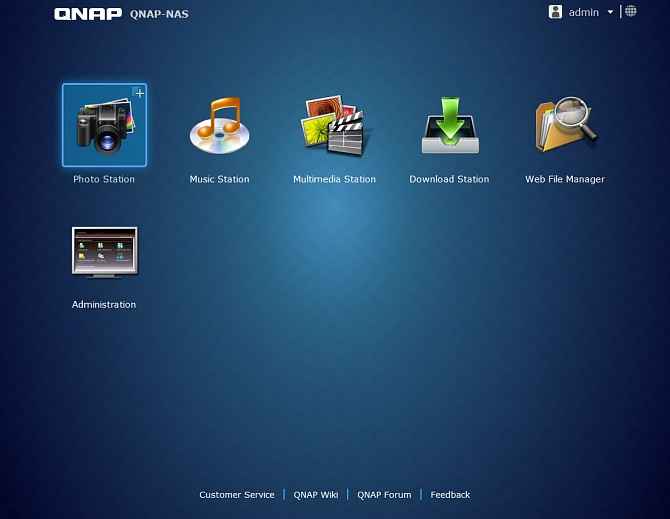 Main page
The main page has a grid of options which are: Photo Station, Music Station, Multimedia Station, Download Station, Web File Manager, Administration.
The main Administration page has all the options you will need to use the various features of this NAS server.
Visit page three to read more about the QNAP QNAP TS-269 Pro TurboNAS...
Mobile Apps and Utilities
You can also browse and manage your files on the server through the "Qfile" mobile application on your mobile device. To check this out we installed Qfile on an Android phone and this is how it looks like: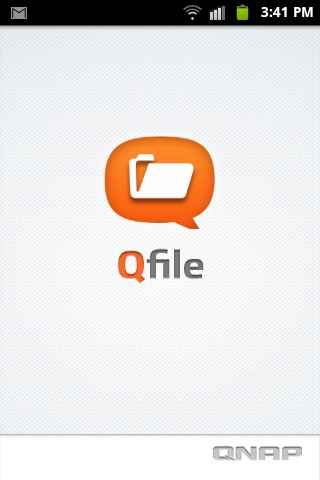 Qfile startup screen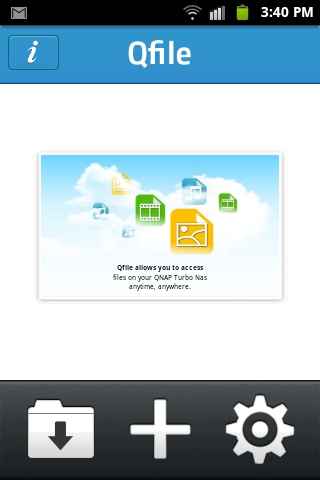 Qfile home screen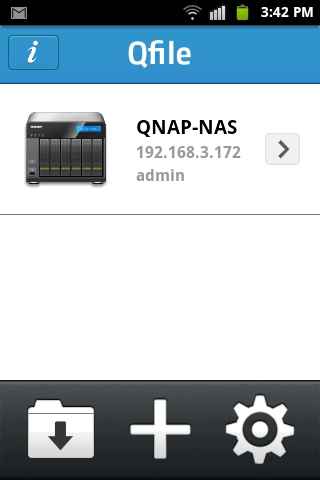 Qfile NAS detection screen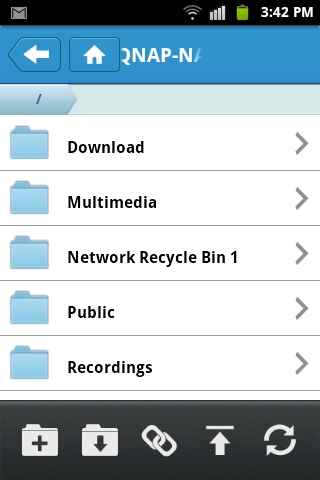 Qfile file manager
The file manager in Qfile provides an easy way to interact, manage and see your files all through your mobile device.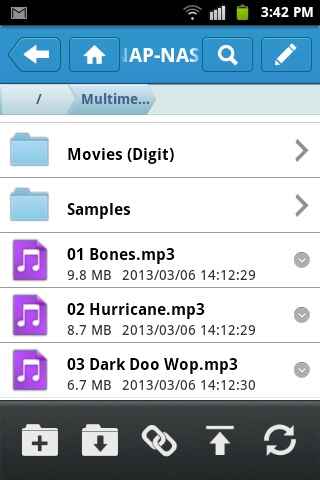 Qfile showing files on the NAS server
Another application is "Qmanager" which basically provides management options for your QNAP NAS Server through your mobile device. You can also check your NAS server system status inside Qmanager and check out the CPU as well as RAM usage among other such options.
Added Features: We also received a remote control with this NAS server but mind you, this remote control does not come bundled with the NAS server and if you need it you will have to purchase it additionally for Rs. 3,500.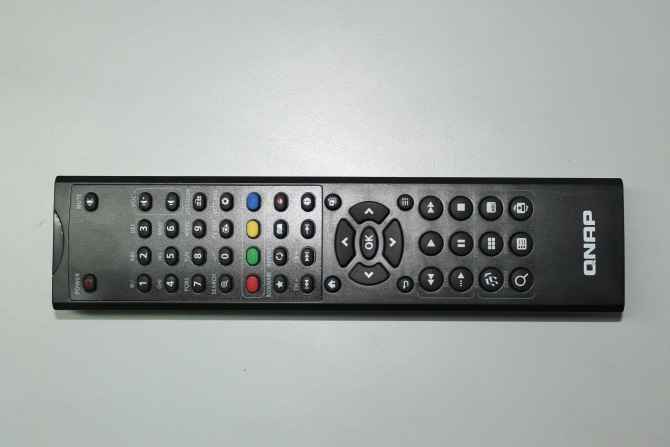 Testing and Performance
When testing the QNAP TS-269 Pro NAS server, the the test system we used is:
Processor: Intel Core i7 3960X extreme edition at stock speed;
Motherboard: ASRock X79 Extreme 6/GB;
RAM: 8 GB Kingston HyperX DDR3;
Graphics Card: 2 x Nvidia GeForce GTX 650 Ti Boost in SLI;
Power Supply: Cooler Master Silent Pro M850 Watts;
Hard Disk Drive: Seagate Barracuda 80 GB;
Operating System: Windows 7 Ultimate 64-bit
We used 2 x 2TB WD Red NAS drives in RAID 0 in the QNAP NAS server for testing. For getting performance results we used CrystalDiskMark version 3.0.2 x64 to test the QNAP TS-269 Pro Turbo NAS.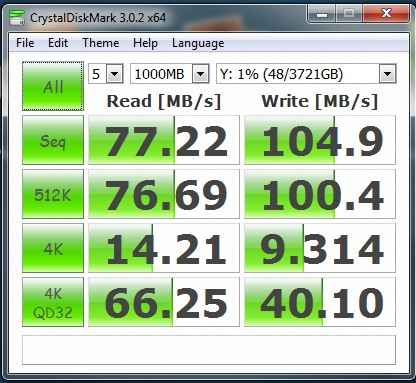 CrystalDiskMark performance results
We ran the default test with five samples of 1000MB and selected all tests at the same time.
The result image speaks for itself, looking at which you can say that we were quite happy with the performance of the device, be it read speeds or write speeds, this unit performed well. This points out that this NAS server ranks among the best 2-bay NAS servers out in the market in terms of performance.
The included HD station feature was like the icing on a cake, as it enabled full-HD playback using the provided HDMI port, and an option to use a few built-in apps like Youtube or Chrome to browse the web on a HDTV and is a quite helpful feature.

Conclusion
With so many features on the TS-269 Pro, you will need a long time to figure out and use each of them and that is where we think that people may find it a bit difficult as you need some amount of know-how or knowledge to use most of its features, but since they are so well laid out, this may not be the case with everyone out there. When we compare the QNAP TS-269 Pro to the Synology Diskstation DS712 which we tested earlier, we can say that though the QNAP unit is costlier, but it has many more interesting features, is fast and so it is an ideal NAS system for Small-to-Medium-Businesses as well as for home users who are in search of a high performance 2-bay NAS system, provided one can shell out the money required to purchase this system. Looking at the features it offers, it's price is justified and we give this NAS system our thumbs up.