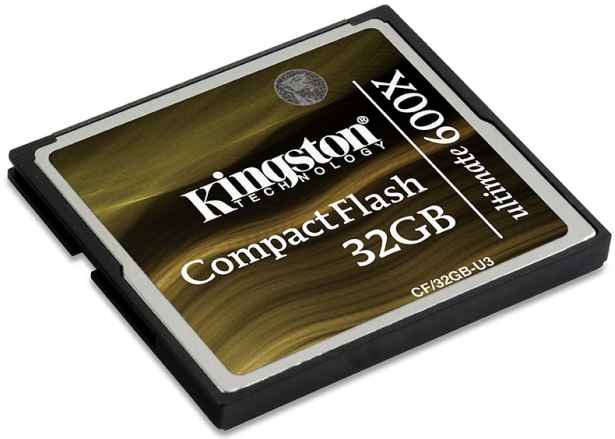 Kingston has unveiled its latest CompactFlash (CF) memory card, the Ultimate 600x. The high capacity, high speed CF Ultimate 600x card supports UDMA Mode 6, offering read/write speeds of up to 90MB/sec.
Complementing high-end DSLR cameras, the CF Ultimate 600x is Kingston's fastest card yet. It is available in 16GB and 32GB capacities, perfect for storing large files in the RAW format or HD video.
Kingston's CompactFlash Ultimate 600x cards are backed by a lifetime warranty and free live technical support, and, for more peace of mind, feature free downloadable data recovery software from MediaRECOVER. For more information visit www.kingston.com/asia.
Speaking on the occasion, Nathan SU, Flash Memory Sales Director, APAC Region, Kingston, said: "The Kingston CF Ultimate 600x cards are great for photographers shooting in burst mode. For example, in a situation like a wedding or sporting event where the ability to rapidly take successive shots could make the difference between capturing the perfect shot or just missing it. We are pleased to add the 600x card to our CompactFlash family of products which also includes the 266x Ultimate and 133x Elite Pro cards."
Kingston CompactFlash Ultimate 600x Features/Specifications:
Capacities*: 16GB, 32GB
Dimensions: 1.43" x 1.68" x 0.13" (36.4mm x 42.8mm x 3.3mm) — CF Type I
Speed**: 90MB/sec. read, 90MB/sec. write
Recovery Utility: data recovery software download from MediaRECOVER (Windows/Mac compatible)
Operating Temperature: 32o to 140o F (0o to 60o C)
Storage Temperature: -4o to 185o F (-20o to 85o C)
Standardized: complies with CompactFlash Association specification standards
Easy: plug and play
Guaranteed: lifetime warranty
Economical: autosleep mode preserves system battery life
* Some of the listed capacity on a Flash storage device is used for formatting and other functions and thus is not available for data storage. As such, the actual available capacity for data storage is less than what is listed on the products. For more information, go to Kingston's Flash Guide at kingston.com/flash_memory_guide.
**Speed may vary due to host and device configuration.