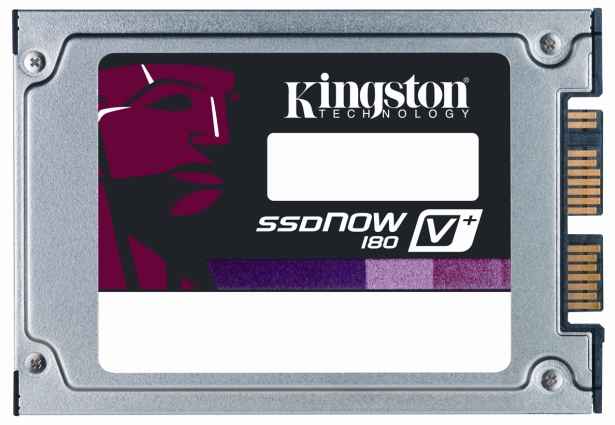 Kingston Digital has unveiled the SSNow V 180 range of solid state drives, designed for today's ultra-mobile devices. The SSDNow lineup of solid state drives is known for its extreme durability and endurance, as evinced by the Kingston SSD Destructo Challenge.
Nathan Su, Flash Memory Sales Director, APAC Region, Kingston, spoke about the new range of SSDNow drives: "Kingston Technology has listened to its customers, delivering the SSDNow V 180 Series. Enterprises, SMBs and consumers can upgrade ultra-thin notebooks, certain notebooks, netbooks, and tablet PC with a 1.8-inch form factor to enjoy supercharged performance, enhanced endurance and boosted productivity."
The Kingston SSDNow V 180 is available in 64GB, 128GB and 256GB capacities, and is the latest addition to the Kingston SSDNow V Series family. It is backed by a three-year warranty, and free tech support. For more information, please visit www.kingston.com/asia.
Here are some defining characteristics of the SSDNow range, highlighting the advantages of solid state drives versus ordinary hard drives in general:
1) Offers 5 times better performance than ordinary hard drives, with 60% faster boot times, and more efficient multitasking ability
2) SSDNow V Series offers up to 8 times more shock-resistance than ordinary hard disk drives, as they have no moving parts and are less prone to mechanical failures.
3) Lower power consumption compared to ordinary hard drives, Less power-hungry than HDDs, SSDs also enhance battery life, meaning users work faster for longer.
Kingston SSDNow V 180 Features and Specifications:

Sequential speed*:230MB/sec. (read), 180MB/sec. (write)
Innovative: 1.8" form factor; uses MLC NAND Flash memory components
Silent:runs silent and cool with no moving parts
Shock resistant: no moving mechanical parts means the SSD handles rougher conditions
Cache: 128MB onboard cache
PCMark HDD 2005 Score †


64GB – 38,177
128GB – 38,065
256GB – 38,272

Supports S.M.A.R.T.: Self-Monitoring, Analysis and Reporting Technology
Guaranteed: three-year Kingston warranty, free tech support
Interface: Micro SATA (mSATA) 1.5 Gb/s & 3.0 Gb/s
Capacity1: 64GB, 128GB, 256GB
Storage temperatures: -40° C to 85° C
Operating temperatures: 0° C to 70° C
Dimensions: 54mm x 78.5mm x 5mm
Weight: 48 grams ( /- 2 grams)
Vibration operating: 2.7G
Vibration non-operating: 20G
Operating shock: 1500G
Power specs: Active: 2.9W (TYP); Idle: 47mW (TYP)
Life expectancy: 1,000,000 hours MTBF
* Based on internal testing. Performance may vary based on system settings.
1 Some of the listed capacity is used for formatting and other functions and thus is not available for data storage. For more information, please consult Kingston's Flash Memory Guide at Kingston.com/Flash_Memory_Guide.
† Test system: Intel DG45ID Desktop Motherboard, Intel Core 2 Quad Q9550 CPU @ 2.83GHz. System Memory 4GB, On-Board SATA 3Gbps with AHCI-Enabled Window XP SP3 32-bit.