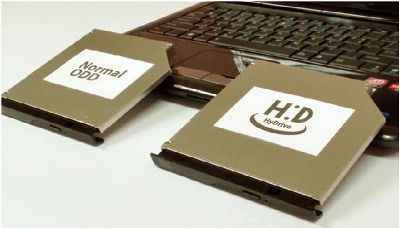 Hitachi-LG Data Storage has created a new memory hybrid, called the HyDrive, which is an optical-SSD, or SSD-ODD. They unveiled it at Computex 2010, which kicked off today at Taipei.
Specially created for the laptop platform, the Hitachi-LG SSD-ODD was showcased in two variants, 32GB or 64GB of NAND Flash memory, coupled with a SATA 3.0Gbps interface. The HyDrive can apparently boost the performance of a laptop's HDD in two ways, as explained by Hitachi-LG Data Storage CMO, YK Park:
"One is through using the entire SSD as a cache by the HLDS filter driver. The other is by having Windows and Microsoft Office applications installed and the remaining capacity serve as a cache."
Other benefits were also enumerated by Park, such as "Having 32GB of SSD suffices in accommodating Windows and Microsoft Office applications, offering....pure SSD speeds."
He went on to call the HyDrive a "total storage solution", that used the best of "three storage device types", namely "conventional hard drives, solid state drives and optical drives, without added space on the motherboard and modification of system architecture limited to replacing the existing ODD."
While HLDS showcased the first generation of this hybrid technology, they stressed that in the second iteration, they would be able to provide 256GB coupled with a SATA6.0Gbps interface.