Western Digital has launched its latest, and highest capacity 2.5-inch (9.5mm) hard disk drive, the WD Scorpio Blue 1TB Mobile Drive. According to WD, the Scorpio Blue Mobile Drive is currently the largest capacity HDD available for portable computing.
Designed for mainstream notebook computers, the new WD Scorpio Blue 1 TB hard drive has a 500GB-per-platter areal density, available in a two-platter (2-disk) form factor. Scorpio Blue drives are also known for their ultra quiet operation, as well as ultra low power consumption without sacrificing on performance.
Other features of the new drive include, WD's exclusive WhisperDrive technology for cool and quiet operation, WD's SecurePark for improved long term reliability, WD's ShockGuard for a best-in-market 400Gs shock specification, and Advanced Format (AF) Technology for smooth and compatible operation.
The WD Scorpio Blue 1TB (model WD10JPVT) is shipping now through select distributors and resellers. It is covered by a two-year limited on-site warranty and has a MSRP of Rs. 10,650, excluding taxes.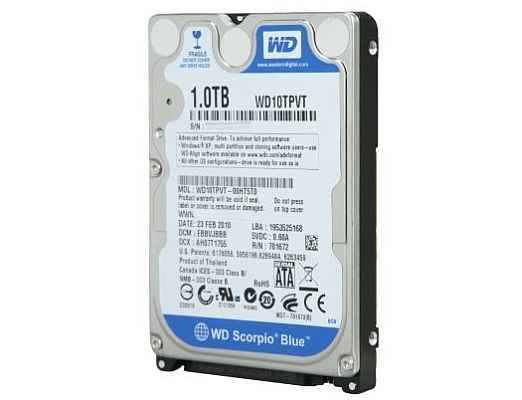 Vote and Win!

Digit Icons of Trust 2011 Survey

Visit https://thinkdigit.com/trust to vote for your favorite tech brands in India.
Survey participation gives you a chance to win exciting gifts like wireless input devices, earphones and special edition Digit branded T-shirts.
As an appreciation of your valuable time and input, every participant will receive an assured gift in the form of Digit discount vouchers.
We encourage you to participate in multiple surveys to increase your chances of winning more goodies.