Microsoft's VP of Windows Web Services, Antoine LeBlond has announced a late February opening of the Windows Store on Windows 8 Beta, and encouraged developers to start creating Metro style apps and other software for it, during the Windows Store Preview that also described its features, app polices and business terms.
The Redmond giant had quite a proposition to pitch with Windows Store, which would have more potential users on Windows PCs than the "number of cars on the planet." Though of course, the potential number of licensed Windows 8 users will be far smaller, but across 231 markets, and over a 100 languages. Microsoft projects a reach of 500 million users to start with. Let us not forget Windows 8 tablets.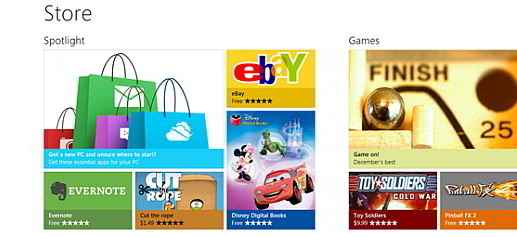 According to Microsoft, the Windows Store was designed with an emphasis on discoverability and reach. Enterprise customers would not be neglected, with their own world of apps, and flexible deployment options for IT administrators. LeBlond emphasized how developer-friendly the Windows Store was in terms of its policies, contrasting it with the Apple App Store, and its "constraints on way you can do and what you can sell."
Developers are promised the "best economics," with the industry standard 70/30 percent revenue split, and once apps start generating $25,000 USD (or its local equivalents) or more, developers will keep 80 percent. They've also been offered transparent terms, with Windows Store promising "a transparent process from upload to download," allowing developers to keep a track of their app through the approval process.
Click to enlarge

| | |
| --- | --- |
| | |
Microsoft supports flexible business models, giving developers the choice of using Microsoft's transaction service, or using their own, with Microsoft not partaking of in-app purchase revenue. Apart from support of various in-app and third-party transaction, trials and built-in upgrades are supported as well. Importantly, apps will have their own advertisement controls, allowing them to choose whatever ad platform they prefer.
Check out the below video, highlighting Windows Store. Microsoft has also announced the First Apps Contest, with developers getting the chance for their apps to be available on the Windows Store when it launches, right along with the Windows 8 Beta. Refer to LeBlond's blog post for more information on the Windows Store, as well as the First Apps Contest page.

Vote and Win!

Digit Icons of Trust 2011 Survey

Visit https://thinkdigit.com/trust to vote for your favorite tech brands in India.
Survey participation gives you a chance to win exciting gifts like wireless input devices, earphones and special edition Digit branded T-shirts.
As an appreciation of your valuable time and input, every participant will receive an assured gift in the form of Digit discount vouchers.
We encourage you to participate in multiple surveys to increase your chances of winning more goodies.