Indian security software solutions provider, Quick Heal Technologies Pvt. Ltd, announced its foray into the Mac universe with its Quick Heal Total Security for Mac security suite. The software which runs on OS X includes core anti-virus protection plus additional features like web security, email security, anti-spam and parental control.
Mac OS which was once considered to be free from security threats is now finding malware makers knocking at its doors. In order to counter this rising threat, security software companies are increasingly launching new software security suites for Mac.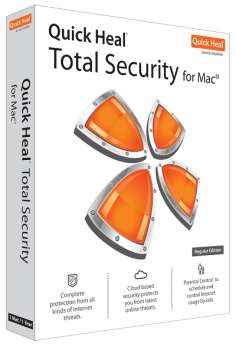 According to Net Market Share, Mac OS has a current desktop market share of 7.17% which though less, is rising steadily. In fact, according to Forrester research, there's a 52% jump in the adoption of Macs in 2012 including businesses and government institutions. So perhaps a logical conjecture would be that the operating system isn't more resistant to attacks, but rather that malware-makers so far haven't found it worthwhile to make malicious software for it. The onset of this trend dates back to 2012 when Fake antivirus and Flashback – that disguised itself as fake adobe Flash installer – made news.
"The more ubiquitous Mac becomes, the more it will be targeted. It is noticed at present that the more used a platform is the more it is vulnerable to threats. It doesn't matter if it's running on Java or any cross-platform technology, malware authors find a way to sneak in.", said Mr. Sanjay Katkar, Chief Technical Officer, Quick Heal Technologies. But like in the Windows universe which has Microsoft Security Essentials, Mac too has its own Gatekeeper solution.
"OS X 10.8 with Gatekeeper is a significant inclusion but it is not a complete solution. When the user carries out USB transfers or BitTorrent downloads then it proves inefficient. Anyone with admin credentials can alter Gatekeeper's default settings and allow third-party apps to install. Cyber criminals are usually financially motivated and this implies that they will invest, invent and develop techniques to fulfill their motives. This makes Apple Macs just as vulnerable as any other platform," added Mr. Katkar on the subject.
Some other features provided by Total Security for Mac are: MacBook Tracking which allows you to locate and trace your lost or stolen MacBook using Quick Heal Laptop Tracker and Antispyware.
The official press release had no word on pricing, however the website quotes Rs. 1,549 for a single user license valid for a period of 1 year.