Net Protector Antivirus has participated in COM IT EXPO in November 13th to 17th 2013 at Bombay Exhibition Center, Goregaon (E). Net Protector Anti-Virus introduced new version of Net protector Anti-Virus 2014 with Total Security.
Net Protector Anti-Virus Total Security 2014 protect your PC's, Laptops, Mobiles and Tablets from Virus, Malware, Spywares, Internet Threats and blocks malicious. NPAV ( Net Protector Anti-Virus ) provide online / Offline, on site Tech Support, also activate by online / offline and through SMS.
Net Protector organized lucky draw in Expo for visitors and given 1Yr subscription of NPAV Total Security , NP Mobile Security and NPAV backpacks to lucky winners. Also distribute 1 month subscription of NP mobile Security to all visitors in EXPO. NPAV got very good response from Dealers and Visitors in EXPO. Today NPAV is one of the leading Anti-Virus in the world. We heartily thank you to our Dealers, End Users and COM IT ( TAIT ).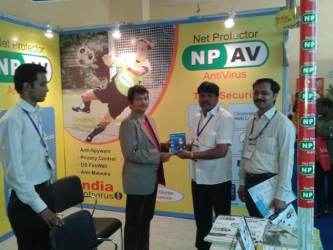 Net Protector Antivirus participates at COM IT Expo