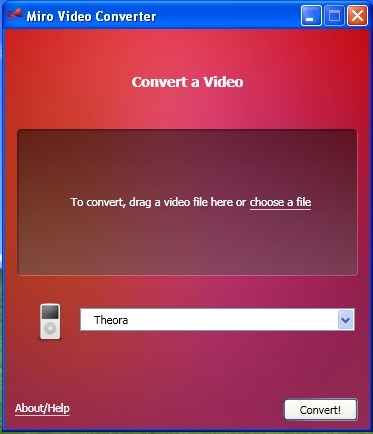 Note: Click on the image to view enlarged image in a new window
Miro Video Converter is a simple tool for converting almost any video file to MP4, WebM(vp8), Ogg, Theora, or formats compatible with Android, iPhone, iPad, iPod and other PSP devices. The user has to just drag and drop the file into the Miro Video Converter's window, choose a desired file format for conversion and then click on "convert" button. Thus, the tool helps in converting video files in three simple steps, catering to the needs of novice users and expert users alike. The tool is pretty efficient in spite of its simple interface and hardly took us about 5 to 10 minutes for converting an AVI file (175MB) to MP4 format (224MB).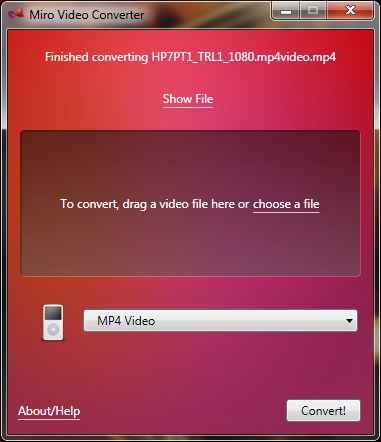 Here is a list of the supported input formats: AVI, H.264, MOV, WMV, XVID, Theora, MKV, and FLV. Output is limited to MP4, Ogg Theora, and WebM, apart from the following device presets: Android phones ( Droid / Milestone, Nexus One, G1, Magic / myTouch, Droid Eris, HTC Hero, Cliq, Behold), Apple devices (iPhone / iPod Touch, iPod Classic, iPod Nano, iPad) and the Sony PSP.

We could even play the converted MP4 file on Miro player with ease. However, we were disappointed to note that the Miro Video Converter did not support the 3GP video format. An interesting feature is the event error log, which contains the reason for the failure of the conversion process, information about bit-streams, encoder versions, as well as video and audio stream information. Thus, we feel the software has everything it needs to sufficiently appeal to users as a very compact and useful open source software. Miro Video Converter is available for free download from here. Do also check out our other Download of the Day software here.