Microsoft has officially opened registration for new Windows 7 users (who purchase Windows 7 PC between June 2, 2012 – January 31, 2013) to upgrade to Windows 8. Microsoft is offering the upgrade to Windows 8 Pro for $14.99. It may be recalled that the Indian consumers are entitled to a downloadable upgrade to Windows 8 Pro for a price of just Rs. 699.
Microsoft in a tweet announced, ""The @Windows upgrade offer is now available in 140 countries. Register now! https://windowsupgradeoffer.com."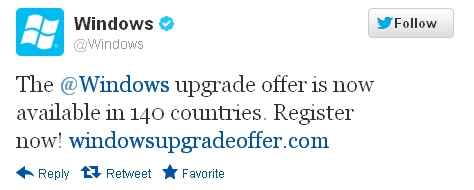 To upgrade, users will be required to provide their 25-digit Windows 7 OEM product key as part of their online registration process. Starting October 26th, the company will start sending out promo codes through e-mail, which can be applied upon checkout within the Windows 8 Upgrade Assistant.
It's notable the offer is valid till February 28th, 2013, after which users will have to shell out the full price – though the company has not yet revealed what it would be.
Microsoft is bit by bit rolling out Windows 8 software. The company recently released 90-day trial edition for its final version of Windows 8 Enterprise.
The Redmond giant has also announced a a limited-time offer that allows not only Windows 7 users, but also those stuck on Windows XP and Windows Vista to upgrade to Windows 8 Pro for just US $39.99. That's approximately Rs. 2,200. Not a bad price for a brand new Windows 8 copy. Meanwhile, check out our previous coverage on Windows 8 here.
Also read,