If you've ever visited the website of a less known organisation, you might have been pleasantly surprised, or very, very frustrated. (Not including government sites. They have a penchant for being very frustrating, and that is only if they manage to work.) Most of this can be blamed on low-budget web design, and in the case of government sites, non functioning servers.
Impress.ly is a website builder which focuses on creating app-like websites across platforms like desktop, tablets, and mobiles. The best thing about this builder is that it can be also be run on any platform. It is now possible to build a website on your mobile phone, in a matter of few minutes. No more extensive coding or paying web developers to make your sites.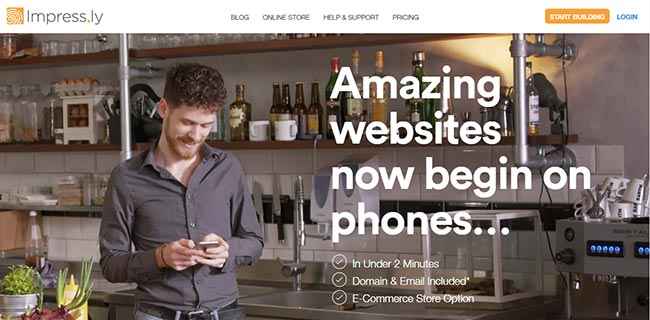 Create beautiful websites in minutes
How to:
All you have to do is get onto the website, and start creating your own website. The moment you start creating your website, the builder asks you to provide your business' facebook link. It then mines the internet for any other social media your business is active on, and pulls it all onto one page. You can then select which ones you want to have on your website.
After that's done, you have to select one out of the ten templates (or skins) provided by the builder, and the builder does the rest. Seamlessly melding all of your business' social media into whichever template you've chosen.
You can then edit it however you like. Add or remove pages, create different pages, and links, and even add a blog onto it. It's easy to do, but it is limited in what you can actually do. There are many customising options, but if it's not something that the builder says it can do, you probably won't be able to do it.
Adding an online shopping cart to your website is equally easy. You just click on that option, and it provides you different themes and ways you can create one, by showing you sample products. It feels smooth, and you can provide all the products your business has for sale at whatever time you see fit.
On the phone, making a website is equally easy. Simply download the app, and use it as you would use the desktop version of the builder.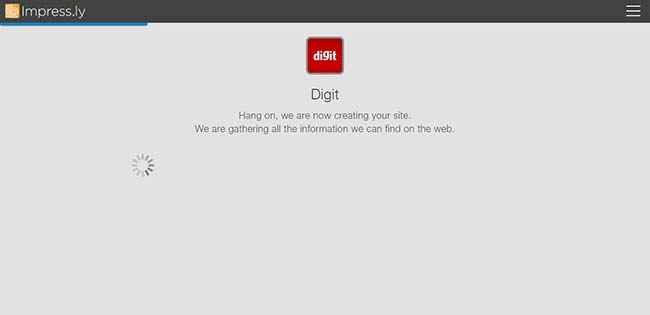 It adds details by pulling data from your Facebook page
What's good:
Impress.ly is stupidly easy to use. You literally just have to enter your business' Facebook link into the editor, and the builder "automagically" pulls all the social media related details to your business, and creates an app-like mobile website, with ten different templates (or skins) to choose.
It also provides a lot of customisation options, and even lets business owners add an e-commerce aspect to their website. The builder has different templates which are suitable for different businesses, which makes it easier to create websites for specific businesses. The builder, as of now, is mostly aimed at restaurant owners, who want to have an app-like website.
Impress.ly is a quick and easy way to create a fully-functioning website, from any platform. Small business owners don't have to pay a lot of money to website developers to create a site now. They can easily buy a subscription to Impress.ly and they're good to go, with a professional looking website, suited to their needs.
It is an amazing tool, for non-coders, because it picks up whatever you've put on your business Facebook page, and puts it on the mobile site. One wouldn't have to spend hours of coding, making sure every single line of code is perfect. Want to add a page to your site? Just drag it onto your preview, and your website now has a new page.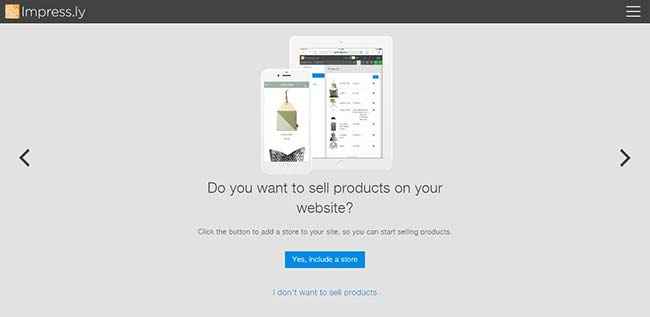 Adding an e-commerce module to your website is easy
What's not-so-good:
One of the major drawbacks of Impress.ly is that the templates offered are simply not enough. Even if you were to create a completely custom website, from any of the provided templates, you wouldn't be able to visit a site created on the same template without a creeping sense of deja vu.
Some of the categorisation doesn't make sense. For instance, a "blog" is listed under a business, and Google+, according to the builder is more suited under the "basis" tab, rather than the "Social" tab.
It's very easy to do, yes. But, there is a limit to what you can do with it. If it's not something that impress.ly has in it's menus, you simply cannot do it.
The site is slightly buggy, and it still has some support issues. The developers claim that it is "capable to run on any modern browser". The mobile version of the builder comes in the form of an app, and is compatible with iOS and Android devices. Although, even those aren't that good. It crashes frequently, and is quite buggy.
Pricing:
Hiring a professional web design company to create your website can burn quite a hole in your pocket. There are designers who offer to provide SEO and hosting for a year for a cumulative package which costs around Rs.10,000. Impress.ly costs around $9, a month, which roughly translates to around Rs.600 a month, which is around Rs.7,200 a year, for the Impress.ly starter pack. This includes hosting, some branding by impress.ly, basic analytics, and social feed.
Impress.ly also has a business package, which costs around $14, monthly. This pack provides everything that the starter pack does, without the branding, and also lets you add an e-commerce aspect to your site. It even lets you have a blog, and lets patrons make reservations online, if the business needs it. Although, closer to around Rs.1,000 a month, web designers charge around double that amount, for a site which also has an e-commerce aspect.
Impress.ly also has a free version, which lets you play around with the builder and create your website. It won't let you publish it without any payment, but they realise that patrons don't exactly like being told to buy features every few minutes. It gently prompts you, every once in a while, to publish your website, but doesn't block you from adding any features.
Although, if your subscription ends, your site will be pulled down. It's kind of a bummer, but that's how it is. Although, hiring a web developer is cheaper, in the long run, because you'll only be paying a few hundred bucks for hosting, after the initial year. Over a period of five years, a web developer will cost you roughly around Rs.1,200 a year, after the first year, whereas impress.ly will still continue to cost you the same amount, every year. That would bring the total to about Rs.14,800, for a web developer, and around Rs.36,000 for impress.ly, over five years. Not so cost efficient now, eh?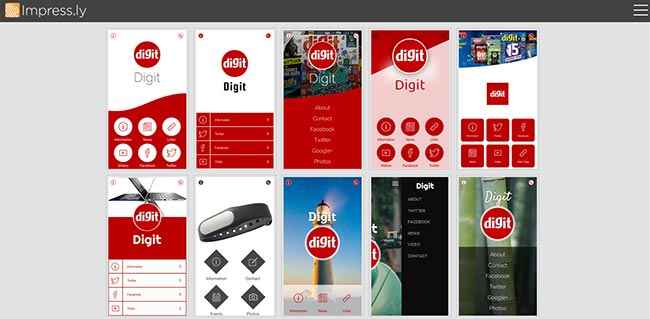 By default, it gives you several templates to try
Conclusion:
Impress.ly is a nifty little tool for entrepreneurs on the go. You can have a mobile website up and running in a few minutes, and it's cheaper than many web designers. It helps you create HTML5 apps for your websites on Google Playstore and Apple App Store, as well.
The websites look clean, and are easy to create. The internal builder does a good job of making website building as simplistic as possible.
The builder is created with a lot of different businesses in mind. Food businesses, and music businesses included. It has a lot of templates which are created with these niche businesses in mind. The e-commerce add-on is truly a remarkable feature, at the price it's offered at, and it makes it that much more appealing to entrepreneurs on a budget.
Although, it's still in its early days, and there are still many bugs and rough edges that need to be ironed out, it's still quite a good tool. It offers what it says it can offer, and delivers a satisfactory product, most of the time.
This article was first published in July 2016 issue of Digit magazine. To read Digit's articles first, subscribe here or download the Digit e-magazine app for Android and iOS. You could also buy Digit's previous issues here.
Other Popular Deals
Samsung A7 2016 Edition Golden

Rs. 18990 *

Buy Now

Mi Redmi 6A (Rose Gold, 2GB...

Rs. 5999

Buy Now

OnePlus 6 (Mirror Black, 6GB...

Rs. 34999

Buy Now
*Includes Cashback
​