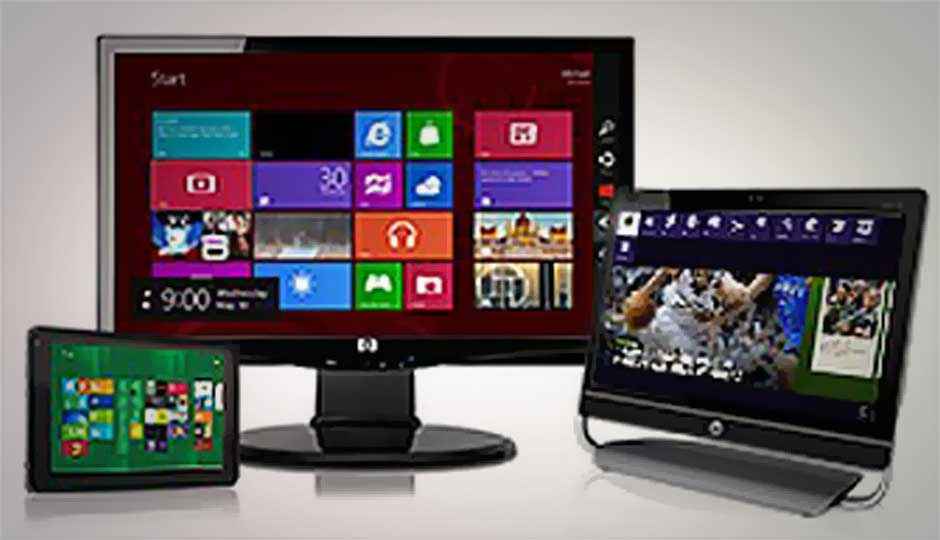 Will you upgrade to Windows 8? Will you get it on a new PC? On a tablet? Or do you plan to skip it as you may have skipped Vista? For those willing to dip their toes into the waters of Microsoft's drastic re-thinking of its flagship chunk of software, there are a number of options for how to actually get it. And in a poll on PCMag run back when Windows 8 Release Preview was launched, a surprising number of you want to start in with the new OS the moment it's available. For those eager beavers, along with anyone else wanting to move forward in the Windows world, we submit the following guide.
As of a couple days ago, we know exactly when you'll be able to get Windows 8—October 26. Windows head honcho Stephen Sinofsky made the announcement at Microsoft's annual sales announcement on July 18. This availability applies to both new PCs and tablets and to upgrade options.
Let's take a look at the different paths you can take to get to Windows 8 once that date rolls around, with the two primary options being upgrade versus new machine.
Upgrade
It looks like upgrade pricing will be a lot more aggressive than it has been for previous Windows generations. Not only has Apple set the tone with its cheap $29.99 upgrades for Mac OS X, but the pricing information that Microsoft has put out so far decidedly slants towards the inexpensive. In any case, both Apple and Microsoft are far more interested in having you buy a new computer rather than just updating your existing model. One columnist has even called the pricing known so far "fire sale prices."

So what will you pay for your Windows 8 upgrade? It depends on when you bought your current PC, whether you want the standard or Pro edition, and whether you opt for download or store purchase of upgrade discs. Though there had been speculation that Microsoft would move to the Apple system of download-only software installation, Windows 8 will be available at retail stores, as proven by a $69.99 DVD offer announced by Microsoft. The small table below summarizes the introductory upgrade pricing options we know about so far. Microsoft has said the prices are good till January 31, 2013.
| | |
| --- | --- |
| Upgrade Conditions | Cost of Upgrade to Windows 8 Pro |
| You bought a Windows 7 PC after June 2, 2012 | $14.99 download |
| You have any PC running Windows XP, Vista, or Windows 7 | $39.99 download or $69.99 packaged disc |
One question that remains is whether Microsoft will offer a full, non-upgrade version at retail. Another is pricing difference between non-Pro and Pro Editions. We'd assume that with fewer features, the non-Pro Windows 8 upgrade will cost even less, and we can expect announcements on this as we move to the RTM (release to manufacturing—first week of August) and GA (general availability—October 26) stages of development.

One final bit about availability (unfortunately without pricing details, yet) is that there will be System Builder editions of Windows 8 and Windows 8 Pro. This is for folks who aren't upgrading from an existing Windows installation, but rather taking it upon themselves to build their own PCs from component parts. This is a particularly popular endeavor among PC gamers.
Visit next page to read on for Windows 8 tablet and PC options>>
Getting Windows 8 on a New Tablet
Apple offers its own tablet, the fairly well known iPad. Google offers its own (small) tablet, the Nexus 7. And when Windows 8 launches, Microsoft will have its own tablet, too. The Microsoft Surface is a 1.49 pound tablet featuring a 10.6-inch, 16:9 widescreen display and a cover that doubles as a keyboard. Models will be available with ARM-based Nvidia Tegra CPUs and Intel Core i5. The former will run Windows RT, the tablet edition of the operating system that doesn't run all legacy Windows programs. But the offers better battery life, and will presumably be cheaper.
On the subject of pricing, it would be hard to imagine Microsoft charging more than Apple does for the iPad, the Surface's main competitor. But rumors have come out that pricing for the ARM-based Surface will be in excess of $599, while the Intel-based version will cost more than $799, though the source of this information is dubious. Other rumors claim that the devices will be Wi-Fi only, and that battery life for the Windows RT model will be in the range of 7.5 hours. That's less than the iPad's 10 hours and 4G connectivity. One thing the Windows tablets will boast that the iPad doesn't is a full size USB port.

But Microsoft's own Surface will be far from your only Windows 8 tablet choice. Hardware vendors including Samsung, HP, Acer, Fujitsu, and Asus have all given some indication that they would be releasing Windows 8 tablets. Some will run ARM-based processors from Nvidia or Qualcomm, and others will be Intel-based. A good rundown of each vendor's purported offerings is here.
And here's a list of tablets announced at CES, Computex 2012, and the Microsoft Worldwide Partner Conference:
Lenovo announced the Lenovo Yoga
Acer announced the ICONIA W Series tablets.
ASUS unveiled the Windows 8 Tablet 810, Windows RT Tablet 600.
Samsung talked about two tablets including the Series 5 Hybrid and the Series 7 Hybrid. According to coverage from Computex 2012, the tablets are still in development stages and Samsung has offered few details on the device.
Toshiba introduced a touchscreen Windows RT tablet.
Fujitsu launched the STYLISTIC Q702 business hybrid tablet, with detachable keyboard
Whether you opt for a Surface or another alternative, you'll be presented with a similar choice: Do you want an ARM-based Windows RT tablet or an x86-based tablet. The former will get better battery life, while the latter will offer more traditional computing power, including the ability to run any desktop apps. That's important if you'll need to run existing Windows 7 apps.
Getting Windows 8 on a New PC
Whenever Microsoft launches a new operating system, PC makers line up to tout new machines that run the system software. Ultrabooks are all the rage in the PC world, and we can expect a raft of these to debut with Windows 8. Ultrabooks are the PC answer to Apple's MacBook Air ultraportables, and several have equaled the Air's thinness and light weight. When Microsoft last loaned Windows 8 machines to journalists for a test drive with Release Preview, the hardware was a Samsung Series 9, a most appealing computer that will likely be available with Windows 8 at GA.
And not only will there be laptops that resemble existing models available with Windows 8, but Intel CEO Paul Otellini also recently stated that over 40 new ultrabooks will feature touchscreens, letting their owners take advantage of Windows 8's manifold multitouch input abilities. According to Otellini, speaking in an Intel earnings call, a dozen of the new models will feature convertible swiveling screens, allowing them to transform into ad hoc tablets. Fujitsu recently announced one of these. Ultrabook prices are also set to drop significantly, too, with an Intel exec expecting a price of $699 for an entry-level ultrabook.
Here are the announced ultrabooks we know about:
Acer announced the Aspire S7 Ultrabook.
ASUS unveiled the new ASUS TAICHI—a dual-screen ultrabook and multi-touch tablet in one.
MSI showed off the Ultrabook MSI Slider S20.
Sony unveiled the Sony VAIO T Series Ultrabook.
Toshiba introduced a Windows 8 Ultrabook and a touchscreen Windows RT clamshell PC.
Fujitsu launched the LIFEBOOK T902 convertible tablet PC
Of course, Windows 8 won't be restricted to portable devices. At this year's Computex trade show in Taipei, Acer has already announced that it will sell a 27-inch all-in-on touchscreen PC designed for Windows 8. And at the same trade show, Microsoft Vice President Steven Guggenheimer showed all-in-one PCs from Samsung, Asus, and Lenovo, as well as the Acer model, which features a swiveling design.
Which Edition, Regular or Pro?
Microsoft has simplified the edition choices this time around, after widespread criticism that it offered too many choices (I thought choice was a good thing; who knew it would be so unpopular?). This time, there are really only two editions that upgraders need to be concerned about –Windows 8, and Windows 8 Pro. Pro will be a superset of Windows 8, and the main benefit for consumers is that it allows free installation of Windows Media Center, for the media center PC crowd. For businesses, Pro is a must, since it allows their staffs to join network domains. It will also include BitLocker encryption, file-system encryption, group-policy capability, remote desktop, Hyper-V (client virtualization), and the ability to boot from a virtual hard drive.
This time around, Microsoft is making its new operating system simpler to get than in past go-rounds. That applies to both Windows 8 upgraders and new PC purchases. And judging by what we know so far, pricing will be a lot more aggressive this time around than in past Windows releases. Offer its own computing device, the Surface tablet, is another first for Microsoft and Windows. But that hasn't stopped traditional PC makers like Dell, Lenovo, HP, and the rest from getting in on the action. So there will but lots of ways to get Window 8, and doing so will be easier than ever. Now the only question is whether significant numbers of consumers will line up to buy it. Copyright © 2010 Ziff Davis Publishing Holdings Inc