Windows has played an unprecedented role in all of our lives, being the very first operating system on which we learnt the basics of computing. Fast forward to April 2017, and the computing world has evolved beyond recognition. Most of our Internet access and daily tasks are executed via smartphones, and desktop usage has steadily dwindled in households. Now, in what is a definite indication of the shifting paradigm in the world of computing, a StatCounter report claims that Android, the popular mobile operating system, has finally overtaken Windows as the most popular operating system globally, across all platforms.
Statistics and Market Share
The report is based on Internet usage data, and StatCounter claims it has collated from across 2.5 million websites which generate 15 billion pageviews every month. In the latest report that has published figures for March 2017, Android is said to hold 37.93 percent share in the global market of operating systems, while Windows stands at 37.91 percent. The difference is marginal and many are not yet convinced by it, but even if it is not, the report is a clear indication of the world moving to a mobile-first ecosystem.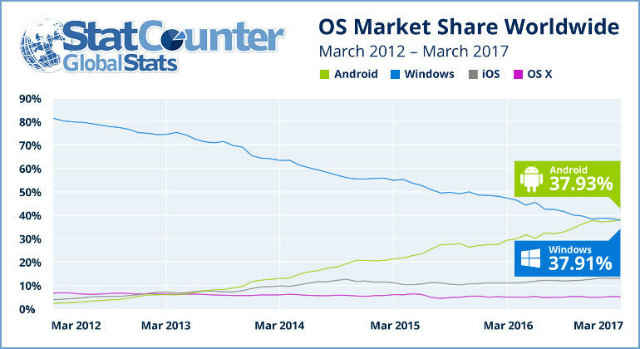 Linux-based Android operating system, owned by Google, is by far the most popular mobile operating system globally, significantly outplaying its nearest competitor, Apple's iOS, by a large margin. Google licenses Android OS to numerous OEMs globally, the count of which is also increasing every year. This has led to a large number of Android-powered mobile devices by multiple manufacturers, and has brought the overall cost of a mobile device drastically down. Smartphones, in turn, grew in terms of versatility and the abilities of mobile hardware to accomplish tasks that previously required desktop-grade power to compute.
Adding to that is the easy portability factor of smartphones, the rise of mobile data and increasing affordability, all of which combined to see a dramatic increase in the outreach of smartphones and mobile data networks. Desktops, meanwhile, have seen a significant decline for a while now, especially in households. Internet statistics provider NetMarketShare states that exactly five years ago, in April 2012, Microsoft's Windows systems (without Windows phone) held cumulative market share of 92.07 percent in operating systems, with Apple's OS X for Macs being the closest competitor at 5.42 percent.

While mobile operating systems were barely in the fray back then, smartphones are computing devices of choice now. By the end of 2017, the number of smartphone users in the world is expected to reach a staggering 2.6 billion. In contrast, although there are no concrete numbers for the number of PCs in use worldwide right now, the estimated count is somewhere around 2 billion - something that the number of smartphones may have already crossed.
The journey of Windows
Unveiled on November 10, 1983 to rival Apple's revolutionary new Macintosh operating system, Windows was initially a barebone graphical interface for MS-DOS. Windows remained in this format from versions 1.0 to 3.11, until Microsoft finally unveiled Windows 95 - the first operating system based on a 16-bit DOS-based kernel and offered a 32-bit user space. Windows 95 was also where Microsoft introduced some of its key elements like Windows Explorer, the horizontal taskbar and the 'Start' button. The desktop operating system went through anti-trust controversies as Microsoft integrated services of Windows Desktop Update and Internet Explorer 4 into the OS.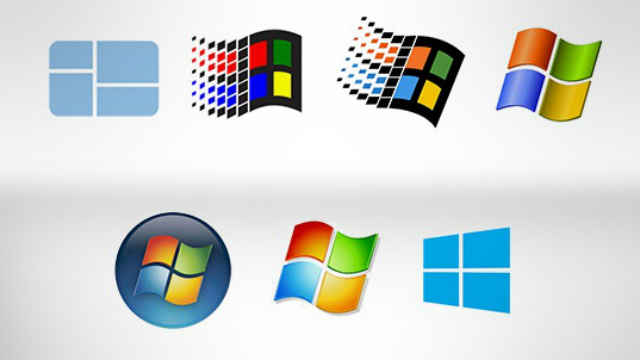 The first true 32-bit operating system was Windows NT, worked upon since 1993 through 2000. It is on this that Microsoft introduced several key features that would go on to become iconic, like USB plug-and-play, Windows Media Player and NTFS, the file system in use till date, superior in nature to Microsoft's old FAT system used in the hybrid systems up till Windows 2000. Microsoft's most iconic effort till now, however, has been Windows XP, possibly the most-used operating system ever. It provided a much reworked interface that was cleaner and smarter, and was finally replaced by Windows Vista, which received much criticism for too many loose ends.
Since then, Microsoft unveiled Windows 7, Windows 8 and more recently Windows 10. The latest rendition of the operating system still retains a number of key features from '90s, like the taskbar and the Start button. As of today, Windows remains the most popular operating system in use on desktop and laptop computers worldwide, with StatCounter quoting 84 percent market share and NetMarketShare quoting 91.7 percent. Interestingly, just like Android's simplistic interface and multiple hardware partners, much of Windows' unprecedented popularity also rose out of the easy-to-use interface and multiple hardware partners.
Points of change
"This is a milestone in technology history and the end of an era," stated StatCounter CEO Aodhan Cullen in a statement following the report. Even if statistical errors may still prove Windows to be marginally ahead, the signs are clear that we are, indeed, shifting to a mobile-first platform.
While it may be too early to call it the end of an era, Windows' market share is certainly on a gradual decline, with dwindling PC sales and Windows Phone now obsolete. From how we see it now, Windows will remain integral for the time being, spread across multiple devices. Android, meanwhile, is on the rise, beginning one of the first chapters of the shift from Windows to Android.
Other Popular Deals
Samsung A7 2016 Edition Golden

Rs. 18990 *

Buy Now

Mi Redmi 6A (Rose Gold, 2GB...

Rs. 5999

Buy Now

OnePlus 6 (Mirror Black, 6GB...

Rs. 34999

Buy Now
*Includes Cashback
​