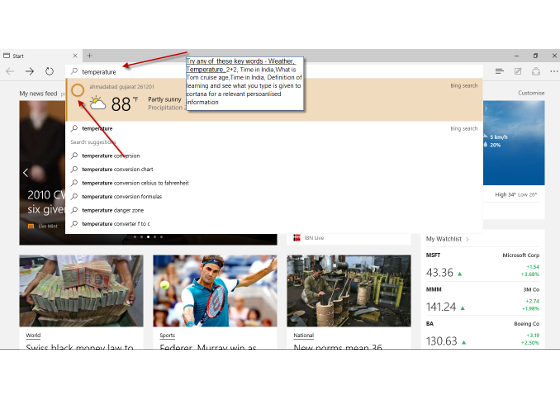 Microsoft Edge is the new default browser built for Windows 10. It has your personal assistant Cortana Powered by Bing integrated into Edge browser right in the address bar, and is a Microsoft's way of making the browsing experience personal, more relevant to give you - a beyond browsing experience.
The real charm is moved on the address bar, lots happening there, Behind Edge's address box, a relevance algorithm is constantly running and trying to match what you type and then forward it to Cortana to make your search results more relevant for you. For example, if you type weather in the address bar, the search results show weather information for your current location. Similarly, I have listed below few of the keywords to experience Cortana on address bar of an Edge browser.

Interesting Keywords.

1)MSFT Stock
2) Weather
3) Temperature
4) What is TOM Cruise Age
5) 2+2
6) Time in India
7) Definition of learning

Pic1-Below is a Picture of Cortana in action on the Address Bar.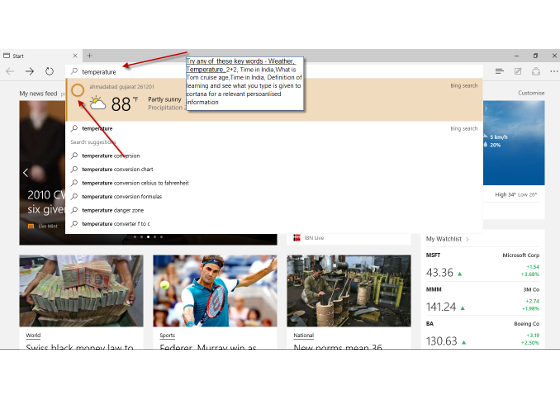 First Enable Cortana on your Windows 10 and then Enable it on Edge Browser -

Step 1- Normally Cortana will sit on your Taskbar waiting for you to click on her. When you first do this, she will ask you for your name so she can personalize herself to you. You may also right-click on the taskbar and decide whether to remove Cortana from the taskbar, or simply reduce it to a small circle. On clicking the Search Box, it pops out. And will ask for Live Account Credentials to get started. (At this moment of time, Cortana on Edge is available in few selected regions across the globe.)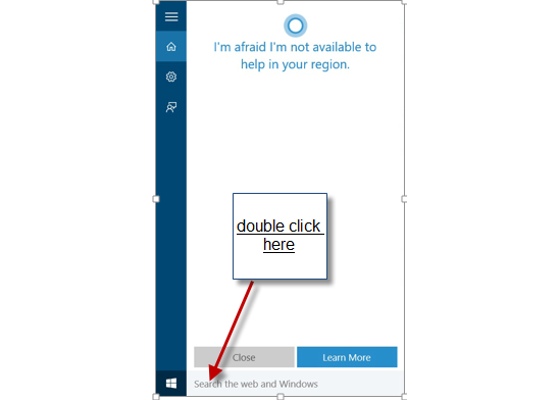 Pic- 2- On clicking the Cortana Search text box, indicating not available in your region

Therefore until it is made available in our region, if you wish to use it: let's get started by making changes in the following settings under the control panel.
-Region –> Location- > set to United States

-Language > English (United States)

-Speech Recognition > English US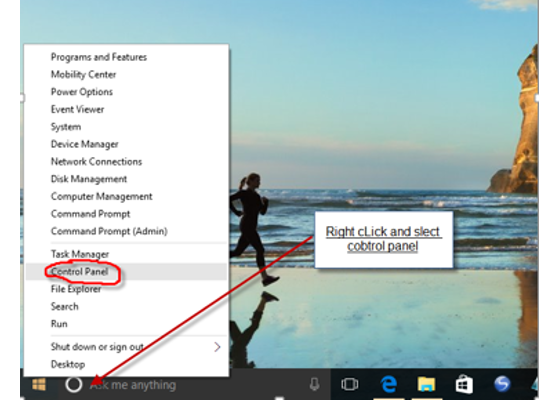 -Pic 3- Right click the Windows Icon and select Control panel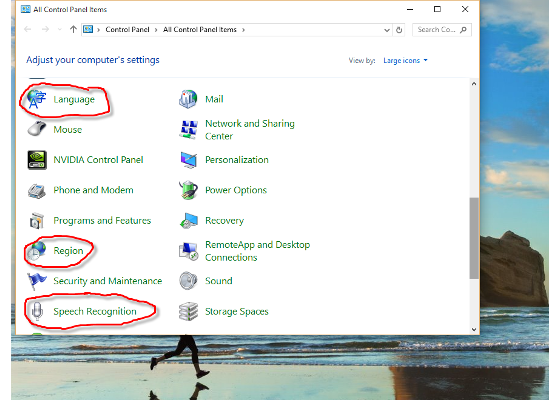 Pic4- Inside Control Panel Settings options (Region, Language, Speech recognition)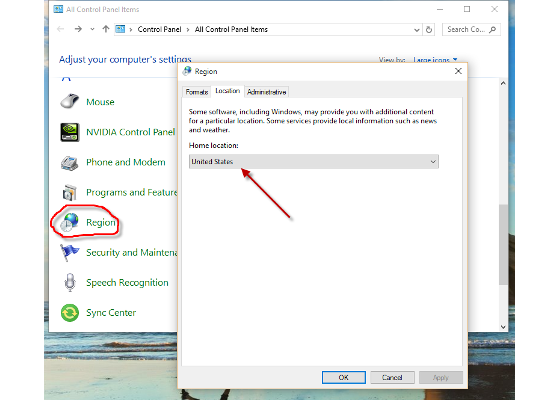 Pic 5- Select Region> United States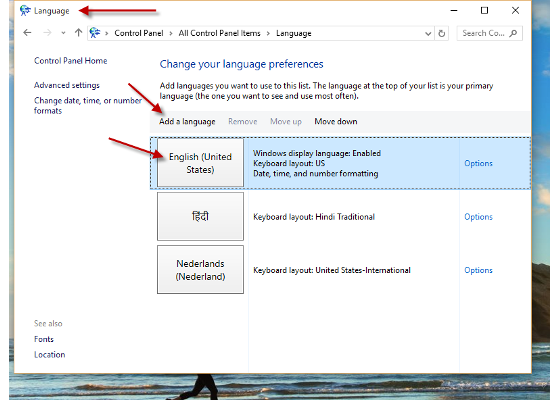 Pic 6- Language Setting windows
Step 2- Get Started with Cortana Settings - On clicking the Search Box, it pops out and asks for name, accept privacy policy and live account credentials to get started.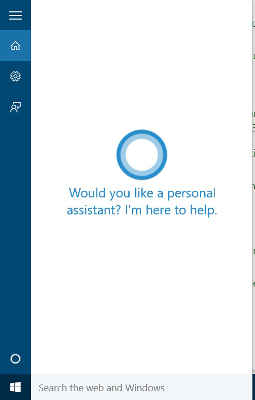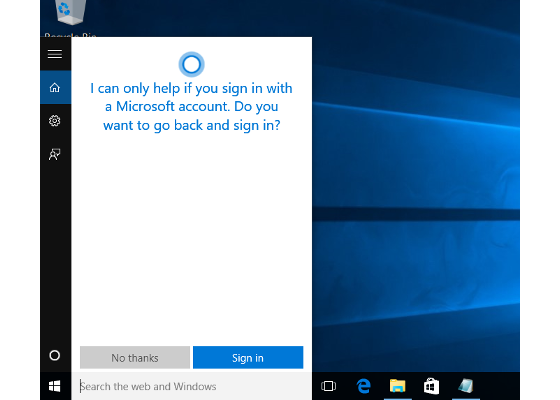 Pic 8- Cortana Start Windows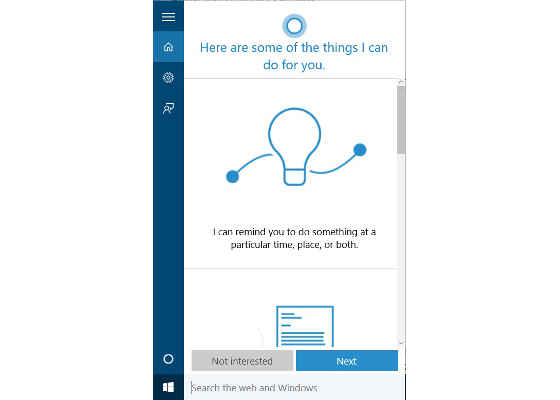 Pic 9- Get started Cortana Window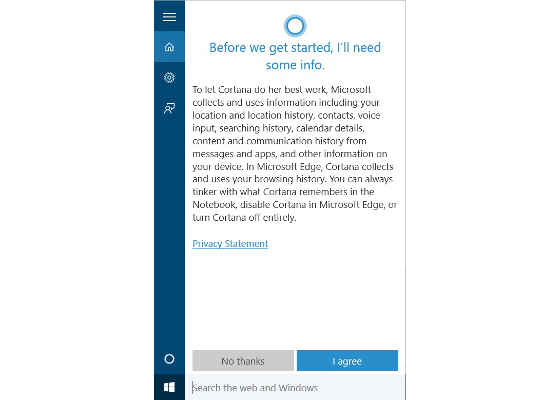 Pic 10- Select I Agree on the Privacy statement Windows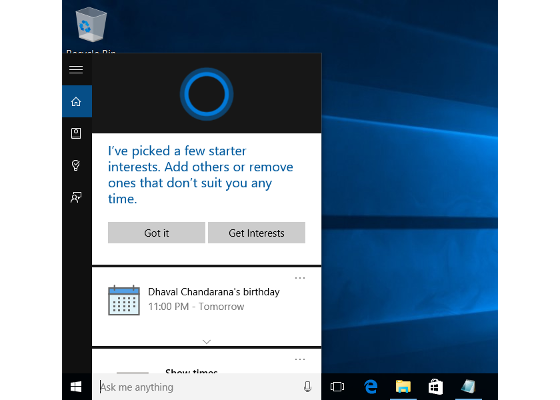 Pic 11- Cortana activated window

Now Experience - Cortana on your Address Bar -
Step 3- Open www.spqrsf.com in Edge browser, it is a restaurant's website and if you do not see any Cortana icon here, on the address bar, then it is time for changing the settings in the Edge web browser.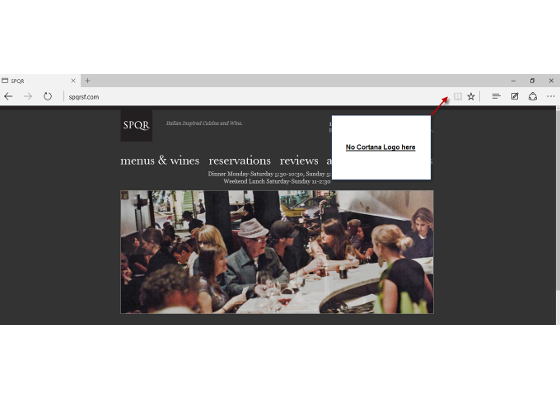 Step 4- To enable Cortana via browser setting select three dots on the right hand side corner of your Edge browser and select 'Settings' option, and then select
'View Advance settings' - switch on both the Options- "Have Cortana assist me in Microsoft Edge" and "show search suggestion as I type".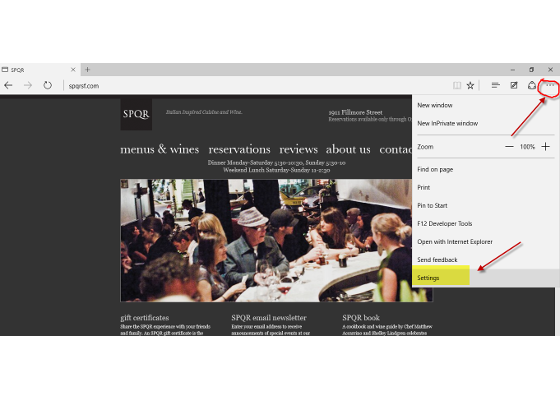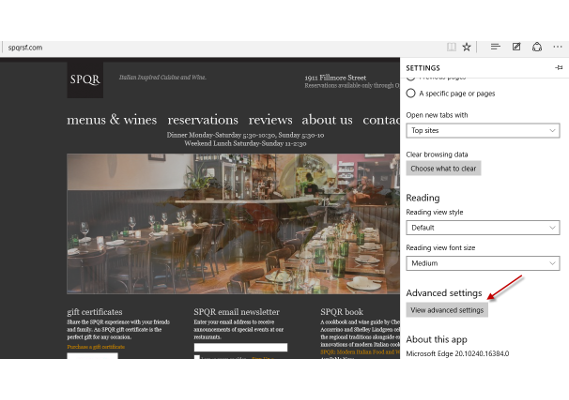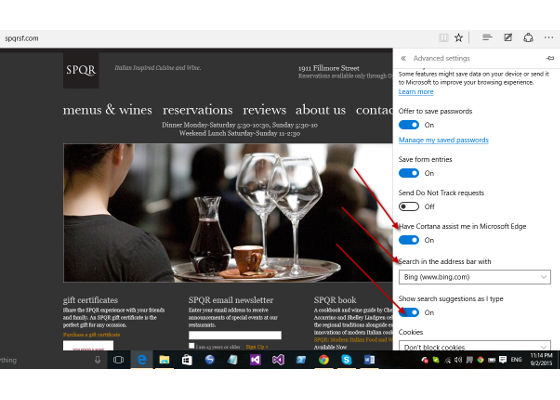 Step 5- Now revisit the same Restaurant Website – https://www.sqpqrsf.com and you will be able to see the Cortana Icon on the address bar, click on the Icon to view direction, reviews, menu and can even select the call option for a Skype call to book the table.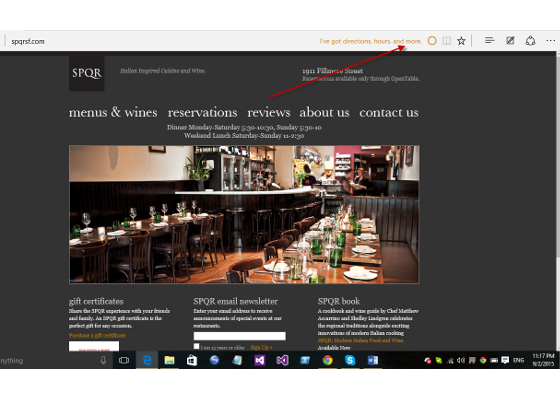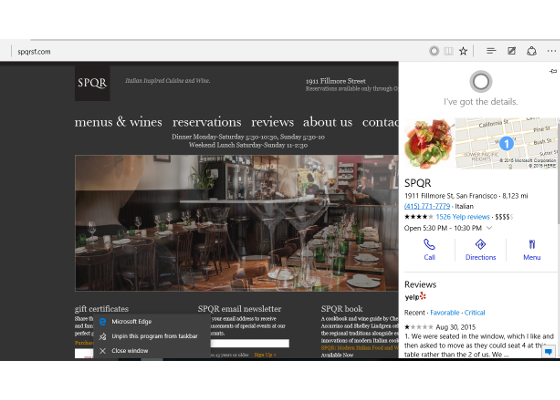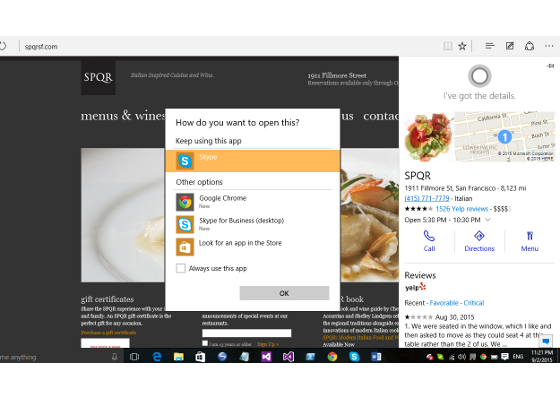 I chose to demonstrated this feature on a restaurant site because searching restaurants and booking tables are one of the most common tasks that one does on the web. Similarly, in future we can expect more of such sites which are commonly used in the web to be popular and in use with Cortana. Cortana is server-driven feature; Microsoft can add new sites as well as new classes of sites without updating the Edge browser.
Here is the list of all the Restaurant sites where Cortana will light up the address bar when you visit:
https://reelseafoodgrill.com
https://www.spqrsf.com
https://www.legend72.com
https://cuoco-seattle.com
https://www.indiasofannapolis.com

Want to test "Ask Cortana Feature"?
Ask Cortana anything on any page, anywhere on the web. You can pick some text and get Cortana to tell you more about it. Highlight anything in a page by using Touch or Mouse, right click on it and select the "Ask Cortana" option. A Fly out menu will appear from the right with the answer you looking for!
If a Wikipedia page about the text that you are searching exists, Cortana will instantly pull it up, along with every other piece of information it can find about the text and an option to search the text via Bing. If it does not exist in Wikipedia, Cortana will simply perform a Bing search so that you can view what you want without going away from your current page. Cortana is built into the browser so that you can query content faster and save on time that you would be spending on searching for it via search engines.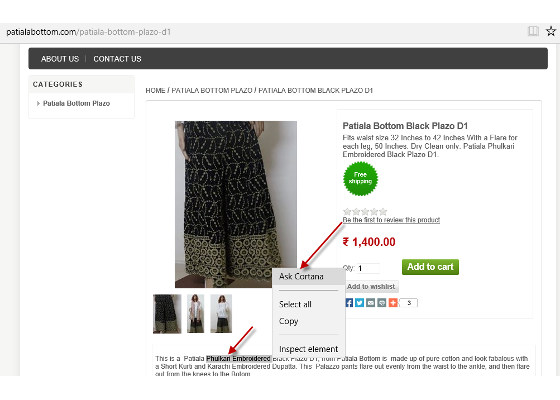 Pic- Right click the highlighted content and select the "Ask Cortana" Option.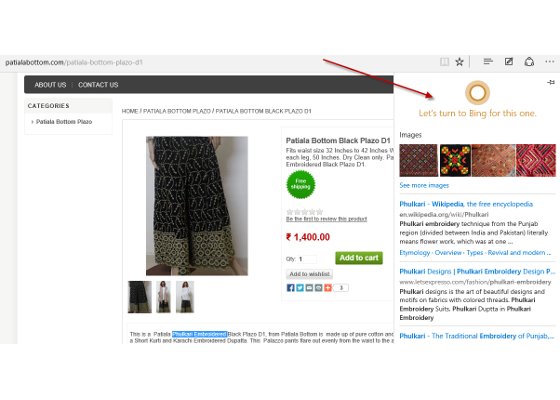 information on selecting "Ask Cortana".

Conclusion- The integration of Cortana with the Edge web browser has opened up a lot of opportunities for the web developers and masters to think innovative-ly as this integration opens up loads of new, different and unique use cases which, when implemented, will provide best of the kind user experience. To start with I suggest that the Business houses should start looking at "Bing places for Business", https://bingplaces.com for listing!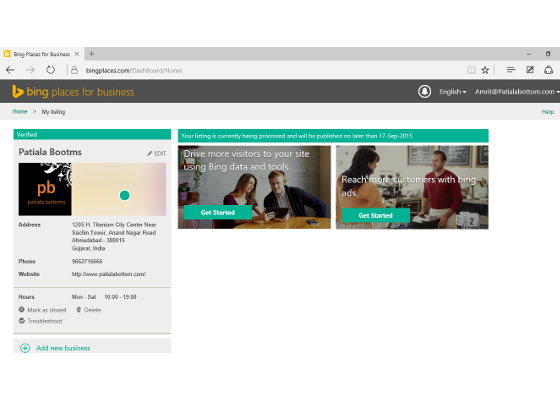 Pic- Listed company in the Bing places for Business
Go ahead and test your websites and get to know small things that you may want to fix to give the best to your users. The Microsoft India team is here for any assistance; reach them at modernweb@microsoft.com
Click here to check if your website adheres to interoperable web standards and is ready for various modern browsers, including Microsoft Edge
Other Popular Deals
Samsung A7 2016 Edition Golden

Rs. 18990 *

Buy Now

Mi Redmi 6A (Rose Gold, 2GB...

Rs. 5999

Buy Now

Redmi Note 5 Pro (Gold, 4GB...

Rs. 12499

Buy Now
*Includes Cashback
​