While Apple makes great devices that have garnered dedicated fandom, the same can't be said about the accompanying software. Or can it?
With the last few iterations of iTunes, Apple has been accused of fixing what wasn't broken in their efforts to 'beautify' and 'simplify'. Love it or hate it, in true geek spirit we show you how to make the best of what you have!
Un-vanish the Sidebar
The new multi-color logo looks jazzy but certain other aspects of the redesign are a pain, especially the absence of the Sidebar from the main screen. Although it's not gone altogether, the Sidebar only shows up under the Playlists tab. If you consider that a pain, feel free to write a mail to Apple. Enough feedback showing dissent and they may actually start to listen!
Mini Switch to Mini Player
The latest redesign makes the Mini Player handier than ever, but if you're confused about how to access it other than labouriously going through the menu, fret not! Simply click on the Album artwork, next to 'Now Playing' at the top of the screen. The Mini Player appears that floats above your windows (make sure to check the box next to iTunes > Preferences > Advanced> "Keep MiniPlayer on top of all other windows") for easy control over what befalls your ears while you work. Note: If you want the Mini Player above the iTunes window itself, go to the Menu bar > Window > MiniPlayer.
Switch to a Micro Mini Player (Muzzy)
If the Mini Player does not seem minimalistic enough to you, download a great (and still free) iTunes plugin called Muzzy. It runs from the menu bar and allows easy and intuitive control over song playback, especially great if you need to use the whole screen and don't want to keep switching to iTunes. Adjusting the position of playback within the currently playing song is as simple as clicking/dragging across the album artwork drop-down. It will even pause playback when your headphones are plugged out!


Muzzy - Minimalism in action
Capture the heat of the moment - In a playlist
Want to listen to a song that just came to your mind, but you like what's playing now, and so you don't know what to do? Right -click any song and select "Add to Up Next", a temporary On-the-Go playlist that gets modified as easily as your mood.
Save space: Turn on Home Sharing!
If you have multiple devices running iTunes on the same WiFi network, you can use this nifty feature to access a common library across all devices. From the Menu bar select File > Home Sharing > Turn on Home Sharing. Do this and log in with the same Apple ID on all the different devices. You can save as much space as the number of copies of your Library!
Apple Music - Buy into the hype at no cost!
In case you didn't already notice, Apple Music is promoting itself with a 3-month FREE trial membership. Though, you will need a credit card enabled Apple account to access it. Click on the tab that reads "For You" on the top centre of the iTunes window and follow the instructions to activate your free
trial. Don't forget to deactivate before your trial is over to avoid being charged!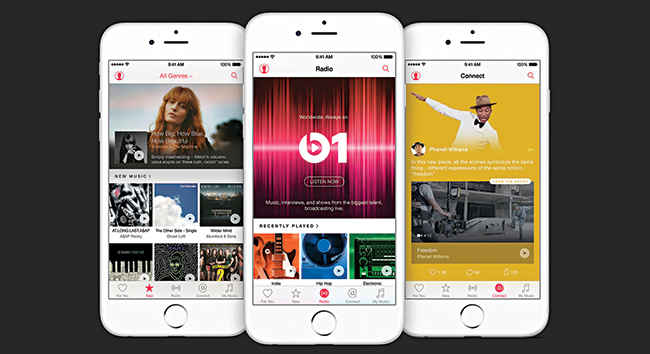 You should check out Apple Music for a 3-month trial
Discover great music
If you're not the kind to give in to marketing gimmicks of large corporations, click • • • on iTunes and open Internet Radio. You can edit the Menu while you're at it, and check the box next to it for easier access. There are literally hundreds of great stations to stream from that cater to every audio genre you can think of, except dinosaur mating sounds. Jokes aside, the Internet Radio is better than the Radio tab that is a part of Apple Music. As long as you have a decent Internet connection, you're good to go!
Study for a test, or just for the sake of it
iTunes University existed long before MOOCs came along, and is still going strong. Access it by hovering the cursor over the three dots (• • •) on the top left corner of the main screen and selecting iTunes U from the drop down menu. There are a variety of classes from a variety of courses from the best universities in the world (MIT, Harvard, Stanford and the like). You can choose to save them to your library and sync them to your iPod for the next time you have time to kill on the metro or bus.
Make your own audiobooks
This is another one for Mac users only. Click on iTunes, next to the Apple logo in your menu bar, and go to Services > Service Preferences. Alternatively, you can access it from System Preferences > Keyboard > Shortcuts > Services. Under Text, in the list on the right, add your preferred keyboard shortcut for "Add to iTunes as spoken track" and make sure the box is checked. Restart your Mac and the next time you open a text file or a pdf, use the shortcut that you saved earlier. A window will appear to confirm the choice of voice (lots to choose from!) and location to save the file. Voila! Your favourite text is now an audiobook on iTunes!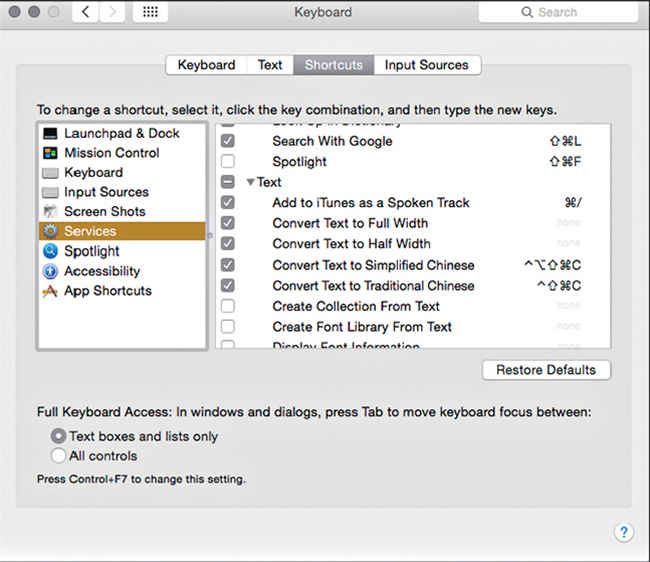 Sing along to the lyrics of your favourite song
Do an Internet search and copy the lyrics of your favourite song to the clipboard. Right-click on the song in iTunes and select Get Info (or press Command+I). Go to the lyrics tab and paste. The next time you are playing the song on your iPhone or iPod, click on the displayed Album Artwork in the centre of the screen so you can read the words you are listening to. Or sing out loud if you're in the groove!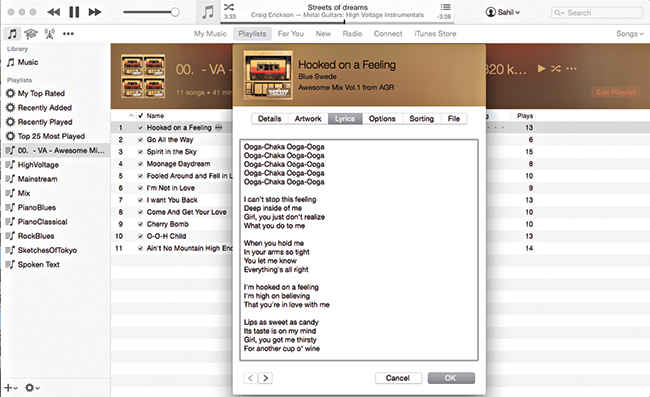 Add lyrics to your favourite songs
Add time to your life
Managing an impeccably curated library with well referenced ID3 tags can be quite the chore. Add keyboard shortcuts for the most commonly used tasks, if they don't exist already. Additionally, you can download AppleScripts that will make your life easier, there are many freely (but may not be easily) available on the internet. Open the Terminal and type "cd ~/Library/iTunes" without the quotes. Hit return. Type "mkdir Scripts" and enter again. You just created a folder in which to place your downloaded scripts. If you thought that was fun, turn it up a notch and teach yourself to use AppleScript. It's much like English.
Ditch iTunes altogether!
If you're of the opinion that iTunes is the next MS Internet Explorer, save yourself the headache! The only reason many people use it is that it is the recommended and default media manager for your iDevice. There are some great alternatives available at no cost that can do the same job and aren't made by capitalist corporations that couldn't care less about their users. For a complete iTunes replacement, try Songbird, Foobar2000 or MediaMonkey. If you want a no-frills media manager dedicated to the job of syncing your device, try CopyTrans Manager.
Other Popular Deals
Samsung A7 2016 Edition Golden

Rs. 18990 *

Buy Now

Mi Redmi 6A (Rose Gold, 2GB...

Rs. 5999

Buy Now

Nokia 1 (Dark Blue, 1GB RAM,...

Rs. 4000

Buy Now
*Includes Cashback
​