Apple has announced a new update for its iTunes software. The iTunes 10.5.2 version comes with a number of improvements for the iTunes Match, and features several bug fixes and updates. The update to the iTunes version 10.5.2 is available for download on both Mac and Windows.
The previous update, iTunes 10.5.1, came with the iTunes Match feature, which allowed users to save their music to the iCloud. With the iTunes Match, users could store even those songs that were not purchased through iTunes. The songs that are already listed in Apple's libraries streamed from 256kbps master copies, while others are simply uploaded for streaming. The new iTunes come with various improvements to its iTunes Match, but mainly focusses the audio distortion problem, reported by various users while playing or importaing some CDs. Read more details about the latest iTunes v10.5.2 here.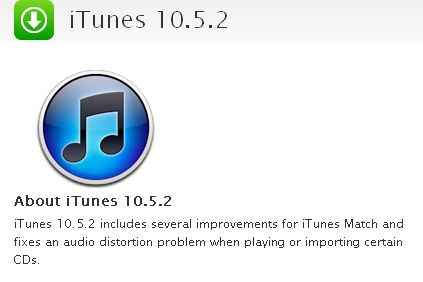 According to reports, Apple has already begun rolling out these updates. The update is available for Mac computers having OSX 10.5 or above. You can download iTunes 10.5.2 directly from Apple's iTunes download page.

Also read,

Vote and Win!

Digit Icons of Trust 2011 Survey

Visit https://thinkdigit.com/trust to vote for your favorite tech brands in India.
Survey participation gives you a chance to win exciting gifts like wireless input devices, earphones and special edition Digit branded T-shirts.
As an appreciation of your valuable time and input, every participant will receive an assured gift in the form of Digit discount vouchers.
We encourage you to participate in multiple surveys to increase your chances of winning more goodies.