If you use your computer even for short period of time, it is likely you Will end up with numerous applications running in the background, coming in the way of your work. Often they are apps you want and need — why else you would you install them — but they are just coming in the way of your work. JetBoost lets you manage such applications / services in bulk, giving back control of system resources.
Windows too has its share of services running in the background, some providing essential security services, while others are for non-essential purposes such as rendering the Aero theme. Search and indexing services, services facilitating easy sharing on LAN networks, and many other similar services are quite useful, but can come in the way if you are primarily working on an application that needs a lot of resources.
Whether you are coding in Eclipse, editing 3D content in Maya / 3dsMax, editing a video in Premiere or even playing a graphics-intensive game, it is unlikely you will be sharing files on the network, or need Windows themes. Those services can be turned off.
Unfortunately, these services might be needed when you are done with your work. It can be painful to manually track which applications and services you shut down, and start them up again.
JetBoost not only does this for you, but it includes a list on non-essential services that it is automatically programmed to turn off in such a situation. It includes two profiles, "For work" and "For game" that turn off different services based on your computer usage profile. The gaming profile for example turns off the "Tablet PC Input Service", a Windows service that provides support tablet input devices, which you might need while working, but likely won't while gaming.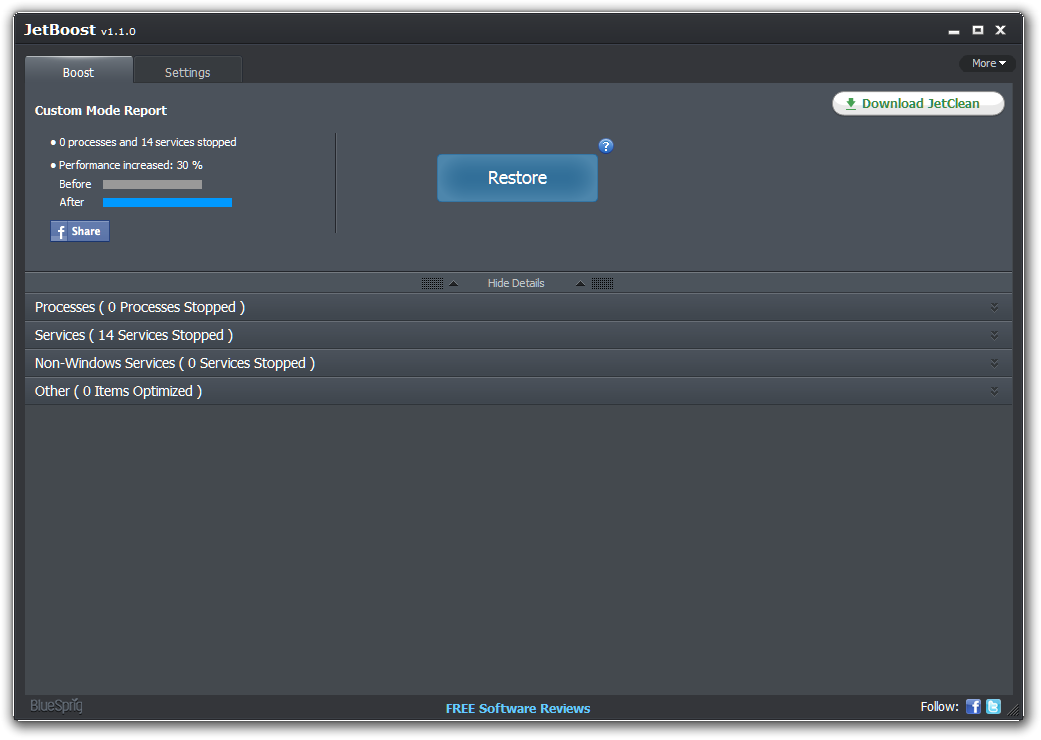 Other than these two profiles, there is a third option, "Custom", which, as expects, lets one specify their own setting. Unfortunately, you cannot create your own profiles, nor is it possible to modify the ones that ship with the application.
There are four section in the JetBoost program:
Processes: This section lists the processes running on the system, and lets you select the ones that should be closed.
Services: This lists all Windows services that can be shut down, and you can select / deselect the ones in this list based on the Windows features you need.
Non-Windows Services: Here you will find services that don't ship with Windows, but are installed and running on your system anyway.
Other: This section lists a number of miscellaneous optimisations that JetBoost can perform to improve performance. These include clearing RAM and the clipboard, shutting down Explorer, disabling automatic update, and changing the power settings of Windows maximise performance.
Like any such application, you mileage will vary depending on your systems hardware and software configuration. It is quite likely that you will see some boost in performance.
Of course when you no longer need the optimisations, JetBoost lets you restore you settings back to normal — which after all is the main point of the application. The settings of the application let you edit the list of services to show in custom mode; unfortunately, these requires you to edit an ini file, there is no GUI.
JetBoost is a freeware, and can run on any Windows version from 2000 to even Windows 8, 32-bit and 64-bit versions supported. You can find more about JetBoost at its website and you can download it from here.