Adobe India brought to the Capital today the "best of MAX," an event aimed at those who could not attend Adobe's annual conference, Adobe MAX, but wanted to revel in the excitement of the announcements and the excitement.
Adobe Create Now, as the three-city tour is named, focussed on elaborating on the new direction Adobe is moving in. The new direction is marked by Adobe doing away with all retail versions of its software, and switching over completely to a cloud based solution. Now known as Adobe Creative Cloud, all of Adobe's popular software will now be available through subscription only, a move that has rubbed many of their regular users the wrong way.
The event was hosted by three Adobe evangelists, who spoke at great length about the various new features that can be found in the new Creative Cloud versions of the Adobe products. The seminar was broken up into three segments, web, video and design, with Adobe evangelists speaking and demoing the new features at great length.
On the web front, Adobe has created software like Reflow and Muse that are built to work with HTML5, CSS and Javascript. While Muse is a simpler take on Dreamweaver, allowing users to websites with a responsive layout using a WYSIWYG format. One of the newer, powerful features demoed at the conference was the ability to create a parallax effect to layouts without ever having to write a single line of code.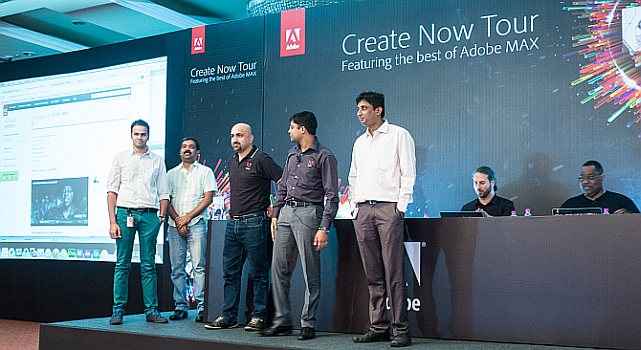 In the video department, the focus was primarily on Premiere Pro and After Effects. We got to see first-hand Premiere Pro's amazing Mercury Playback Engine at work, which allowed for effects to be turned on and off during the playback of R3D files, without causing the footage to stutter even for a moment. This performance boost, Adobe says, is thanks to using the OpenCL platform, which allows Premiere Pro to utilize the power of almost any modern-day graphic card with a minimum of 768 MB of RAM. After Effects gains a feature from Photoshop, the Clone Stamp Tool. Jason Levine, a worldwide Adobe Evangelist showed just how you can clean up someone's skin of acne and scars using the clone stamp tool in just one frame and have it be carried over to the rest of the footage.
On the design front, we got to see the new features of Lightroom 5 and Photoshop CC such as the auto lens correction tool that fixes both horizon tilt and perspective distortion automatically. What Photoshop CC users will particularly love is the addition of the Camera Raw module into the software as a filter which can be applied to images non-destructively. Another big feature for Photoshop CC happens to be the Camera Shake Reduction filter, which will now help photographers remove blur from their images.
The features demoed at today's conference are just a small part of the many that the new Creative Cloud subscription brings. We had some time to sit down with Terry White, Worldwide Design Evangelist and a long time fashion photographer. We spoke with him at length about Adobe's new direction and what it would mean for photographers, video editors and other artists and developers in general. His opinion is that with Creative Cloud, Adobe will now be able to focus on the development of a single product line-up and consequently offer updates and new functionality to its consumers almost immediately. When we asked him how Adobe planned on promoting Creative Cloud in India, and other countries where internet connectivity isn't as great as it is in the West, he had a very interesting response. He said that Adobe was contemplating better distribution methods, especially for countries with a weak internet infrastructure, including the option of selling discs with the installer on them.
The Adobe Create Now Tour is going to be in Chennai tomorrow, and Bangalore on the 18th, so if you want to really understand why Adobe Creative Cloud is the future, be sure to attend. You can register for the events by going at the Adobe Create Now Tour page.