Ricoh Theta S detailed review
The Ricoh Theta S is not the everyday camera that comes in for reviews. The novelty of imaging units like the Ricoh Theta S is in being one of the very first consumer products in a segment of products that have been touted to become the future - 360-degree cameras. Powered by Pentax, the Ricoh Theta S has a candid, sleek body that is light and easy to carry around, and opens up a beautiful possibility for you to become the most popular person in your friend group - him with that crazy camera!
Unfortunately, when you're out reviewing and analysing products, the story does not only revolve around the best aspects of it. The Ricoh Theta S is a fascinating start, but there are a lot of rough edges that need smoothening. Here's how it works.
360-degree videos
The sheer joy of creating your own 360-degree videos cannot be explained until you shoot your first video. Whatever quality you shoot at, once you shoot the first-ever live video, you will realise why 360-degree cameras are the future. The level of immersiveness that 360-degree videos have on offer is simply more engaging and entertaining, and with Facebook, our daily sustenance social media of everyday, promoting 360-degree videos on its own platform, owning a camera like the Ricoh Theta S is actually particularly beneficial for digital advertisers and publishers who look at Facebook as a prime broadcasting platform.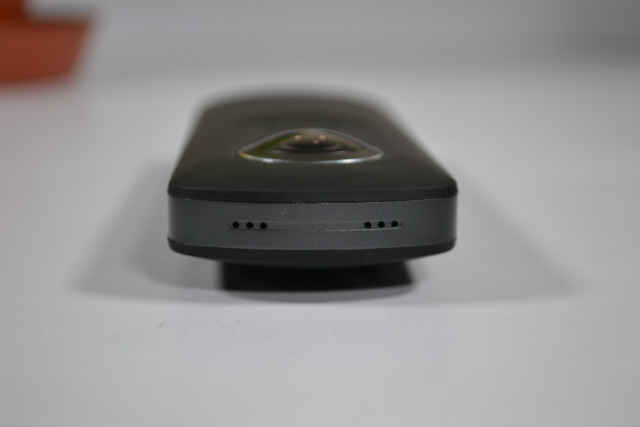 While being critical about the photograph and video quality would not be a very just thing to do, I cannot help but bring to notice that unless you are outdoors under bright sunlight, the level of noise that the Theta S renders can be quite jarring. For instance, in comparably low light situations and even when we are indoors under direct fluorescent light, the level of noise was very noticeable.
That said, the colours look reasonably close to source, and saturation and sharpness levels look really good. We went shooting with the Ricoh Theta S at Smaaash gaming parlour at Noida, and the indoor neon lighting looked really sharp and crisp, creating a hue in the video that looks supremely appealing. This also aids the immersive nature of 360-degree videos, which is great. The Ricoh Theta S can shoot at 1080p and 720p, and 360-degree photos in 12 megapixels.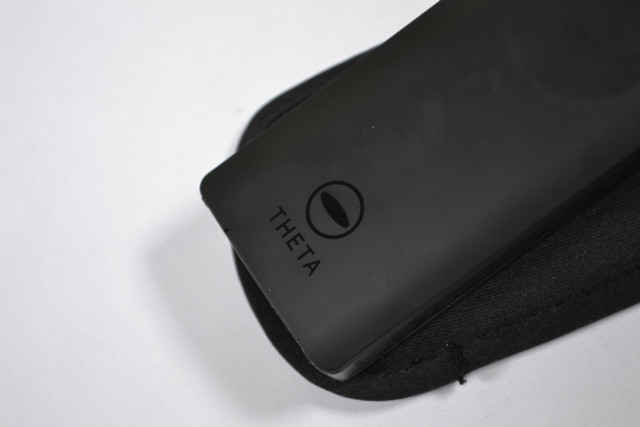 Overall, while the videos have too much noise, it works under well-lit situations. It's not an absolute revolution, but a very worthy start.
Glimpses of neon! - Spherical Image - RICOH THETA
Once upon a weeknight - Spherical Image - RICOH THETA
VR Day at Smaaash! - Spherical Image - RICOH THETA
The Ricoh Theta S app
Here is where you would encounter problems. Connecting it is fairly simple. Switch on the camera, open your phone's WiFi settings, and tap on the Theta-labelled ID. The password will be the number combination tagged at the bottom of the camera, as your serial number. Once you're connected to the camera, open the Ricoh Theta S app on the phone. The device connects swiftly, and the app layout looks reasonably neat at first.
You have three tabs: Options, Camera and Settings. Under Options, you have three sections: App, Photos and Camera. The App section will lead to all photos ever clicked by the camera, Photos lead to your phone's photo gallery, and Camera leads to photos stored and not transferred from the camera's internal 8GB of memory. On the Camera tab, you have options to shoot photos and videos. Notably, on a 4-inch iPhone, you only get a very slim viewfinder for photos with which you can see what you are shooting, and you get none for video. Essentially, you shoot blindly, which would also be the case if you attempt using the camera at WiFi-barred areas like an airplane.
This is a major hindrance, and although this being a 360-degree camera would have you somewhere in the frame, it somewhat ruins the purpose of subject-specific shooting. The third tab, Settings, has options for you to set shutter sound, log in to your account and other relevant information. While not having a viewfinder is downright annoying, the button setup will help you get your job done even without your smartphone connected to it, albeit in a rather hindered way.
The Troubles
To set the app up, you are prompted to create a Theta360 account. While it does have the option of syncing with Facebook, it refuses to do so until you access Facebook from integrated Settings on iOS. This was the first obstacle that I faced, although I deemed it as a minor problem.
The second obstacle came much later, after I decided to upload some of my work samples. Usually, when your account is synced, you would expect the app to backup your files over WiFi and on charge, when granted permissions. Turns out, Ricoh does not want your data to be wasted. That, though, is a good thing. What isn't, is how cumbersome it is to get your footage to show up on the webpage of your own profile. You would either have to share a file on a social channel to register it on Theta360.com, or download the Theta S app on your PC, connect the camera to it with a USB cable, import your required files to it, and then post it on Theta360.
With all of this, only 11 second or 5MB of video files can be uploaded, which is ridiculously restricted for a camera that shoots 360-degree videos and photos. The entire hassle of uploading and sharing on your own website is not the most enjoyable, and can even range to being annoying as there is literally no online guide for it.
Also, photos and videos shot by the Theta S do not show the camera bodies in the shot footages. As a result, what happens is your index finger and thumb getting fused into a singular entity. This does look a bit awkward, especially when you realise that your hand does not look like that, at all.
The Good
The helpline for Ricoh India, though, was very prompt. After having called and registered a complaint, a Ricoh India engineer called and guided me through the process within about 20 minutes.
Having complained about the smaller aspects, the Ricoh Theta S is an excellent selfie camera. You can literally fill an ultra-wide angle frame with an entire hall full of people and put the famed Oscar Selfie (and the millions of minions that attempted at following it) to shame. Put shortly, the Ricoh Theta S is a delight to have around you, particularly when you are out backpacking or camping with your friends. It may disappoint under dim light, but delivers fairly decent results under good lighting conditions.
Build, Design, Peripherals
The Theta S design follows with Ricoh's previous Theta cameras - sleek, slim profiles, two camera bulges on either sides, three buttons for Power, WiFi and Shooting Mode to the right, a shutter button on the front (or rear, whichever way you look at it), LED indicators on the same side for power and connectivity above and below the shutter button, and a tripod mount at the bottom.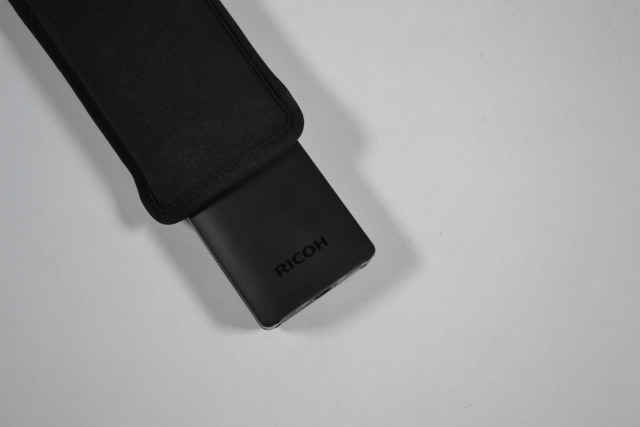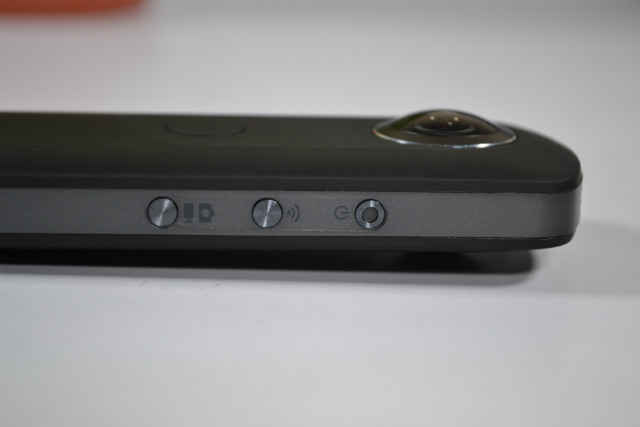 The entire build is actually very pliant, and feels good in hand. The matte rubberised body also has good grip, and button feedback is excellent. The mics are housed on the upper side, and you can charge the device with a standard microUSB power cable. This will help you charge the device on the go, and it charges up to 100% from nil in about an hour and half.
The only concern you would have is about damaging the two lenses, that being major concerns. To aid that, the Neoprene cover supplied with the camera helps you keep the device safe. This was a neat addition to the entire package, and only after starting to use the camera will you notice its utility.
Bottomline
The Ricoh Theta S has a number of rough edges to polish, some of which can be quite annoying. But, it is a beautiful start to the world of 360-degree cameras aimed at consumers. It may have a few flaws and restrictions here and there, but owning a 360-degree camera is not what too many have done till now. It is pricey, and at Rs. 39,900, it would mostly find acceptance from enthusiasts or photographers who already have their essential camera bodies in place. The Ricoh Theta S has a lot of potential, and future products would hopefully solve the glitches that this one has.