Microsoft Surface Pro 4 detailed review
If the Windows Phone is Microsoft refusing to bring changes to a product that really needs change, the Surface is Microsoft adding finishing touches to a product that was already good. But, while Surface tablets may be a rave overseas, there are still some glaring issues, those that Microsoft really needs to think about. If a tablet is ever to replace a laptop, then the Surface has the best shot at doing it. Will the Surface Pro 4 be the one to do it in India? I'm not entirely sure.
Build and Design
While the screen size of the Surface Pro 4 has been increased, the thickness has been reduced. At 8.45mm, the Surface Pro 4 weighs 786 grams, which makes it lighter than ultrabooks like the Dell XPS 13. Of course, a tablet has no business being as heavy as a laptop in the first place. To cut a long story short, the Surface Pro 4 is easy to carry around, even with the few grams that the TypeCover keyboard adds to it.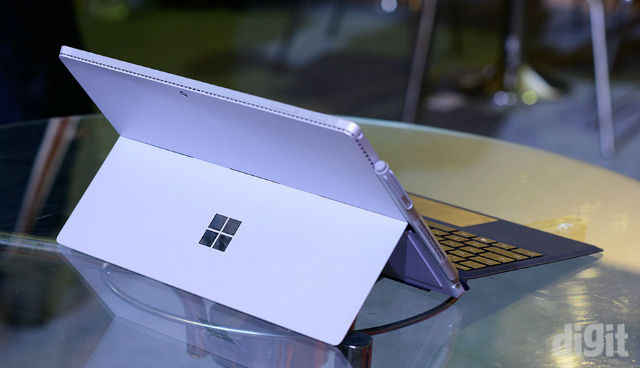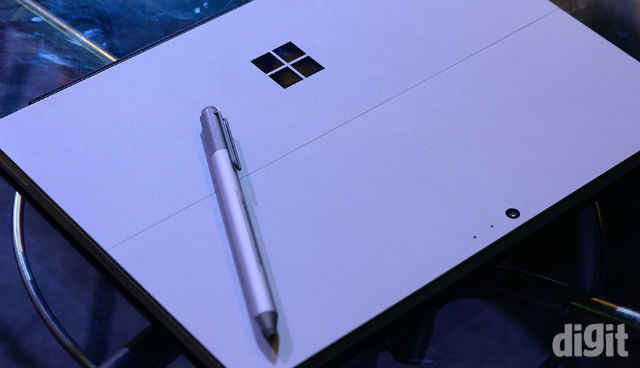 Like Surface tablets before this, the best part of the Surface Pro 4 is the kickstand. It allows the tablet to be perched on a desk or on the bed, and in myriad different positions. Compared to something like the iPad Pro, it simply increases how useful the Surface Pro 4 can be especially as a laptop. If you really do want a tablet that replaces a laptop, then this is an important feature that the Surface has over the iPad. The kickstand can be moved between 22 to 150 degrees, which cover most practical scenarios. The only one that Microsoft needs to solve now is how to make the Surface stand still, when it's on your lap. It's not that you can't use it on your lap, but definitely not for long hours.
Note: There is more that adds to the Surface's weight, which we has been mentioned later in this review.
Display
The 12.3-inch display on the Surface Pro 4 comes with a weird 2736x1824-pixel resolution. Nevertheless, it results in 267ppi pixel density, and you'd be hard-pressed to find a tablet or laptop that matches this pixel density. To say that the Surface Pro 4 has a 'nice' display would be a massive understatement. It's one of the best displays on a tablet or laptop, rivalled only by the iPad Pro and perhaps the Dell XPS 13's top model.
Having said that, the difference between 216ppi (on the Surface Pro 3) and 267ppi on the Pro 4 would be apparent only if you place the two devices next to each other. I can see graphic designers and video editors appreciating the bump in pixel density, but if editing documents and typing is all you do, then it may not mean much.
The Surface Pen
You never really realise what 1024 levels of pressure means till you have the Surface Pen in hand. It does take a bit of getting used to, but again, the pen is meant mostly for tasks like drawing, animation etc., and it'll do just fine for them. I personally can't draw to save my life, but in taking notes while in interviews etc., I found the Surface Pen quite useful. It attaches to the left side of the Surface Pro 4 magnetically and stays on almost always, even when the tablet is in my bag.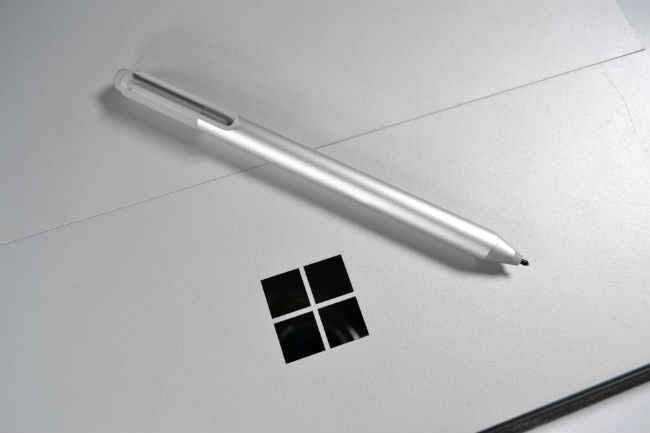 Thankfully, Microsoft decided to include the Surface Pen in the box as well, meaning you won't have to buy it separately.
TypeCover Keyboard
As much as I'd like to call the PixelSense display the Surface Pro 4's strongest element, it's not. The TypeCover case is actually what makes this tablet a possible laptop replacement. The pitch on the keyboard is perfect for typing, and eliminates the learning curve associated with using a new keyboard, especially for portable ones. It attaches to the Surface magnetically and can be placed horizontally on the desk, while you can also raise it to a slight angle, if you need to. The slight wobble when typing can be a hurdle for some, but the travel, feedback, backlight, and the large and fast touchpad on the TypeCover keyboard more than make up for it.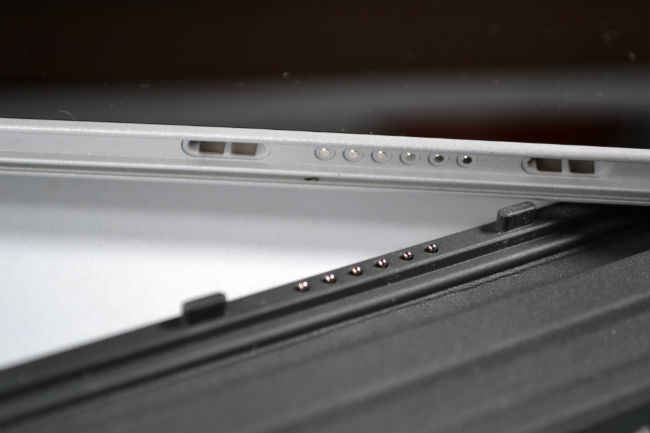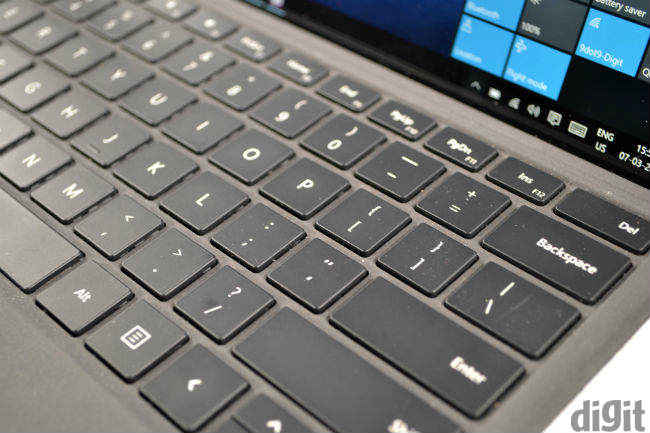 You know what the biggest problem with the TypeCover keyboard is, though? It costs Rs. 12,490 and is not included with the Surface Pro 4. This essentially raises the cost of an Intel i5-powered Surface Pro 4 from Rs. 89,990 (which was already a lot) to Rs. 1,02,480. The numbers pretty much speaks for themselves.
Without the TypeCover keyboard, the Surface Pro 4 is basically a powerful tablet like the iPad Pro, which isn't optimised for touch-based usage. As good as Windows 10 is, it's not really meant for touch-based usage.
Windows Hello
When I used Windows Hello on the Microsoft Lumia 950XL, it made absolutely no sense, because it just wasn't intuitive enough. On the Surface, though, it's entirely the opposite. By the time you settle down in front of the device to start typing, it has recognised you and unlocked itself. If Windows Phone could be as intuitive, Windows Hello would be the right way to replace fingerprint sensors. In the two weeks that I've used the Surface Pro 4, not once have I had to enter my login password.
Performance
Speaking of the processor, my review unit came with 4GB of RAM and an Intel i5 processor. For recreational games, Asphalt 8 is a breeze on this device, and I got a little more adventurous, trying Metro: Last Light as well. Of course, the latter was riddled with frame drops, but most tablets would do much worse. The Surface Pro 4 offers the kind of zippy performance that has often been missing from Windows-based devices.
The performance of the device is beyond question, it performs almost as well as devices like the HP Spectre x360 (which costs about Rs. 1,24,000), and would easily suit photo editing and other such requirements. It goes toe to toe against devices like the Dell XPS 13. Basically, short of gaming, the Surface Pro 4 can replace a laptop for most other activities. It does heat up a bit when you're watching videos or gaming, but it's never to an abnormal level.
That said, there's a big problem with having a PC-class processor on a tablet device. Read on for what that is.
Battery
Mobile processors are always made keeping the space, heat and battery constraints in mind. So, when Microsoft decided to combine an Intel i5 processor with a 5087mAh battery, it compromised on the battery life majorly. The Surface Pro 4, on a full charge, will run only for four hours. Interestingly, that's exactly what the projected battery life that the device shows, when it's on full charge. Compared to laptops like the XPS 13 and MacBook Air, which lasts for well over 7 hours, it's a step backward for a tablet that wants to replace laptop(s).
This automatically means that you'll need to almost always carry your charger with you, and hence, the Microsoft Surface Pro 4 becomes a tad heavier than what it was earlier.
Watch Microsoft Surface Pro 4 Video Review

Bottomline
We set out to answer a few questions with the Surface Pro 4, the most important of which was whether this device can replace your laptop. Well, the answer, for the most part, is yes. But, there's more work for Microsoft to do. While it is an absolute treat to use, the battery life and the fact that the TypeCover case isn't included, are major downers. At a price of over Rs. 1 lakh (including the keyboard), it's just impossible for most to buy, even if we do consider this a primarily enterprise product. For the time being, the Surface Pro 4 remains a product that you will appreciate, but cannot buy.