Micromax Canvas Laptab detailed review
What a difference a month can make in the tech industry today. This Micromax Canvas Laptab review has been pending on my desk for just about a month now, and after a month of using it, the market suddenly has alternatives. That is not to say that the Laptab doesn't have its strengths, it's just not as good a product as I initially thought it to be.
When Micromax launched this, the company enthusiastically pushed it as a laptop, not a tablet. The device comes bundled with a keyboard, which at this price is a plus in itself, and it corroborates the name Laptab. After using it for a whole month, I can tell you that it's neither here nor there.
Build and Design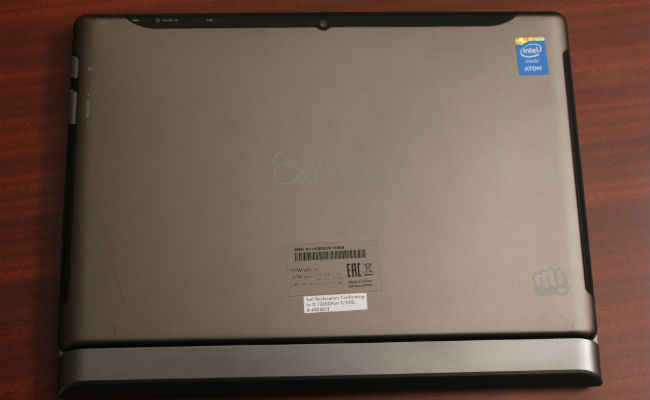 While the Canvas Laptab is made entirely out of plastic, it looks like a rugged device. It's not bad if you're looking at it as a budget laptop. If you consider a budget tablet, it doesn't look good, but is sturdy enough. The Xiaomi Mi Pad for example, is a better looking and more seamlessly designed tablet.
There are small problems, which show Micromax's overall inexperience in making these kind of products. The volume and power buttons are situated on the right side of the device and they're really small, to the point where I often pressed the power button instead of the volume keys and vice versa. The lack of travel can be annoying when watching movies, videos or playing games.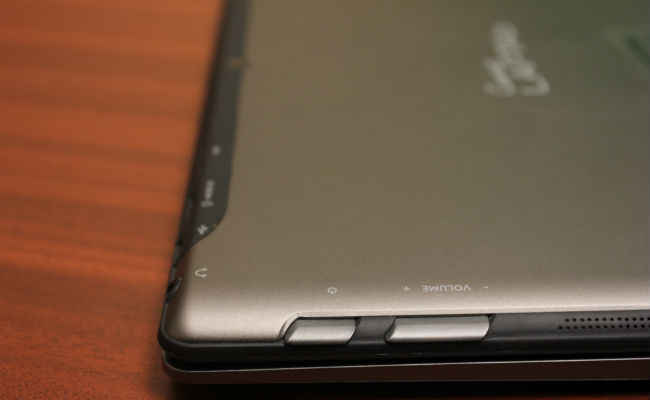 Next, while the bundled keyboard is a very good idea, how the tablet connects to it is not. The laptab uses a pin connector to connect to the keyboard, which means it will be in only one position when being used as a laptop. Moreover, the connection isn't exactly stable and keeps disconnecting unless kept on a table or equivalent surface. The Laptab can easily fall off the keyboard if you try to place it on your lap, and often the device just doesn't connect properly, with the keyboard going off while you're working. Also, it puts limits on the kind of keyboards you can attach to this comfortably.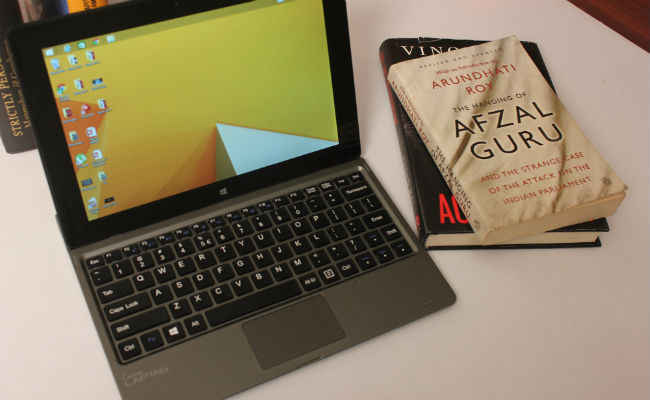 It's important to mention here that the Laptab is quite heavy and big, which means you'll almost never be using it as a tablet over extended periods. That doesn't exactly bother me though, since, who wants to use the touch interface on Windows 8's desktop mode anyway?
The Keyboard
Many might say that at Rs. 14,999, asking for a very good quality keyboard is unfair. But that's just the thing with keyboards. You can't work on one that isn't good. The Canvas Laptab comes bundled with a very low quality keyboard, with not enough travel between keys and I can't help but call it out.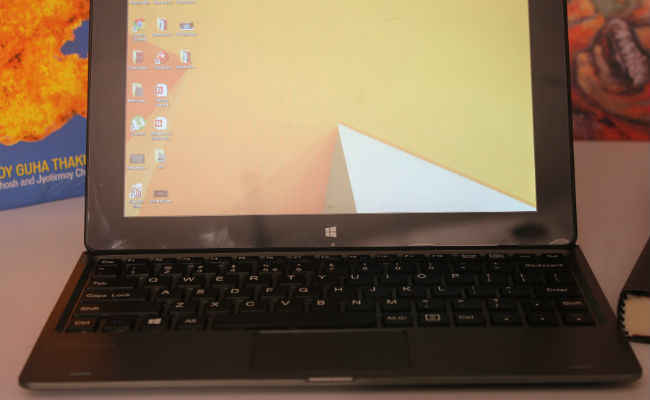 Here again, it was a good idea to integrate the USB port on the keyboard, but you'll have a hard time getting used to typing on it. I still am not used to it. In addition, if you're carrying the Laptab and the keyboard together in a bag, you will get a lot of scratches on the tablet part of the device.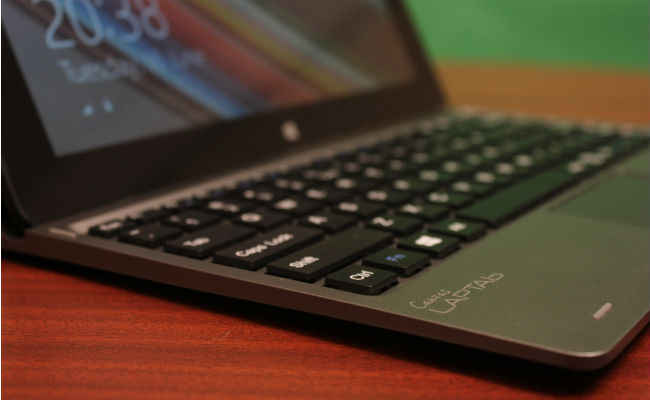 Display
Here again there are good things and bad things. While the Canvas Laptab has a really nice and bright display, the viewing angles are poor. This isn't a problem if you're using the device as a tablet, but you'll have trouble when using it as a laptop, because of the fixed positioning.
I like how the colours pop on the display though, and the touch feels quite nice. Videos and movies look good when being watched up front.
Performance
Like many of my colleagues, I've been contemplating a seperate device simply to write, watch movies etc. The Micromax Canvas Laptab always seemed to be the perfect device for this. I don't want to spend a fortune on such a device, and this fits my budget. In fact, that is all you can use the Laptab for. The Intel processor is good, but if you're going to use this as a full fledged laptop, then you will be disappointed.
For one, the Laptab has only 2GB of RAM, which means a few tabs on Google Chrome and your laptop starts showing signs of lag. In addition, there's only 8GB of storage, expandable to, only, yes only 32GB. You can't really hope for this to replace your laptop with this. And that is why the Micromax Canvas Laptab is neither here nor there.
It's not exactly something you will game on and thanks to its size, you can't use it as a tablet over extended periods. And thanks to the weird keyboard connection, you will effectively use this on a tabletop or bed.
Here's where the month's delay in writing down this review comes in. The Micromax Canvas Laptab would still have been a good option for me, except that Google launched its Chromebooks in India. If I have to simply edit documents and watch movies, then I'd much rather buy the Xolo Chromebook, which has an overall better build, display and keyboard, with about the same storage offerings, if you consider the cloud storage.
The only thing I don't get is the connectivity, and I really don't mind carrying a dongle or tethering from my phone instead of giving up all of that usability. The Laptab can house a SIM, which means I have connectivity on the go, but I can't use this keyboard effectively and neither can I count on the battery life (read below).
Battery
Another reason for buying the Chromebook is because it offers better, in fact much better, battery life. When using the Xolo Chromebook, I could easily make it last for a good 10 hours with online and offline work, including movies and videos. On the Laptab, I got seven hours at best. This isn't exactly bad, but a Xiaomi Mi Pad can offer much more, as can the Asus Eeebook X205TA or the Xolo or Nexian Chromebooks that Google launched. If you're simply editing documents, then you'll draw enough out of the battery.
In our battery test, the Canvas Laptab gives a measly 5.2 hours, which is low compared to the 16.6 hours that we got from the Mi Pad or the 7.2 hours that the Xolo Chromebook gave. The battery is another reason why I would much rather buy a Chromebook than the Laptab.
The battery life is not the only problem, it's also the charging. While on one hand, the Canvas Laptab can be charged using just a phone charger, it will also take a really long time to charge. Using its own charger, the 7700 mAh battery takes over an hour and a half to go from zero to 100% charge, and if you're watching a 720p movie while charging the device with a different charger than its own, you will end up losing battery instead of gaining it. It's really not practical to charge this using a phone charger, unless you're planning to keep the charger connected overnight. In comparison, the Notion Ink Cain offers lesser battery life, but charges fast enough to watch movies while charging.
Bottomline
Now many would argue that the Micromax Canvas Laptab justifies all of this with its price. And indeed it did, till about a month ago. The Xiaomi Mi Pad had a really different use case, while the Asus Eeebook X205TA was more expensive. Google's Chromebooks though make a really good argument against the Laptab. Yes, connectivity is a problem, but you don't really need that all the time with the use case that is being offered.
If you have an external hard drive, which you will need with both the Laptab or a Chromebook, then your movies and videos are most likely on that. If not, tethering from your phone should get you the bandwidth you need, at least for videos. On top of that, the Xolo Chromebook costs Rs. 2,000 lesser than the Laptab.