Lenovo Yoga Tablet 2 10.1 Android detailed review
The Lenovo Yoga 2 tablet is different from the current crop of slab like tablets which look like oversized phones. The tablet's form factor impressed us when we initially saw it but as we used the tablet, we did find a few kinks which were overlooked. Let's dig in.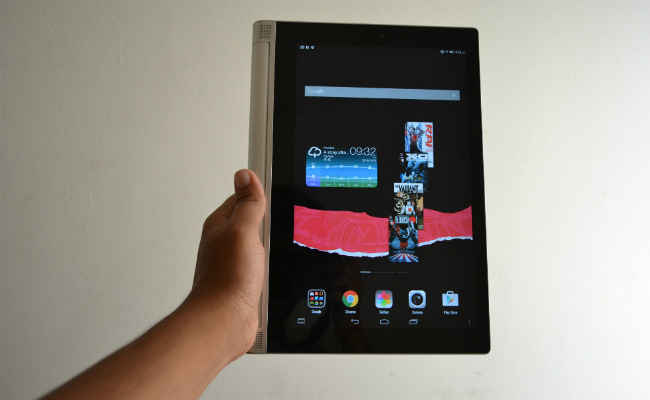 Design and Build
The Lenovo Yoga 2 tablet is one of the best designed and thought out tablets out there. Itt is a refinement over Lenovo's last gen Yoga tablet which also came with a kickstand. And this time around, Lenovo has added one more position- 'Hang' to the mix of 'Hold,Tilt and Stand'. The Yoga 2 tablet takes its design cues from Lenovo's old Vibe X like the grainy plastic silver finished back.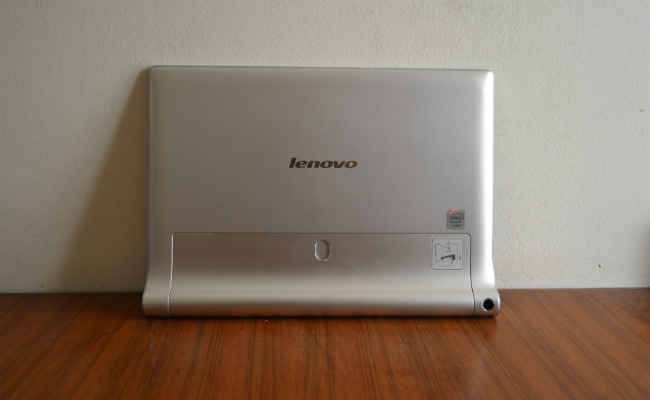 The tablet has a premium feel to it with its metal kickstand and impressive design. Lenovo has packed the entire 9600mAh battery on the left side of the screen cylinder which makes the tablet heavier on that side only. And if you try to hold the device from the other edge it does feel a little wobbly.
Display and UI
The 10.1 inch tablet we reviewed had an IPS display and 1920 x 1200 resolution. The display comes with reasonably sized bezels which makes holding it much easier. As for the display, it is bright and usable even under sunlight. However, the display is a bit reflective and is a fingerprint magnet.
The tablet runs a highly customised UI on top of Android 4.4 Kitkat. It has a lot of bloatware and Lenovo has tried to make the UI look more and more like iOS, be it the fogged glass look in the notifications drop-down or the multitasking menu or just the home screen. Therefore, the entire interface looks like a forked version of iOS and this means no app drawers but it works fine and we had no complaints except that we would have liked this even more if it had an app drawer and a more Android like feel to the UI.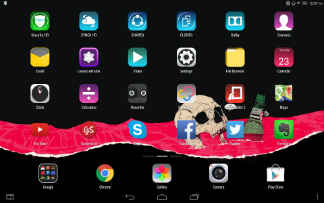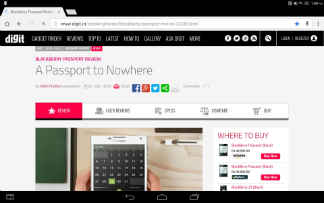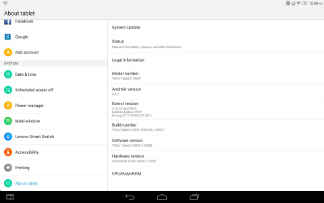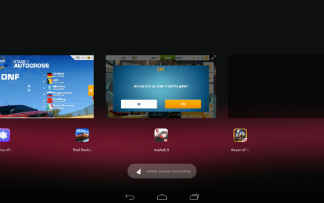 SPECS
DESCRIPTION

YOGA TABLET 2 (10.1 inch)

Processor

Intel Atom Z3745 Processor

Operating System

Android KitKat v4.4

RAM

2GB

Storage

16GB Internal, microSD card support

Display

10.1 inch (1920 x 1200) pixels

Weight

617 grams

Battery

9600 mAh

Camera

Rear: 8MP

Front: 1.6MP
Performance and Battery
The quad-core 1.86GHz Intel processor is capable enough to handle multiple intensive tasks at the same time and we had no issues while playing Asphalt 8, watching a 1080p movie or just writing this review on Google Docs. The tablet has stereo speakers on either side of the display which are decent enough to be used for watching movies but we wouldn't recommend them for listening to music.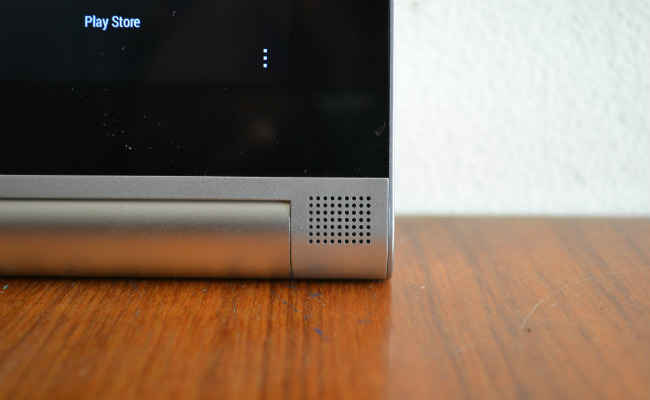 As far as synthetic benchmarks are concerned, the tablet shows off good scores. Also, the Intel chip inside this tablet kept it cool unlike other devices that tend to heat up during these benchmarks.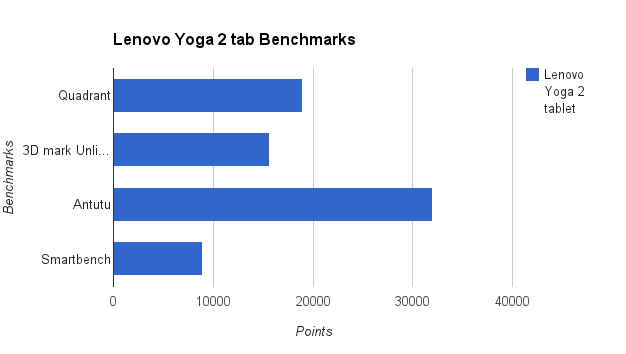 Battery performance on the tablet is amazing. A fully charged tablet lasted for just less than 3 days when used for gaming, browsing YouTube, watching movies and listening to music. In our standard battery test, the tablet was able to last 17 hours.
Camera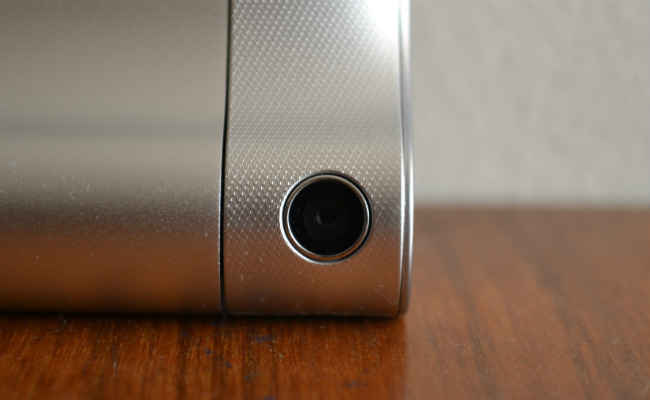 While we're not big fans of taking pictures with a tablet, the 8MP camera on the Lenovo Yoga 2 tablet will do a decent enough job so that you can occasionally take a picture or two in good light. The camera takes too much time while focusing on a subject and pictures taken by the camera have a lot of noise. The video quality of the tablet is not great and you would be better off with your smartphone camera. You can't capture anything in low light and the front facing camera is only good for video chats.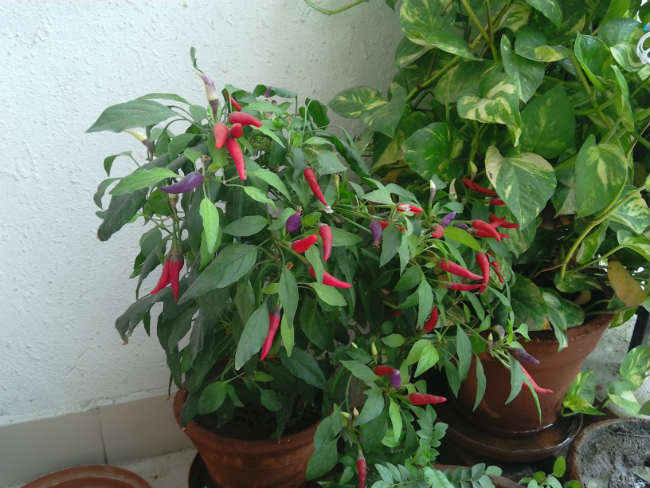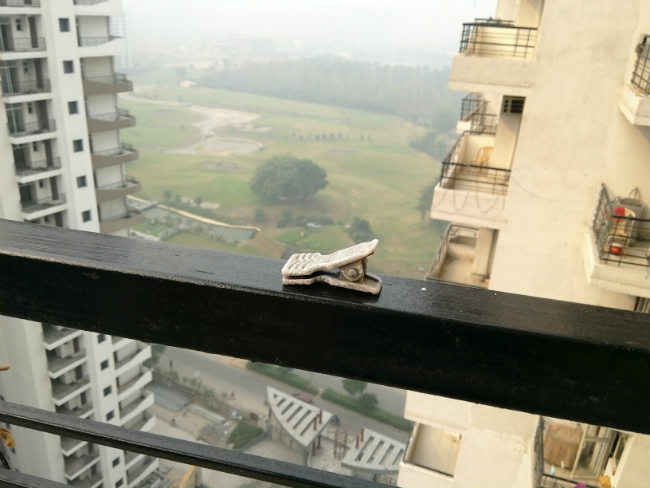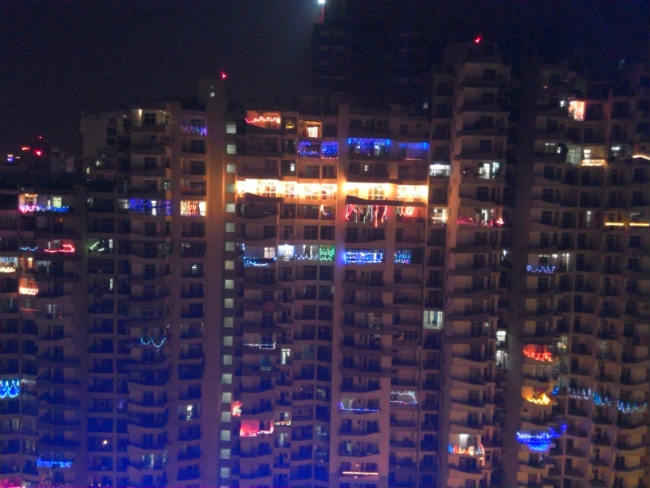 Bottomline
The Lenovo Yoga 2 is a likeable tablet and the kickstand increases its usability. The simple stand plays an important role in making this tablet likable since it lets you use it in different ways. So, if you are in the market for an Android tablet and have no great love for the stock Android UI, this is a good tablet to buy.