Google Nexus 7 detailed review
The Indian market is flooded with Android Ice Cream Sandwich based tablets. Many players are offering tablets across various form factors, with Android ICS, at sub-10k prices. It is becoming increasingly difficult to differentiate between these Android tablets. Now while, the Apple iPad is the undisputed king as far as higher end tablets go. We have yet to see a budget tablet that is worth that title. The next best tablet size after the 9.7-inch form factor is the 7-inch. While Samsung has given us its 7-inch tablets, their pricing is nothing short of ridiculous. Google has come out with the Nexus 7 made by ASUS as its maiden Jelly Bean (Android 4.1) sporting 7-inch tablet. As of now it is the only official Android 4.1 tablet on the market. So does the crown for the 7-inch tablets finally have a taker? We shall find out in the coming pages.
Build and Design
Coming in the 7-inch form-factor, the Google Nexus 7, manufactured by ASUS, fits quite well in the palm of your hand. The textured rubber/leather covering on the rear side, does give you that much needed grip that is lacking in many brush-metal finished tablets. In addition to grip, the textured finish also gives the Nexus 7 a slightly premium feel. But beware, oily palms will leave their indelible mark on the rear side. While one-handed operation is not practical, you can hold the tablet in one hand for long periods thanks to its weight of just 340 grams which is almost half that of the New Apple iPad and is also lighter than other 7-inch tablets such as the BlackBerry Playbook, Reliance 3G tab among others. In fact, it is the lightest tablet we have tested to date.
At 10.4 mm thickness, the Nexus 7 is one millimeter thicker than the New Apple iPad, but the edges around the Nexus 7 are nicely beveled out. The bottom edge has the micro USB port and the 3.5-mm earphone jack whereas on the top left-hand edge you have the stand-by/power and the volume rocker buttons. The Nexus 7 tends to taper off from the edges, and the standby and volume rocker buttons are present on the tapering edge. The plastic buttons have a great feedback. A horizontal strip opening just above the micro USB port on the rear side, shows the speaker section.
Overall build quality is quite sturdy and we did not find anything amiss. Although the tablet we got was fine, there have been an unhealthy number of cases where in the display screen tends to lift off from the casing, an issue called screen-lift. There are a number of resources online which talk about methods to resolve the issue. Since we did not come across any such issue, we would advise you to immediately check for this discrepancy in your tablet by pressing mildly onto the glass and see if there is any displacement of the screen from the casing on the sides. The display is made of Corning gorilla glass which is scratch-resistant as advertised.
Display
The Nexus 7 has a backlit IPS panel and has a resolution of 1280x800 pixels. Not quite the retina display, but the Nexus 7 packs in a respectable 216 pixels per inch. There aren't any buttons on the display surface and the bezel is thicker along the breath and comparatively thinner along the longer side of the tablet. It sports a 1.2 MP front-facing camera and lacks a rear camera.
Thanks to the IPS panel, the viewing angles on the Nexus 7 are fabulous. But the one thing we did not like very much was the extremely reflective surface on the screen, just like the iPad. So make sure there are no lights behind you, while you are watching movies or reading books.
Features
The Nexus 7 is powered by the NVIDIA Tegra 3 system-on-chip which has a quad-core processor running at 1.3 GHz. It comes in the 8 GB and 16 GB iterations. We got the 8 GB model which has only 5.92 GB of usable space. It has 1 GB of RAM. On the OS front, it is the only tablet to sport the plain vanilla Jelly Bean OS aka Android 4.1. Even though it's just a .1 increment in the naming convention, the improvement in terms of features is quite significant.
Project Butter: The one thing that was oft-repeated when the Nexus 7 was launched was Project Butter which was meant to improve the responsiveness of the tablet. It basically makes the CPU and GPU run in parallel which gives a shot in the arm to the responsiveness of the tablet. Transitions are happening at a spiffy 60 frames per second.
Having played with a lot of Android ICS tablets, we have to say that Google has definitely delivered here. The response follows your finger swipes quite well, in the sense that if you swipe fast, the response is quick and vice versa. Web-page scrolling isn't as buttery smooth though if the page has a lot of images, even after it has completely loaded. Only after you have settled on the web page for a while does the scrolling speed improves.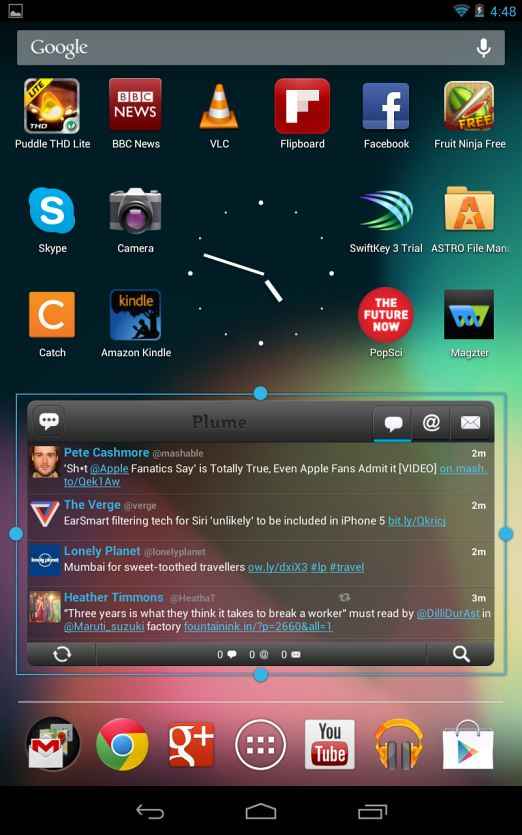 Widgets customization: Widgets are one thing that separate Android from Apple iOS. And there have been some improvements in this section. Jelly Bean allows you to resize your widgets. Also when you place your widget on the homescreen which already has some apps, those apps will automatically rearrange themselves to fit in the widget.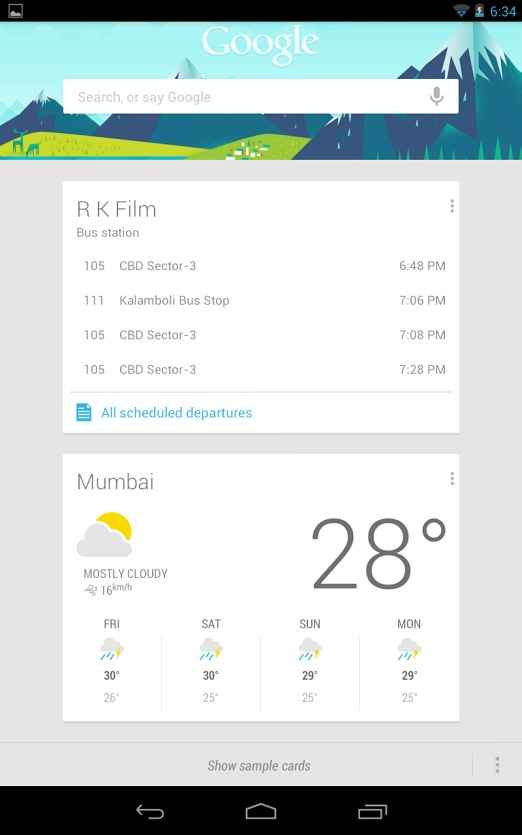 Google Now: This is a nifty addition to Google search. It can be activated from the lock screen as well as by swiping upwards from the Home soft key. What Google Now offers is contextual search based on your location. So for instance, if you want to know Italian restaurants around your current location, then you just type 'Italian restaurants nearby' and you will get a card showing you the nearest Italian restaurants along with a map view. If you click on a particular restaurant, it will open up a map showing you the location and you can then find directions to reach it or also get additional information on that restaurant.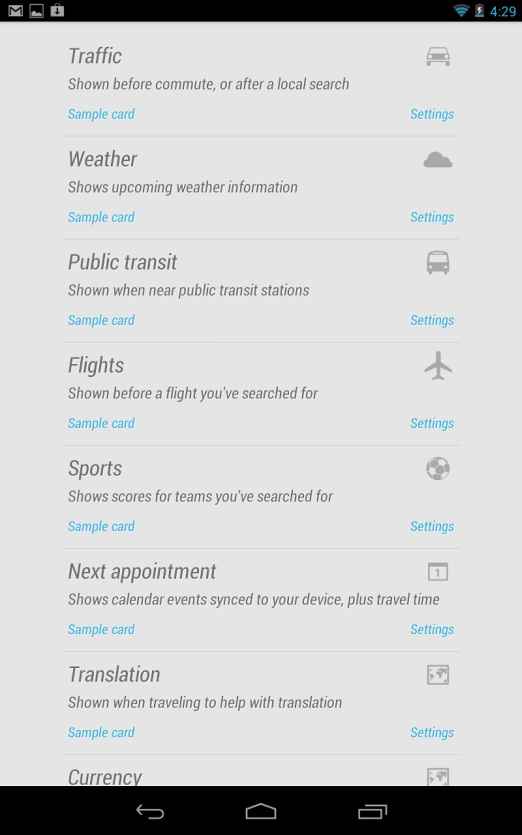 There are various category of cards for weather, public transport, traffic, sports and so on. We even had a card which showed us the bus schedule. Certain cards can be customized to be pulled up as soon as Google Now is activated. It takes into consideration your search history, calendar and other habits to deliver relevant information to you throughout the day. If you have any calendar event coming up in a couple of hours, as soon as you power up search, you will find the card reminding you of your calendar event, without you having to ask for it or without you having to go the relevant app for it. Just before you are getting out of the house, you can also get a situation of the traffic. Getting completely used to Google Now will take a learning curve. Also it will get better the more you use Google Search. In a way it observes you and learns your search habits to give you relevant results over time. Scary?
Yeah! But you do have the option to disable it.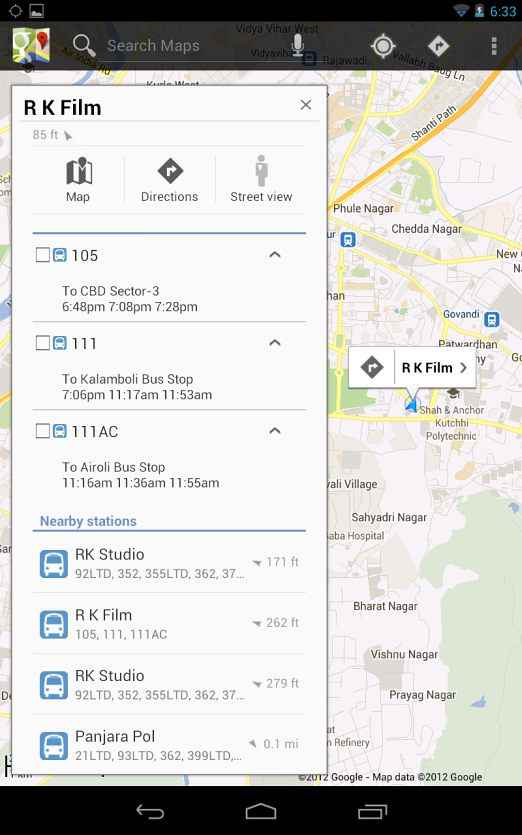 Unlike the Nexus phones for which you will be on an EDGE or 3G connection, the Nexus 7 only has a Wi-Fi version. So using Google Now while you are on the road, is not really practical, as there aren't many Wi-Fi hotspots around in India except maybe if you are in a café or a restaurant. Nonetheless, it is a wonderful feature to have so long as you have a working connection.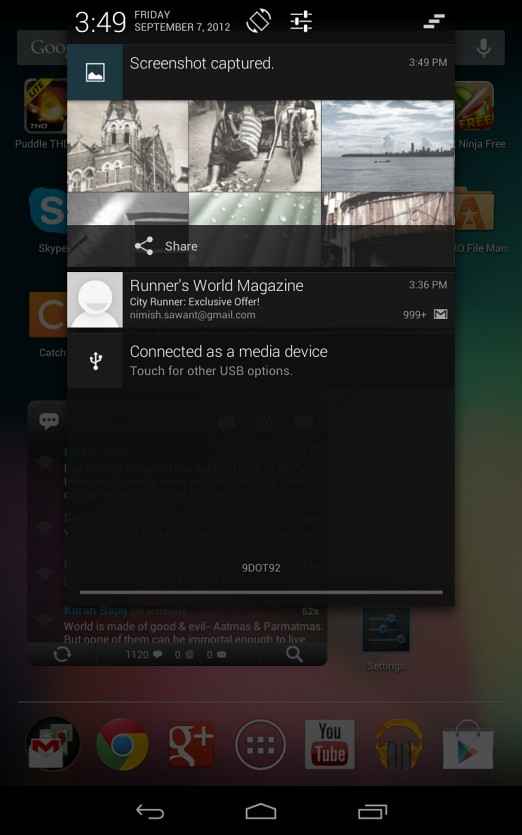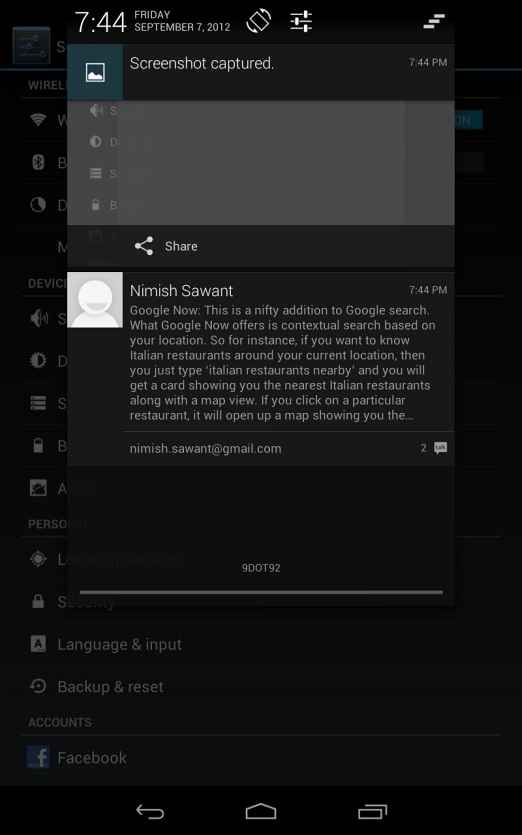 Notifications: Notifications have undergone a sea-change. Not only do you get much more details in your notifications, but you can directly go to the app where the next action regarding the notification needs to be taken, by tapping on that particular notification. For instance if you've taken a screenshot (by holding onto the power and volume down button) you will get a notification, which an option to Share that image. So you can directly share the image from the notification tab itself, rather than going to the Gallery app and then sharing it. If you do not want to take any action, you can simple swipe off that notification either to the right or left. Using a two-finger pinch gesture you can expand/contract notifications which is adds a nice touch to it.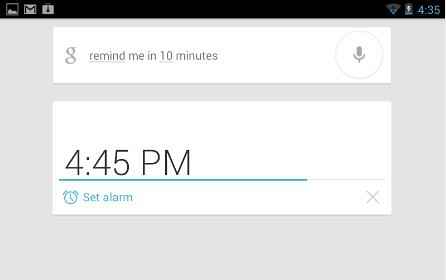 Voice Control: You can make use of the dedicated voice action commands for listening to songs, getting maps of locations, sending emails to contacts, going to websites, etc. The keypad has a dedicated voice recognition symbol (a microphone) which can be used even when not on a network, to type out messages or take down notes. The voice action commands work with Google Now to give you relevant cards. So for instance if you give a voice command to find directions to a particular location, then it will pop up a card which will then lead you to the map with the directions or if you want to listen to a track on your tablet, you can speak out 'Listen to (followed by the artist/song)' and it will then play that song. You can set alarms, do currency conversions, find out trivia about Hollywood stars, etc. by voice command. However, it cannot be called a voice assistant a la Siri, as most of the answers that you get are via Google's search engines. For instance it can set alarms or add appointments, but if you want to search your calendar schedule for the next three days, you will have to do it manually by going to the calendar app. As expected it falters when you voice out non-American sounding names or locations, but it thankfully does not take as much time to get friendly with Indian accents.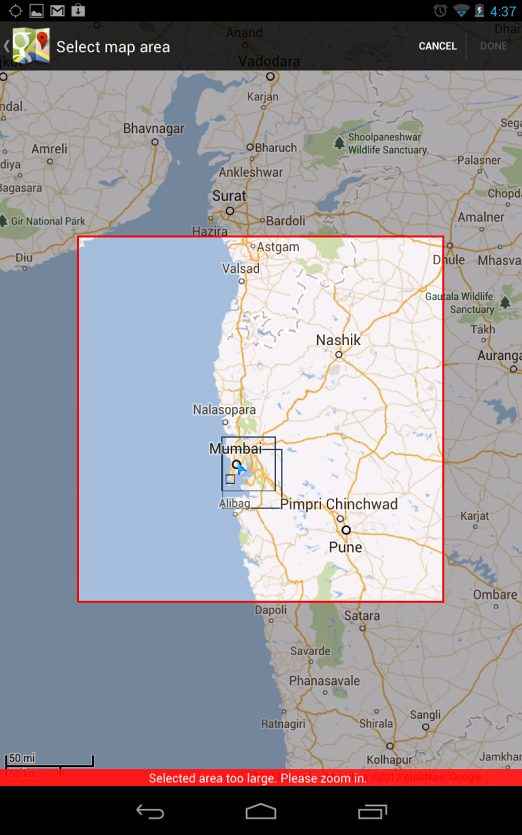 Offline Maps: This is one feature which has finally come on Google devices, although we feel it should've come quite a while back as Nokia has been providing offline maps. But you have a limitation as to the area you can download – around 83MB worth of maps can be downloaded at a time. If you select a very wide area, you will get a red box saying "Selected Area too large" You will then have to zoom in until your area is small. This is a limitation Google could have done without, especially for users who are using offline maps in an alien country for instance.
It also supports Near-Field Communication (NFC) but due to obvious reasons it's really not that useful at the moment. But from a future-proofing perspective it is a nice addition.
Visit page two to read about the Google Nexus 7's performance, and our verdict...
Performance
We ran our standard synthetic benchmarks and got the scores as mentioned below. It is certainly less powerful than the new iPad, but that is expected. It performed at par with the ASUS Transformer Prime among the Android tablets, whereas beat most of the budget Android tablets that have been flooding the Indian market of late.
The onboard keypad is quite decent to type on, but you are much better off using third party keyboard apps such as Swiftkey 3 or Swype as they are much faster. The onboard keypad does come with a microphone option to dictate notes. In the landscape mode, typing on the keypad is a bit of a task if you are using only your thumbs.
Watching movies on the Nexus 7 is a treat so long as you do not have any light source behind you as the screen is mighty reflective. Sometimes in extremely dark scene we could see our reflections. But apart from that there were no issues in terms of banding or dead pixels. Also the Nexus 7 is able to play a majority of formats thrown at it via the default video player. Apart from the default video player, you have a whole army of third-party apps at your disposal. The display is crisp, making the colours look natural. You can set the brightness in the auto-adjust mode.
The underlying Tegra 3's quad-core processor ensures that the tablet excels at multi-tasking. We did not notice any slowing down of the device despite opening around 10 apps, downloading stuff in the background, buffering video on YouTube and so on. NVIDIA Tegra 3 also ensures that you have a wonderful experience with graphics. Playing Dead Trigger was a lot of fun. The game ran smoothly without any sort of lag. Even physics-heavy games such as Puddles and Angry Birds Space were quite great to play on the Nexus 7.
Audio was good as long as it was around the 60-70 per cent mark. At higher volumes we noticed a distortion in the sound output. Turns out this is not an isolated case and a lot of users who have bought the Nexus 7 are facing this issue. We were able to overcome this issue by adjusting the equalizer settings in the Sound menu, which completely got rid of the crackling that was experienced out of the box. Earphones however, deliver very decent sound even at maximum volume. We did notice slow responses while adjusting the equalizer, as the touch responses were taking some time to get registered.
The 4325 mAh battery can easily withstand 7-8 hours of regular usage which includes surfing the net, playing games, watching movies, having email, Twitter and Facebook apps running in the background. We noticed that the device did get slightly warm whilst gaming or watching HD movies.
Verdict
If you want to get the best Android experience on a tablet, look no further than the Nexus 7, at the moment. Jelly Bean has really made the Android experience much smoother, the Tegra 3 processor keeps things fast, the IPS panel ensures a great display with the highly reflective screen being the only drawback. Taking into consideration its US pricing, the Indian pricing is almost over Rs. 5,000 premium, which is a lot of money. Also the 8GB version will offer you only 5.92 GB of usable space, so if you are the kind who like to store their content on their devices, opt instead for the 16GB version. It does not offer any microSD card slot, so expansion is out of the question. Speaker distortion at the highest volumes is a downer, but that can be overcome by using earphones which does not have any issues. At Rs. 17,000 for the 8 GB model and Rs. 21,000 for the 16 GB model, pricing is way off the charts, if you are considering buying it in India. But if you have friends or relatives coming from the US, it makes sense to buy the tablet as it is a complete value for money proposition at around Rs. 13,000 for the 16 GB model. But considering the other respectable 7-inch Android tablets in the market, if the Google Nexus 7 is available for under Rs. 15,000, it makes for a great purchase.
For existing Android tablet owners, it is a question of whether you want a stock Android Jelly Bean experience on a hardware which is equally good.
As far as 7-inch tablets go, this is the best we have tested so far. We say so far, because we did not have another 7-inch tablet running Jelly Bean OS to compare the Nexus 7 with. Moreover, Apple is rumoured to come out with the iPad Mini which is supposed to be Apple's 7-inch answer to Google. So we would advise prospective buyers to give it time till Diwali before taking the plunge to buy the Nexus 7. Two reasons: prices will normalize and you will most likely have more tablets to compare the Nexus 7 with.
Contact Details
Pure Nexus
Phone: 022 2371 3552
Email: huzefasid@gmail.com
Price for 8GB model: USD 300 (approx Rs. 16,500) - (This includes a USD 50 annual plan which is like insurance. Allows you to ship it to the US for RMA/repairs free of cost for 1 year)
Bulk Discounts: Order 5 Nexus 7 (16 GB) for just Rs. 18,500 per pc.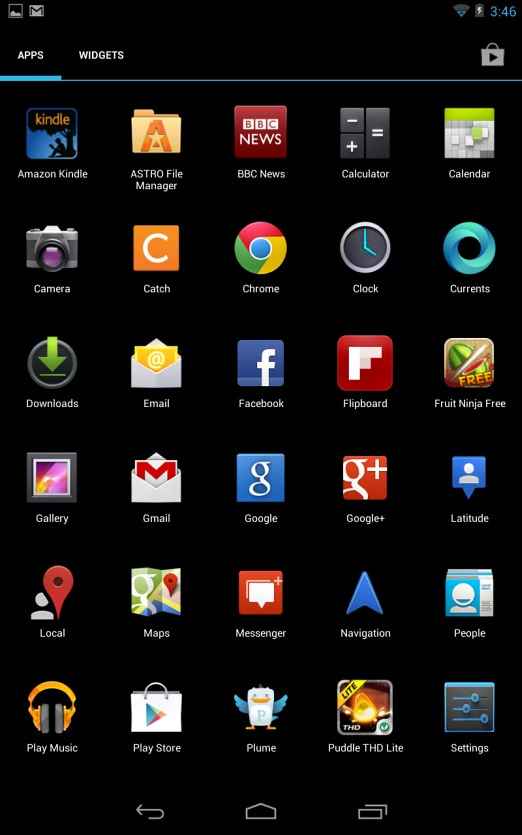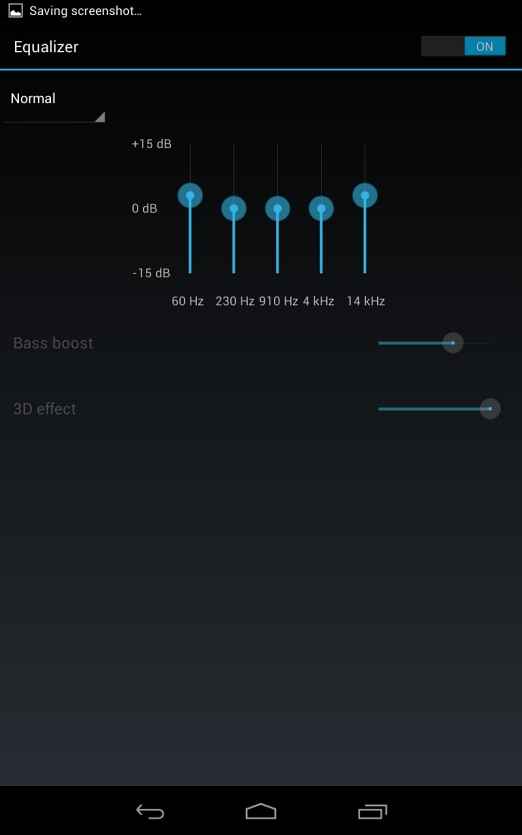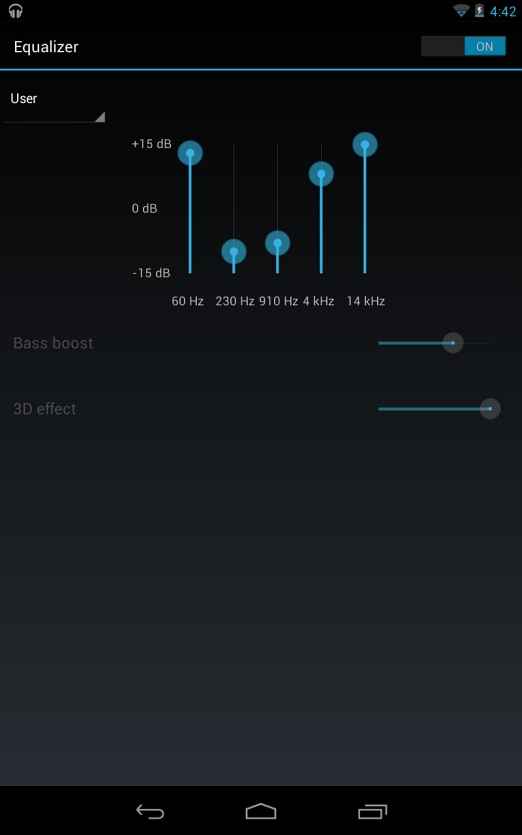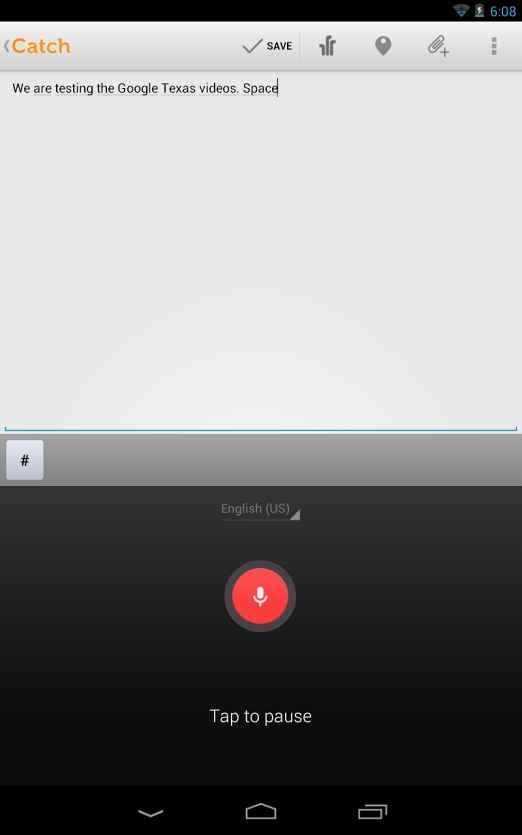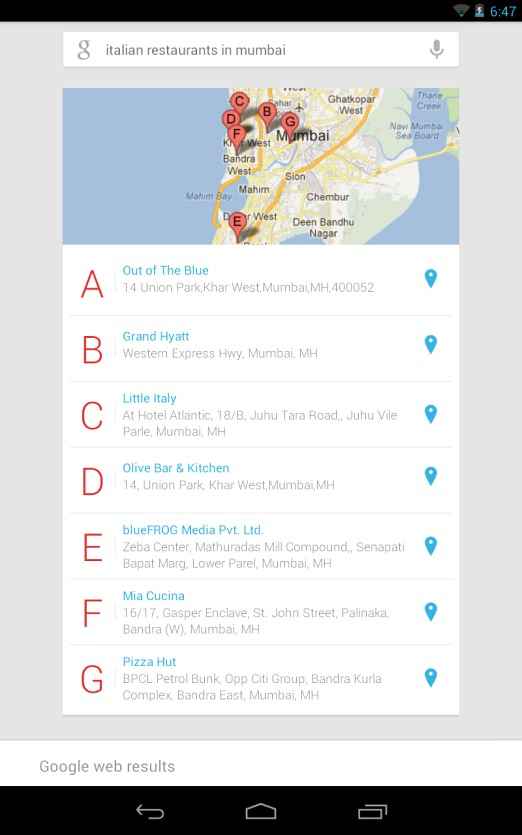 Visit page three to see more images of Jelly Bean in action on the Google Nexus 7...
See more images of Jelly Bean in action on the Google Nexus 7, below: