Creative ZiiO 7 detailed review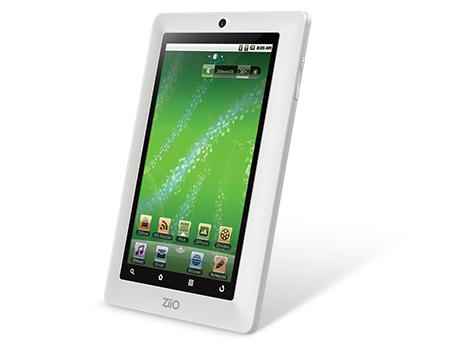 Tablets are raining down left, right and centre, rainy season or not. Well known for its audio equipments, Creative recently jumped into the tablet fray with its very own 7-inch creation, the Ziio. The tablet is priced below Rs. 20,000, making it one of the most inexpensive Android tablets to buy in India. Creative also sells a 10-inch Ziio tablet, though. But here we take a closer look at the Ziio 7-inch.
Creative Ziio 7-inch: Looks, Design
Encased in white plastic, the Creative Ziio 7-inch has a metallic sheen on the back that makes it pleasing on the eye. It's not glossy, mind you, but the tablet's plastic back panel has a shiny lustre sprayed on it. And it's not just good looking; the tablet looks quite delicate in the box but after you pick it up, you can sense it's a well-built thing -- props to Creative for the Ziio's sturdy build quality. The petite tablet is quite slim, weighs just 415 gm, and is very well built. It's not as good as the Apple iPad 2's build quality but at par with the 7-inch Samsung Galaxy Tab. The tablet also comes with its own travel case -- a convenient addition. In fact, the Creative Ziio 7 looks more like an eReader than a tablet with its compact 7-inch form factor.
click to enlarge

| | |
| --- | --- |
| | |
The tablet's connectivity ports are spread across its edge -- the volume rocker sits on the right edge, micro-SD card slot is on the left, whereas mini HDMI, mini USB and audio jack are placed on the top edge of the Creative Ziio 7-inch Android tablet. Nothing's out of place, so far so good.
Creative Ziio 7-inch: Hardware Features
[RELATED_ARTICLE]The Creative Ziio has a 7-inch display screen, with a 480x800 pixel resolution. But unlike the Apple iPad, Samsung Galaxy Tab, Motorola Xoom and RIM Playbook, the Creative Ziio has a resistive touchscreen -- all the others come with a superior capacitive touchscreen. Other noteworthy specs include the Creative Ziio's Android 2.2 Froyo operating system -- yes, it doesn't come with Honeycomb 3.0. The tablet has a front-facing VGA-resolution (0.3MP) camera -- Creative bundles a dedicated app to exploit the feature. A stylus is included with the tablet to help use the resistive screen better.
The Creative Ziio 7-inch also packs in a mini HDMI port (no cable included) capable of 720p playback and a mini USB port for data transfer. Wireless connectivity is taken care by 802.11 b/g and Bluetooth 2.1 support. The Creative Ziio also has a 3.5mm audio headphone jack and microphone out (mono). The Android 2.2 tablet supports memory expansion up to 32GB and comes with a built-in accelerometer. The tablet comes with a 1-GHz Cortex A8 processor, 512MB of RAM and 8GB of built-in memory -- in fact, the Ziio's RAM and CPU combo is better than the original Apple iPad. It charges via a thin-pin charger (included) or mini USB cable.

Click next to read more about the Creative Ziio 7-inch tablet's performance and usability, and our verdict...
Creative Ziio 7-inch: Performance & Usability
The Creative Ziio has a resistive touchscreen and the older Android 2.2 OS. The OS is fine for a tablet at that price, but using the resistive screen with your fingers is difficult with no multitouch support -- the bundled stylus, however, makes things slightly better. The interface of the Creative Ziio is slightly tailored and isn't pure vanilla Android 2.2. The interface sports app icons that are easy to click -- but for the resistive touchscreen. On the home screen, the Creative Ziio sports a dock for one-click bluetooth and X-Fi feature toggle.
What's more, the Ziio doesn't support Android Market either, cutting off access to a multitude of apps in the process -- the accompanying ZiiStore just isn't good enough. The Ziio does have a thoughtful dock at the bottom -- just above the touch-sensitive menu buttons strip -- for quick launch of apps for music, video, photo and web browsing.

Manipulating the Creative Ziio tablet's interface and apps on screen is largely controlled by four touch-sensitive buttons on the tablet's bottom bezel -- search, home, menu and back. Pressing the home button down for long throws a task switcher which lets you kill running apps. The buttons work well.
[RELATED_ARTICLE]Reading is good on the Ziio's bright screen via the bundled ebook app -- I like reading ebooks and didn't experience any undue eyestrain over a good 4-hour reading session on the Creative Ziio. In fact, the Creative Ziio's screen is pretty good for reading books, but watching videos isn't as spectacular as other tablets we've seen. Audio from its onboard speakers situated behind its bottom bezel was loud but of unimpressive quality overall -- we paired it with a pair of Creative T12 wireless speakers over Bluetooth and all was well. This is the Ziio's forte -- it is designed to stream audio to other wireless devices over Bluetooth via its built-in apt-X codec support, which transmits audio over wireless without loss in quality.
Audio quality enhanced slightly with X-Fi turned on. Audio enthusiasts can tweak Equalizer settings in Expand and enhance details in MP3s via Crystalizer.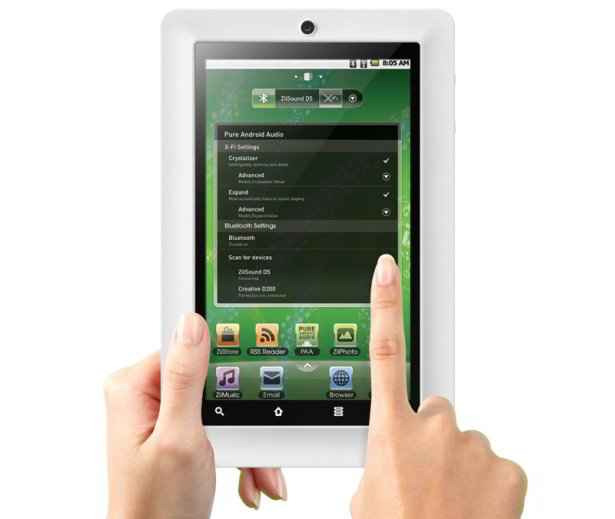 The tablet played HD 720p videos smoothly, no problems whatsoever. Playing Angry Birds on the tablet went well, and the tablet is good for gaming given its hardware. Browsing the web with the tablet's built-in browser was good. Its front-facing 0.3MP camera -- specifically for videochats with a bundled app -- did okay while clicking photos or shooting videos. Using the tablet outdoors under direct sunlight wasn't great, but the screen was good enough for indoor viewing. The tablet's battery lasted just under two days on a single charge, while browsing the web over Wi-Fi, reading books and listening to music -- which is quite good.
Bottomline
The Creative Ziio is a highly affordable Android tablet, selling at a price of Rs. 17,999. It's well built, has a petite form factor, and comes with a stylus and travel case. It has good connectivity features for a basic, entry-level tablet.
But having said that, the overall user experience on the Creative Ziio was okay at best, nothing to blow your mind away and the resistive touchscreen will always be a limiting factor -- keeping in mind it's an entry level tablet. And unless Creative populates the Zii Store with a lot of apps, the tablet's fun quotient is limited. Due to it's 7-inch form factor, the tablet's good for using single-handedly compared to the 10-inch Acer Iconia Tab A500 or the iPad 2 -- ebook readers, I'm talking to you.
Despite being priced at Rs. 18,000, we would still recommend buying the OlivePad VT-100, over the Ziio, which sports a better 7-inch capacitive touchscreen display, Android 2.2 OS, similar hardware, but now sells at a lower price of Rs. 16,000.
--------
Overall Rating: 3/5
Price: Rs. 17,999
| | |
| --- | --- |
| SPECS | |
| Capacity: | 8GB / 16GB |
| Color: | White |
| Screen Size: | 7" (diagonal) |
| Display: | 16.8mill color TFT, Resistive Touch |
| Screen Resolution: | 480 x 800 pixels |
| Dimension: | 207.4 x 133 x 13.7mm |
| Weight: | 415g |
| Processor: | ZiiLABS ZMS-08 HD Media-Rich Applications Processor |
| Operating System: | Android 2.2 |
| Bluetooth Version: | Bluetooth 2.1 EDR (with apt-X, A2DP & AVRCP) |
| Wireless Network: | IEEE 802.11 b/g |
| HDMI Video-out: | Yes (up to 720p) |
| Camera: | Front camera (VGA) |
| Built-in Mic: | Yes (Mono) |
| Built-in Speaker: | Yes (Stereo) |
| Accelerometer: | Yes |
| Memory: | microSD, up to 32GB |
| Audio Enhancement: | X-Fi Audio Enhancements (Crystalizer, Expand) |
| Audio Support: | MP3, AAC, WMA9, FLAC, OGG, MIDI, WAV, Audible Format |
| Video Support: | H.264, MPEG4, WMV9, MOV, AVI, MKV |
| Photo Support: | JPG, BMP, PNG |
| Connectors: | mini USB, 3.5mm Stereo jack |
| | |
| Features: | 6 / 10 |
| Performance: | 6 / 10 |
| Build Quality: | 7.5 / 10 |
| Value For Money: | 6.5 / 10 |
| | |
| Price | 17999 |
| Warranty | One year |
Contact:
Creative
Nikhil Arora
Email: Nikhil.arora@text100.co.in
Website: http://in.creative.com