Asus Eee Pad Transformer detailed review
Ever thought of blending an iPad with a dedicated keyboard, like a netbook's? Sure, we all did. But the folks over at Asus did more than just that with the Eee Pad Transformer TF101. With a 10.1-inch IPS touchscreen display, the Asus Eee Pad Transformer has a docking station that's identical to any 10-inch Asus Eee PC netbook's. The intelligent docking station allows the Eee Pad TF101 to transform into a 10-inch Android netbook, if you will, for tasks that otherwise are cumbersome to do with mere swipes. How well does the 10-inch Asus Transformer Android Honeycomb tablet do? Let's find out.
Design and Build:
There are two aspects to consider regarding the Asus Eee Pad Transformer TF101's design and build — treating it as a tablet and a netbook. For a tablet, the Eee Pad Transformer's 10.7 x 6.9 x 0.5 inches, roughly the same size as the Acer Iconia A500 but larger than the Motorola Xoom and Samsung Galaxy Tab 750. As a tablet, the Asus Transformer weighs about 680 grams — marginally heavier than the Apple iPad 2 and Samsung Galaxy Tab 750, but lighter than the Motorola Xoom and Acer Iconia A500/501 Android Honeycomb tablets.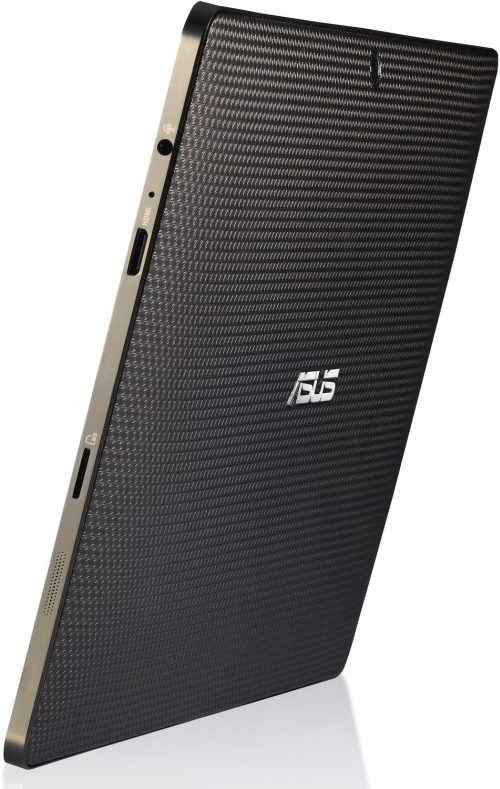 In terms of size and form factor, the Transformer is one of the better 10-inch tablets out there. Even as a clamshell netbook, when hooked to the extended docking station-cum-keyboard, it tips the scales at 1.32 kg (similar to any 10-inch netbook in the market) and is quite slim with the lid closed measuring just over 1 inch in thickness. The Asus Eee Pad Transformer is an extremely portable device, with or without its docking station.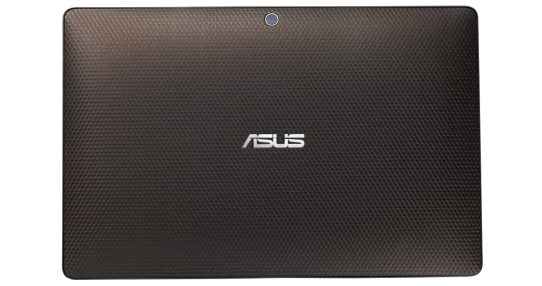 Its look and feel is unique among tablets, sporting a hard plastic shell with a textured mesh finish that gives the tablet a touch of premium elegance. The mesh extends on to the bottom panel of the keyboard dock. Where the tablet/screen fits into the keyboard dock, the sliding lock holds the two separate parts well, with slight jittering — it isn't rock solid, nonetheless it'll do.
Features:
The Asus Eee Pad Transformer TF101 Android tablet has a 10.1-inch IPS touchscreen display that's scratch-resistant. The screen has an LED-backlit panel with a capacitive multitouch surface that packs in 1280x800 pixel resolution — greater screen area than the iPad 2, and better quality display than Motorola Xoom and Acer Iconia A501. In terms of core components, the Asus Eee Pad Transfomer TF101 comes equipped with a dual-core 1GHz ARM Cortex-A9 processor and a ULP GeForce GPU on a Tegra 2 chipset. The Transformer further features 1GB of RAM and 16 GB of onboard storage.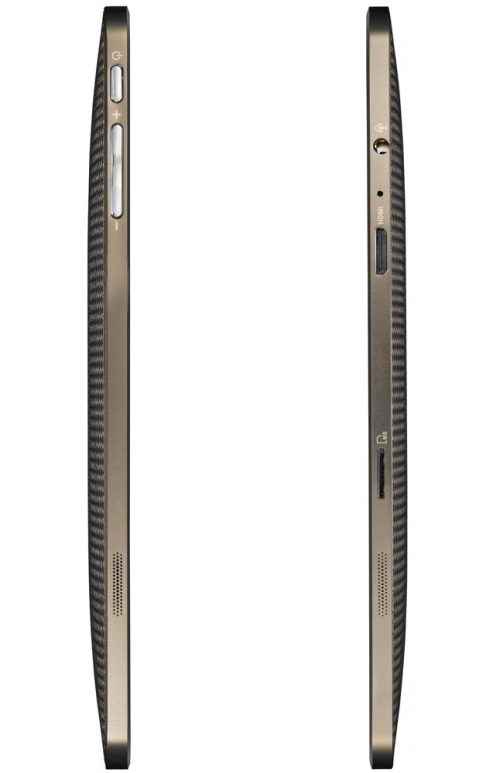 Slimness
In terms of connectivity ports, the Asus Eee Pad Transformer TF101 comes with a microSD slot, mini HDMI out, headphone jack and a 3G SIM card slot along its screen edge; wireless connectivity options include Wi-Fi 802.11 b/g/n and Bluetooth 2.1. On the extended keyboard dock, the Asus Transformer has two extra USB 2.0 ports and a 3-in-1 card reader slot. It also has a built-in GPS, accelerometer and gyro sensor. Stereo speakers are placed along the edge of the Asus Eee Pad Transformer.
The Transformer's screen bezel has a 1.2 MP front-facing camera and a fixed-focus 5MP rear camera for taking photos and capturing video at HD 720p. The bundled OS is obviously Android Honeycomb build 3.2.1 and one of its features lets you plug in a camera directly to the Eee Pad Transformer to transfer media directly. In terms of features and specs, the Asus Eee Pad Transformer is one of the best tablets out there — throw in a keyboard dock with a dedicated touchpad, and it has no competition.
Read more about the performance of the Asus Transformer, and our verdict, on Page 2...
Performance: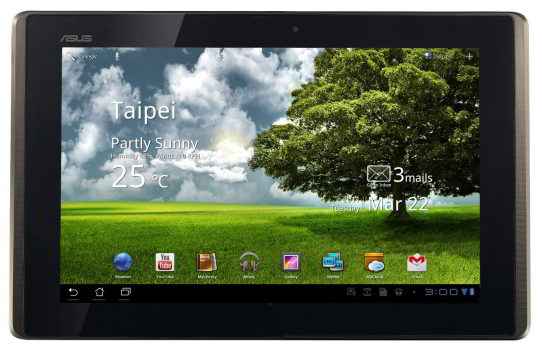 Display
The Asus Eee Pad Transformer TF101G comes with a 10.1-inch IPS display screen. The screen is definitely one of the brightest we've seen on a 10-inch tablet, with great black levels and vivid colours. The screen has amazing viewing angles with very little colour shift and its glossy surface doesn't attract as many fingerprint smudges even when you swipe across it all day long. Whether its reading an ebook, viewing a photo album or watching a movie, the Eee Pad Transformer TF101G's screen doesn't disappoint one bit. The screen's extremely responsive and its feedback couldn't be any better.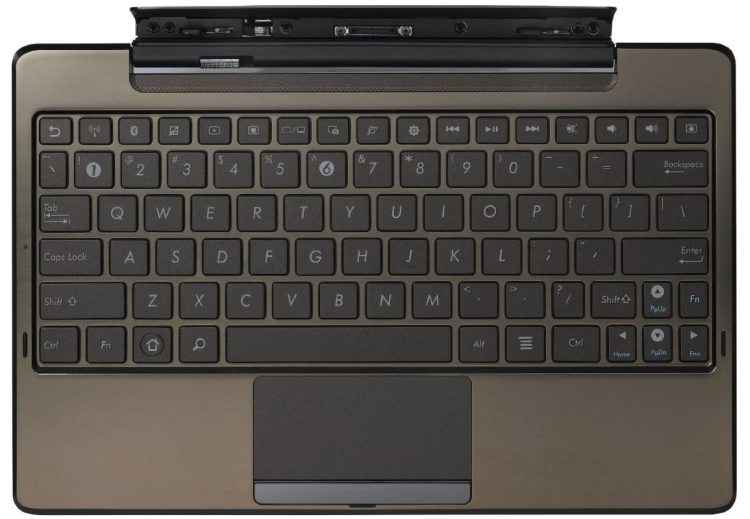 Keyboard dock
The Eee Pad Transformer TF101G's keyboard dock sports the exact same layout as any 10-inch Eee PC netbook launched within this past year. Sporting chiclet-sized isolated keys that are good to type on, the dock has a wide touchpad with a single-strip mouse button, too. We found the keyboard good for typing but the touchpad was too smooth for optimum feedback and it takes some getting used to. Also, since the Transformer is primarily an Android device, there are dedicated Home, Back, Screen Lock, Search, Settings, Screenshot, etc. buttons for conveniently interacting with the tablet — props to Asus for incorporating an intelligent key arrangement on the keyboard for optimally interacting with the tablet.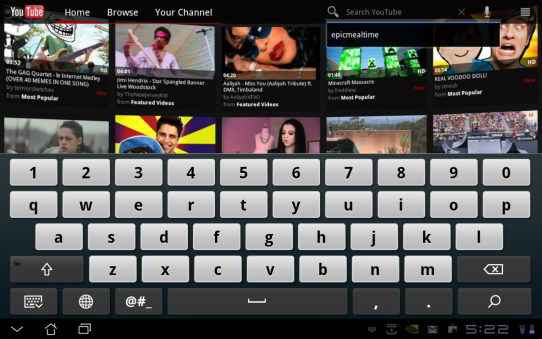 Onscreen keyboard
Asus has also tweaked the vanilla Android interface to help maximise the end-user experience —for example, the on-screen keyboard has five rows instead of four featured on plain vanilla Honeycomb; the extra row adds numbers which can be conveniently typed, saving you unnecessary finger clicks. The default water-level wallpaper across all homescreens is a battery indicator, rising and falling depending on battery. Also, the Back, Home, Recent Apps button on the bottom left of the home screen are visually different, more easier to launch than how they're depicted in vanilla Honeycomb builds. So whatever tiny tweaks Asus has made to the Eee Pad Transformer's interface only enhances the end-user experience.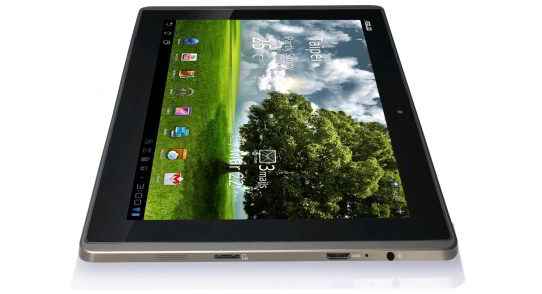 The tablet's 5MP camera has a basic interface when it comes to clicking photos. Pictures clicked in bright sunlit or very well lit interiors are good with just a shade of noise. Captured video isn't the best in terms of quality but its average. The Transformer tablet's multimedia experience doesn't disappoint. In fact it's one of the best among tablets we've tested. The Asus Transformer's onboard speakers are loud and clear even at high volumes and handle both music and speech equally well. Whether it's watching YouTube videos or HD 720p flicks, the Eee Pad Transformer handled video playback very well. And its audio-video performance helped deliver a stellar entertainment experience.
The Asus Eee Pad Transformer TF101G is one of the best tablets in terms of overall battery life. At full-screen brightness and surfing the web over Wi-Fi gave about 8 hours of battery backup (with two fifteen hour breaks); I'm sure you can extract more juice by decreasing brightness and disabling Wi-Fi. But wait, this is just the battery life of the tablet; the keyboard dock comes with its very own battery which adds another 3 to 4 hours of extra battery usage off a single charge. What's more, when the tablet's attached to the dock, the battery from the dock drains out before eating into the tablet's charge -- very good thinking.
Verdict: The Asus Eee Pad Transformer TF101G sells for a price of Rs. 42,999 (including taxes). Compared to other popular 10-inch Android Honeycomb tablets out there -- Motorola Xoom, Acer Iconia A501, Samsung Galaxy Tab 750, etc. -- its price may be very high, but it also has a unique selling point. Overall, the Asus Transformer tablet is one of a kind, with a very good combination of features and performance, and well worth the price.
Overall rating: 4 out of 5