Apple iPad 2012 64GB WiFi and 3G detailed review
One might wonder if our market is low priority for Apple. In fact, we've reviewed the iPad before, but that wasn't much more than a hands on. Finally, the iPad is available in India, and has been for a couple of weeks. The reason given for ignoring India all this time is shortage of supply. We've been eager to spend some time with the iPad, and last week, we got our chance. We Indians are a patient lot and not as bloodthirsty as some, and we're sure Apple wanted to avoid another iPhone 4/Foxconn fiasco.
Down to business - from the packaging up, Apple seems to have nailed presentation on its proverbial head. Though minimalist, the packaging is sleek and serves its purpose. We're greeted by an 11 point something glass surface embedded in a frame of aluminium, a hint of which is visible as a tiny bezel. On the whole the iPad comes across as a well constructed, smart-looking device. It's aimed squarely at gadget freaks and the upwardly mobile, and the design plays the part.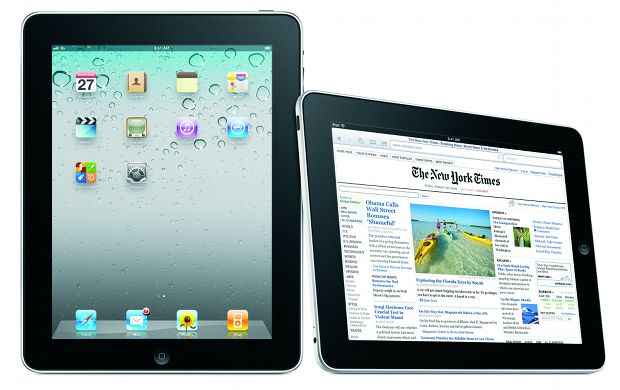 Apple is keen to make a splash in the tablet market. In case you've been hibernating the last six months, tablets seem to be emerging from the woodwork like the proverbial roaches. And we're not talking about notebooks that also double as a tablet. We're talking about discrete devices, designed ground up to be touch-based. And these devices seem to be more about the experience of using them than the productivity they offer. They're not meant to compete with notebooks, or netbooks or even PDAs. Touch interfaces form the backbone of a tablet, and given the market popularity of anything touch-based, there has been a race of sorts to develop a touch-screen device that ensures nobody misses a keyboard. Well, nobody has got there yet, and nothing beats a set of good old hardware keys, not even the iPad!
There are six models of the iPad. There are three capacities - 16 GB, 32 GB and 64 GB, and all capacities come with or without 3G. Wi-Fi is standard on all models, as is Bluetooth, although A2DP is the only functional use. Shame on Apple not to include memory expansion, but then, that could well be a "thoughtful" inclusion on a later model.
Look and feel
The display is 9.7-inches, and we couldn't shake the feeling that Apple could have designed the iPad a bit smaller, had they kept the bezel narrower, but hey! - iron out all the kinks, and there'd be no reason for an iPad 2 right? The aluminium bezel extends to the rear, adding a reassuring solidness to the device. Thankfully, this is brushed aluminium, like the unibody MacBooks, therefore, smudges on the rear. On a side thought, we wonder when the iPod Touch will be treated to such goodness. The aluminium on the iPad seems of a softer grade than the bodywork of the MacBooks. We managed to scratch the body when packing it on top of a unibody MacBook.
Given the design and interface similarities, the iPad could be mistaken for an iPod Touch on a serious dose of growth hormones. The menu button is below the display, the display lock key is on the top, and the volume keys are on the right side (the iPod Touch has them on the left). Apple's proprietary 30-pin interface is just below the menu button on the bottom of the iPad. To the side of this, is a row of three neat scallops cut into the aluminium frame. These collectively serve as the loudspeaker port, and an embedded mesh grille adds a nice look while ensuring dust particles stay away.
[RELATED_ARTICLE]All keys and switches are pretty usable, and while the volume key barely protrudes, good feedback ensures an intuitive feel. Just above this volume rocker, is a mute slider - interestingly this doesn't mute music or any media playing, rather works to mute keyboard sounds, alerts from received mails, alarms and such. However, the volume rocker has the ability to mute any media content. Just press the volume down for a second, and after reducing the volume two steps, the volume level drops to zero. Therefore, reducing the volume say, five steps, means you now have to keep pressing the volume down button.
There are also a number of accessories available for the iPad that add functionality, these attach via the 30-pin proprietary interface that we've adapted to. Accessories include a dock-cum-keyboard, a soft microfiber case that doubles as a stand, Apple wireless keyboard (Bluetooth), and a camera connection kit that is a glorified 30-pin to USB (type A) adapter.
The interface: buttered apples?
Unlock the display, and one cannot help but feel how complete and usable iOS is, as a platform for a touch-based multimedia device. This is surely Apple's forte - designing human interfaces that really work for humans, and making other devices seem like clunky efforts. Anyone who as used an iPhone or an iPod Touch will be right at home. The touch interface is very sensitive, and tracking is accurate. Owing to the larger display, the keypad is a lot more spread out. It's not exactly spaced enough for an intuitive typing experience, and takes some getting used to, but is definitely usable with a bit of practice. Unlike the iPhone, where thumbs are the way to go for fast typing, the keypad is too large to be used thus, and one must use all fingers, as you would on a notebook keypad. For the record, hardware keypads are way better, but among touch devices, the iPad is pretty much a benchmark. We figure Apple could have upped the display size to around 10.5-inches, using the same frame, by reducing the bezel size - this would give our fingers more space on the keypad. High on our wishlist for the iPad 2.
Browsing is a fun experience. Safari is fast, and fluid, and the iPad has adapted it well. Zooming is very fluid. Text rendition is crisp. There are limitations when compared to its full-fledged equivalent, but Apple figured tablet users could do without a few features, like downloading.
The only area we found the interface slightly cumbersome was, surprisingly, also one of the strong points of the iPad - when playing games. Or rather when playing games requiring tilting of the device. With tilt-based gyration controls the iPad is a lot more cumbersome than, say an iPhone and your wrists will feel the pressure. Most games do support touch-based movement controls, so all is not lost, however, such games are usually not well integrated, such as Hungry Shark HD where the touch area for movement controls appears as a blob on-screen, and interferes with the visuals.
However, this is a relatively minor nit, and there are many games with excellent interfaces for the iPad, with more on the way. While the processing power is adequate to ensure a silky smooth interface, the display might be a hindrance. On quick side scrolling games, when the background is continuously refreshing, there is perceptible lag. This is slightly visible as ghosting, but more perceptible by eyestrain over a period of time. Obviously, no lag is perceptible on a static background, therefore this occurs almost exclusively while gaming, and not even with movies.
Apple claims the iPad has an oleophobic display, while this might be true, the display surface is a veritable smudge-magnet, even after using it with squeaky clean fingers for just five minutes, we found telltale signs of use. The display is glossy which is a pain, though admittedly it's not a big deal since the iPad will mostly see use in close proximity with little chance of external reflections.
Click next to read about application support, performance and our final take...
Application support
Applications deserve mention when iOS is mentioned. Sometimes, a device is more than just the sum of its feature set and performance scores. There is so much that is impossible to test, but possible to rate and experience. For the iPad/iPhone and iPod Touch, this would have to be the application support. The true power of the iPad lies in the apps, and these run the gamut of games, e-book readers, and even apps that add features, such as VLC Streamer that allows streaming of videos on to your iOS device from a PC or notebook without the need for conversion.
Performance:
Let's start with battery life first - quite an important parameter for a tablet. If you really thrash the iPad, for example, playing a game, you will get around five hours out of the device. Watching a movie place the same load on the battery. However, use it solely for browsing using Wi-Fi and the battery life hovers around the nine hour mark. Since the display of the iPad is pretty good for reading e-books we used it for such purposes, and were surprised to see that even after three hours of keeping the display at 25 per cent brightness, and some 195 pages of reading later, battery life fell by only 9 per cent. The display had been on for two hours, 45 minutes.
Even at 50 per cent brightness, the iPad display is too bright for surfing and text - basically anything with a white background. 25 per cent brightness is the sweet spot. Obviously, battery life will not complain. The display itself exhibits good colour, and very good contrast, although the latter could have been a little better. It is fine for photos, games and such, but when watching movies, we felt the blackness level could have been a little better.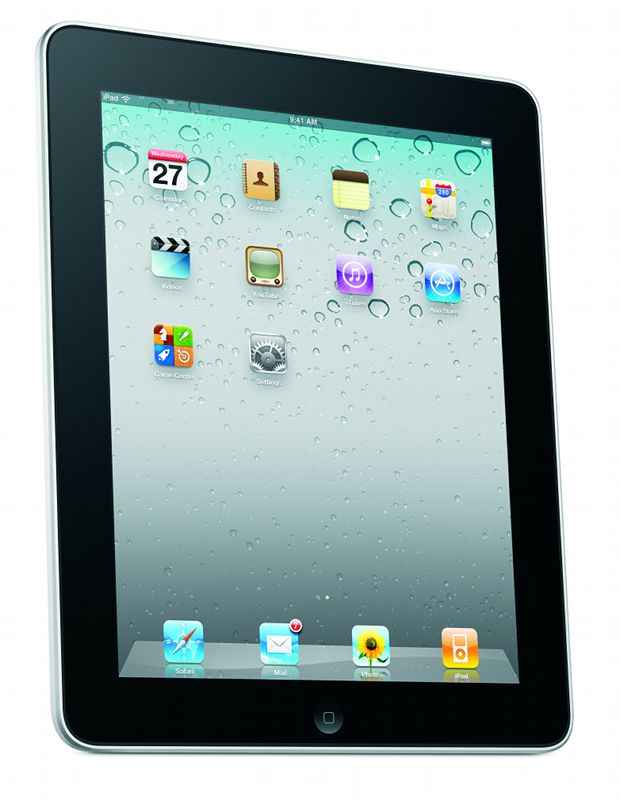 As mentioned earlier, the hardware under its hood is speedy enough for most tasks and we never quite got the iPad to slow down. Although with a number of apps running, switching between apps does take an extra second. While the spec sheet reads 256 megabytes of RAM, Apples interface isn't a drag. Thankfully, unlike Macbook's and iPod Touch's (the fourth generation especially), the iPad doesn't get warm even with extended use.
Music playback on the loudspeaker is pretty mediocre, although this was pretty much expected. Using headphones, we notice right away that the iPad is a bit baser with a warmer mid-range than the more neutral iPod Touch. This is not necessarily a bad thing, but if you're looking for a neutral source, this is not it. Decibel levels via the headphone-out have been toned down for protecting ears, as was done with the new iPod Touch.
Rating the performance of an interface is no easy task on account of the subjectivity. But we rate the iPad interface as very good. Sensitive, accurate, responsive - other touch devices are not as fluid, nor is their interface as intuitive. Comparing the iPad to other touch devices with a casual, one hour usage session reveals flaws in most other devices. However, as good as it is, the iPad is no Macbook. Capacitive-touch cannot make up for the intuitiveness that a keyboard gives one's fingertips when typing.
Our take
The top of the line iPad that we received features 64 GB of storage, 3G Wi-Fi connectivity and has an MRP of Rs. 44,900. The cheapest iPad is the 16 GB variant without 3G, and that sells for Rs. 27,900. Neither is cheap, and 3G support is sorely lacking. Given this, at the moment, the iPad doesn't make the most sense. However, 3D support can only improve, as will coverage.
The ecosystem aside, the iPad is quite an entertainer. Games are a truckload of fun, browsing is fun too. Consuming content on the iPad is quite an experience. However, the word consumption is the key - the iPad, (and this might seem cliched), is not for those who seriously want to work, but for those who are serious about play.
[RELATED_ARTICLE]You could use it for email, and making quick notes, but who are we kidding - nothing comes close to a notebook. This is a device enabling consumption, not production. People buying an iPad will be looking or a lot of fun and not a great deal more. That being said, it kicks other tablets on the usability front, although Apple could have included a few more features - an integrated camera for chatting, memory expansion, an integrated HDMI port. As a purchase, it isn't exactly great value for money, it isn't aimed at value conscious users. Gadget-freaks with the means will probably flock counters to buy one. And we wouldn't blame them.
Specifications: Display: 9.7-inches, 16M colours, 1024 x 768 pixels; storage: 64 GB; connectivity: Wi-Fi, 3G (micro SIM card tray); 730 grams (3G version)
Rating:
Features: 7
Performance: 8
Build: 8
Value: 5.5
Overall: 7
| | |
| --- | --- |
| Brand | Apple |
| Model | iPad |
| Price (MRP, Rs) | 27900 to 44900 |
| Operating System | iOS 4.2 |
| Physical Specs | |
| Dimensions (L x W x H) | 242.8 x 189.7 x 13.4mm |
| Weight | 680g (Wi-Fi only version) 730g (Wi-Fi 3G version) |
| Battery Rating | 6500mAh |
| Expandable Memory Type | - |
| System Specifications | |
| Processor/GPU | 1GHz Apple A4 CPU |
| Internal Storage/RAM | 64GB / 256MB |
| Ports | One proprietary, one 3.5mm audio jack |
| Display Type/Size(inches)/Resolution | LED-backlit IPS Display |
| Multitouch | Yes (11 fingers) |
| Other Features | |
| Charging via USB (Y/N)/USB on-the-go | Y/N |
| Accelerometer (For auto rotate) | Y |
| Inbuilt GPS (A-GPS) support | Y (A-GPS in 3G version) |
| Wi-Fi/Bluetooth/USB/Bluetooth Ver./A2DP | Y/Y/Y/2.1/Y |
| 2G/3G (Max. speed) | Y/Y (2.1 Mbps) |
| Bundled Accessories | Ac Charger, Data Cable |
| Camera Specs | |
| Camera Resolution (Photos/Videos) | - |
| Auto Focus / Flash/Front-camera | - |
| Multimedia | |
| Video formats supported | MPG, MP4, MOV |
| Music Formats supported | HE-AAC (V1), AAC, MP3, Apple Lossless, AIFF, WAV |
| Max. video playback resolution | 720p |
| Performance Scores (So 10) | |
| Overall Build Quality | 8 |
| OS performance | 6.5 |
| Battery Performance | 7.5 |
| Overall Ergonomics | 6.5 |
| On-screen Keyboard | 8.75 |
| Social Networking | 7 |
| Video Playback Quality | 7 |
| Bundled Headphone Quality | NA |
| Loudspeaker Audio Quality | 7 |
| Overall Camera Performance | NA |
| Display Quality | 7 |
| USB data transfer speed (megabytes per second) | 13.65 |
| Productivity and Application performance | 6 |
| Quality of market apps | 8.5 |
Contact: Apple India
Email: indiasales@mac.com
Phone: 080-2574-4646
Website: http://www.apple.com/ipad
Price: Rs. 44,900 (MRP for 64 GB, Wi-Fi 3G model)