Silicon Power Stream S10 - Affordable 750GB USB 3.0 hard drive detailed review
Look and Feel
We've seen many portable hard drives in plain Jane designs. Let's face it, no one really gives a hoot about the looks; the capacity and performance are of higher significance. But it never hurts to add a bit of jazz to an otherwise boring looking product. We've seen drives which play around with the lighting (different glowing colours for different configurations) which work only when the drive is connected and actively working. But Silicon Power has gone a step further and added a subtle yet pleasing design element to the portable HDD.
The Silicon Power Stream series S10 is a 750 GB portable HDD coming in an interesting form factor. The first thing that strikes you about the design is the solid florescent colour which has a dark crescent-shaped element on one edge, the central portion of which, hides the LED light which glows during operation. The body is made of plastic and has a flat base but a convex top. The model we got had a florescent orange colour in glossy finish. The drive came to our test centre straight from this year's Computex, where one of our reviewers visited the Silicon Power booth. While there, he was told about the design philosophy behind the device. Apparently it's supposed to resemble a race car. And indeed it does.
Silicon Power has bundled in a mini disc which contains the SP Widget, a trial version of Norton Internet Security, Button manager, etc. The SP Widget is a utility that allows you to perform tasks like backing up individual folders or My Documents along with encrypting data in your folders, PC locking, backing up email from desktop email clients such as Outlook. You also get a good-looking case bundled in with the drive.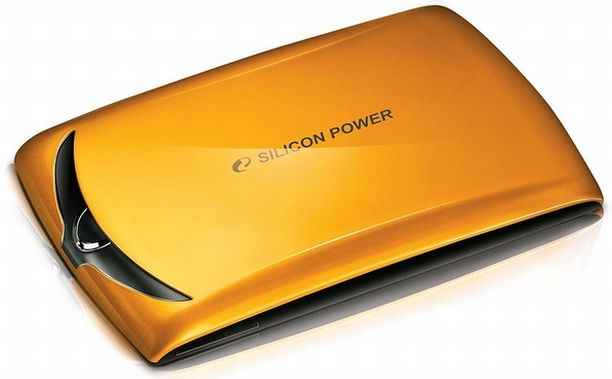 Test Rig
We tested the drive on our test bed comprising the following components:
Processor: Intel Core i7 2600K
Motherboard: Gigabyte H67A-UD3H
Memory: 2 x 2GB Corsair XMS3
Graphics Card: Galaxy GTX 460
Hard Drive: 300 GB WD Velociraptor

Performance
[RELATED_ARTICLE]In real world testing involving transferring 4 GB sequential and assorted files from the S10 drive to the OS drive and back, I got the following scores: Read / Write (Sequential File) in MB/s: 89 / 81 and Read / Write (Assorted file) in MB/s: 80 / 42. It performed slower than Seagate GoFlex Slim 320GB drive, matching its scores only in the Assorted File Read test. It was better than the Toshiba 500GB USB 3.0 drive across all tests, whereas the Iomega eGo 1 TB portable drive was better in all tests except the Assorted File Read test. It took 39 seconds to open the 1 GB PSD test file when used as a scratch disk, which was better than the Seagate GoFlex Slim's score of 49 seconds.

Verdict
The Stream S10 drive is priced at an economical Rs. 4750. For those looking at an affordable high capacity USB 3.0 drive, the Silicon Power S10 comes recommended. Performance junkies are better off with the Seagate GoFlex Slim 320GB drive, but will have to pay a similar amount for less than half the capacity offered by S10.
Ratings
Features: 6.5
Performance: 6
Build Quality: 6.5
Value for money: 7
Overall: 6.5
Contact
Silicon Power
Lianne Mai
Email: lianne_mai@silicon-power.com, sharone@imagemediatw.com
Website: http://www.silicon-power.com
Test Scores Log Sheet

| | |
| --- | --- |
| Brand | Silicon Power |
| Model Name | Stream S10 |
| Price (Rs) | 4750 |
| Features | |
| HDD capacity (GB) | 750 (698.64) |
| Interface | USB 3.0 |
| Number of Platters | - |
| Rotational Speed (RPM) | - |
| Buffer Size (MB) | - |
| Performance | |
| Synthetic Tests | |
| HD Tach 3.0.1.0 (8 MB file) | |
| Average Read (MBps) | 76.3 |
| Average Write (MBps) | 53.1 |
| CPU Utilisation (%) | 2 |
| Random Access Time (ms) | 18.7 |
| Read Burst Speed (MBps) | 141.5 |
| HD Tach 3.0.1.0 (32 MB file) | |
| Average Read (MBps) | 76.5 |
| Average Write (MBps) | 75.2 |
| CPU Utilisation (%) | 2 |
| Random Access Time (ms) | 18.6 |
| Read Burst Speed (MBps) | 139.1 |
| SiSoft Sandra 2010 | |
| Drive Index, Read (MBps) | 72.68 |
| Access Time, read (ms) | 16.32 |
| Drive Index, Write (MBps) | 72.8 |
| Access time, write (ms) | 11.3 |
| Real World Tests | |
| File Write 4 GB Single File (MBps) | 81.92 |
| File Write Test Assorted 4 GB File (MBps) | 41.75 |
| Read Test Single 4 GB File (MBps) | 89.04 |
| Read Test Assorted 4 GB File (MBps) | 80.31 |
| Photoshop CS2 (1 GB File, in seconds) | 39 |